Your Quick Answer:
If you've lost your mobile then besides every information that you have, there is one thing "IMEI". You can use this to track the phone from the official's end.
IMEI or International Mobile Equipment Identity is a unique number given to every smartphone for its identification over a mobile network, it is 15 digits long and it's different from tracking mobile numbers.
To track an android device that is lost, you can reach the law enforcement of your country or the device manufacturer's office in order to track the device.
You have the option of Google's 'Find My Device' app by which you can lock your device or can track where the device is currently located if you have this enabled on your mobile.
You can also follow this,
◘ Find your IMEI number to start the tracking.
◘ Open the IMEI Tracker Tool on your browser.
◘ Put the IMEI number onto the input box & search.
◘ Now, you will find the details of that IMEI instantly.
Moreover, by contacting the network provider, you can cancel your device network services or can find out at which place of your city/country it was last active. IMEI number reveals a lot about one's device because it's unique.
🔯 Can a Lost Phone be Traced by IMEI Number?
You must know that lost or stolen smartphones can be traced easily if you know your device's IMEI number.
There are many ways by which you can trace your device, such as the following:
◘ Police are the professionals for catching thefts, also, the department has certain tools and software for tracking mobile phones. Hence, by offering the IMEI number to the police you have a chance to get back your lost or stolen devices.
◘ A mobile service provider is one that provides cell phone services, that connects one's mobile network to the nearest mobile service tower. Hence, by offering them the IMEI number of devices, you can know the location where your device is currently active.
◘ There is an app named – "IMEI tracker: Find my device". You can download this app from the Google Play store, once you download this app, it will ask you to enter the IMEI number and also 1 to 2 other phone numbers, you're currently using.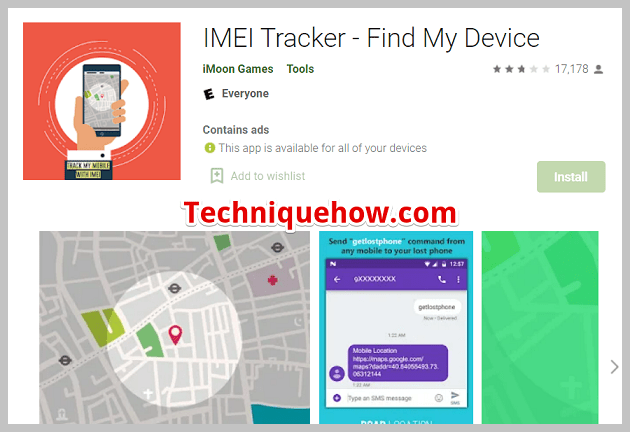 Whenever your lost/stolen device changes the SIM card, the IMEI tracker will send an SMS with – the IMEI number, location, and the newly added phone number to the number registered with that app.
How To Track Lost Android Phone Using IMEI Number:
There are many methods by which you can track the lost phone through the IMEI number:
1. Find My Device by Google
Find My Device is a system designed by Google to locate lost devices on Android or from a PC. It can be used to unlock your Android device using a different device, as long as you have the Google account credentials.
Let's take a look at how the Find My Device feature works:
🔴 Steps To Follow:
Step 1: On your computer or Mobile phone with the internet, go to: www.google.com/android/find.
Step 2: Enter the Gmail login id and password (the one you were using in your lost or stolen device). After that, an interface will come on the screen with the location of your device.
Also, on the left corner of the interface page, there will be some options like:
Play Sound: Your device will ring for 5 mins even if it is set to silent.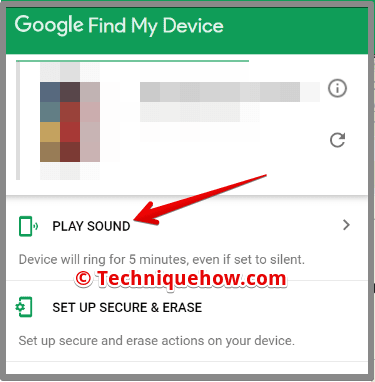 Lock: Your device will get locked.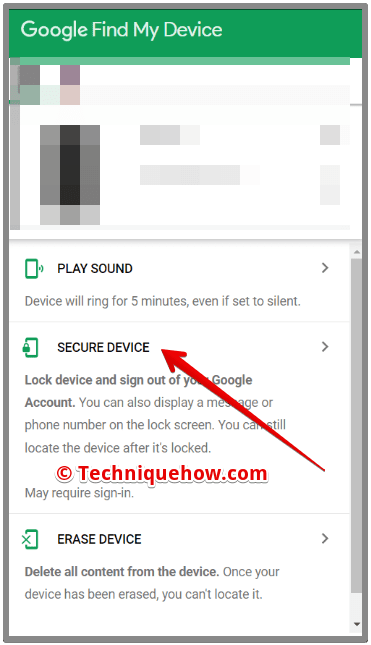 Erase Device: All data of your device will get erased and you won't be able to find your device with this method.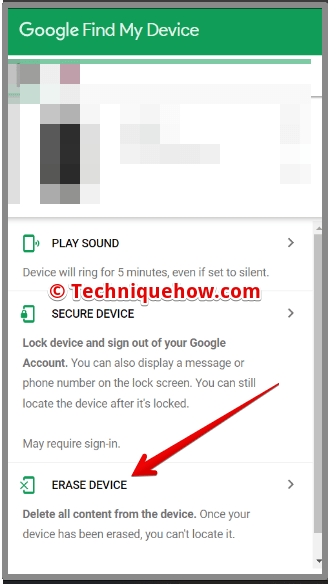 Step 3: Now tap on the green mobile icon on the map, and a new tab will open with Google Maps where you can clearly find the location of your device.
Note, that this will only give you an approximate location of your device.
2. Request to Phone Manufacturer
For tracking your lost or stolen device, you can reach out and request your Phone manufacturer.
◘ For this, you need to provide them with your personal information like name, contact number, and ID proof along with the documents of your device such as the paid invoice receipt. You may also need to give them the IMEI number of your device.
◘ After that, the phone manufacturer representative will provide you with a tracking number that can be used to track your device online and a link to the website for the same.
◘ By entering the tracking number, you will get to know the current location of your device. Subsequently, you will get a message with all the location information of the lost or stolen device on another device. With this, you will get back your lost phone.
This process will take a couple of days to give desired results.
3. Take help from Law Enforcement
This should be the foremost and last option that one must do after the mobile phone gets stolen or lost.
Go to the Law Enforcement Agencies and after reaching to police, file a complaint regarding your lost or stolen device.
Police Personnel will ask you for information such as place of missing, personal information – name, address, and number, bill receipt of your device, and IEMI number. Provide them with all the information you have.
After that, they will file a ticket and send all the information to the nearby cyber cell of the city. The team will work and track your device using various legally and highly functional tracking systems.
Why Can't You Track the Phone:
Sometimes, due to some factors, you cannot track your lost phone. Such situations are discussed below:
1. If your stolen or lost device's location service or GPS is off, you cannot track the device because all tracking methods end up finding the location.
2. If you do not know the IMEI number of your device, then no Law Enforcement Agency can help you.
3. Similarly, if you do not remember the login id & password of your Google account or can't get access to it, then the most successful Google Find My Device will not be operational.
If the person tried any method to change the IMEI number, then also it is difficult to track.
Also Read: