If you want to unblock yourself on WhatsApp then you can follow many tricks that include deleting the account or without it making an alternative account in order to chat with that person who blocked you.
Now, in both cases, you have to follow a few steps that involve a few techniques and you can easily unblock yourself in order to message the person.
All you have to arrange an alternative number that you can use for WhatsApp or not registered before on WhatsApp in case if you want to make this unblock happen right now.
To unblock yourself from WhatsApp, first of all, you've to backup the WhatsApp content on your Google Drive or iCloud then go for deleting the account permanently from WhatsApp. Then just once the account is deleted, re-register for the account after 30 days so that the account data gets removed from WhatsApp server data.
Now, you can send messages to the person again after registering again with the same number. You can also get an alternative number in order to register a different account to chat with the person who blocked your previous number and you will be able to send him messages with that new number.
There are some mods of WhatsApp that unblock yourself from WhatsApp like GBWhatsApp.
In this article, I will explain the methods that you can apply in order to unblock yourself or chat with the person who blocked you on WhatsApp.
How to Unblock Yourself on WhatsApp from Someone?
You can unblock yourself from anyone's account on WhatsApp after deleting and Re-registering your same account. This process allows you to message the person who earlier blocks you on their WhatsApp because you get unblock as soon as you delete your account but by following proper steps.
First Backup WhatsApp Data:
Let's discuss some steps to back up all your important chats and media on Android and iPhone devices.
Step 1: Firstly, Open the WhatsApp application.
Step 2: To go into Settings in Android, Tap the three dots from the Top-right of WhatsApp, then Tap "Settings," and iPhone users can directly Tap "Settings" from the bottom-right corner on their screen.
Step 3: Further, you see the option "Chats" and tap on that. Then, tap the "Chat backup".
Step 4: There in Android, you find the Green "BACK UP" button, Tap on the button, and in iPhone, Tap on "Back Up Now."
Step 5: Now, in Android, Tap the Google account and select the Gmail account for storing your WhatsApp data. For iPhone, Select your iCloud account.
Step 6: At last, Tap the Backup button to start. Your WhatsApp chats and media will be backed up on your Gmail or iCloud within a matter of few minutes.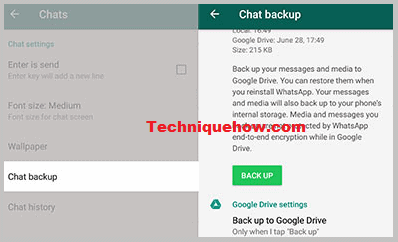 Delete your Account:
Follow the below steps for deleting your WhatsApp account:
Step 1: Open the WhatsApp application.
Step 2: Go to "Settings" by tapping on more options through three dots at the top-right of your screen. Tap the "Account" then, "Delete my account".
Step 3: Now, Enter the WhatsApp mobile number which you want to delete and choose "DELETE MY ACCOUNT".
Step 4: WhatsApp ask a reason why you're deleting your WhatsApp account. Select any given option.
Step 5: Finally, Tap the "DELETE MY ACCOUNT" for deleting your WhatsApp account.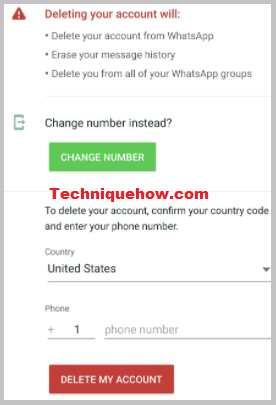 Now, You will no longer be on the blocked list of any person who blocked you on their WhatsApp.
Re-Register after 30 Days:
Afterward, you've deleted your account, uninstall WhatsApp from your phone and delete any folder/data stored in your phone. And restart your phone.
Step 1: Go to Play Store and install the WhatsApp or WhatsApp business app.
Step 2: Register yourself by verifying with OTP with the same old WhatsApp mobile number.
Step 3: Now restore WhatsApp, you get the option to restore the data from Google drive. But make sure the Google account you used for backup, added to your phone.  Tap "Next" after the restore has been done. WhatsApp will restore media in the background after chat backup is done.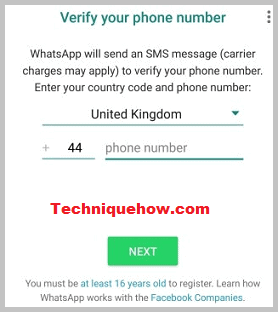 Congratulations! Your chat will be displayed and unblocked now, and you can send messages to anyone.
Message to the person who Blocked you on WhatsApp
If you had blocked by your friend or any person and searching for a way to message them without deleting your account, using the WhatsApp clone can be the best option for you.
Register a new account with a new number in WhatsApp clone will allow you to message your friend again.
There are many options available in the App Store for clone apps, and you can use any of them.
However, there is the most popular app for using clones. Such as the Android users can use "Parallel Space," and iOS users can use "Dual Space" for WhatsApp clone.
Parallel space provides multiple applications access. It allows you to create dual accounts very easily of any app available on your phone.
It basically makes the clone of the app you want to use, such as Instagram, WhatsApp, etc.
How To Do:
Let's discuss step by step process in order to unblock yourself to send messages:
Step 1: Firstly, go to Play Store and install the Parallel Space app on your phone.
Step 2: When it gets installed successfully, Open the Parallel space App then, allow access to the notifications and click the "+" icon.
Step 3: Search for WhatsApp and select it to "Add to Parallel Space" for making a clone for WhatsApp on your android device.
Step 4: Hence, you have two WhatsApp now. You don't need to do anything with your old WhatsApp where you blocked by your friend.
Step 5: Now, Open your new WhatsApp or WhatsApp clone and register the new account with a different mobile number through the below steps.
Step 6: Launch the WhatsApp clone from the Parallel Space app
Step 7: Click 'AGREE AND CONTINUE' to start.
Step 8: Then, Enter the different or new mobile number and tap "Next". Verify the mobile number by writing the OTP.
Step 9: Choose your profile picture and name for your new account.
Step 10: At last, you need to "Turn on" the Swipe. For doing that, Go to "Settings" on your mobile phone and turn on the Swipe option to Parallel Space.
Finally, your new account is made; now enjoy messaging to anyone, including the friend who blocked you.
This process will surely give you the success of reaching out to your blocked friend.
The Bottom Lines:
This article explains the best methods either to unblock your number and that takes time to wait for WhatsApp to delete your data and otherwise you can use the alternative secondary account to just register and then chat with the person who blocked you.
Also Read: