If you uninstall WhatsApp, your presence in all WhatsApp groups will still be there but all media files will be cleared from your phone. However, when you just delete WhatsApp profile along with media files your presence in all WhatsApp groups will be removed.
Although you can rejoin any WhatsApp group but to restore the media files including images, documents and videos, you have to install data recovery for your Android.
You might be looking for any quick backup tool that can store the data even you delete WhatsApp from your phone. Let's get to know the app that will help in taking back up then will proceed to the next indications.
Backup for Whats
Backup for Whats is the free app that you can get from the Google Play Store. You can backup your WhatsApp messages, images, videos, etc.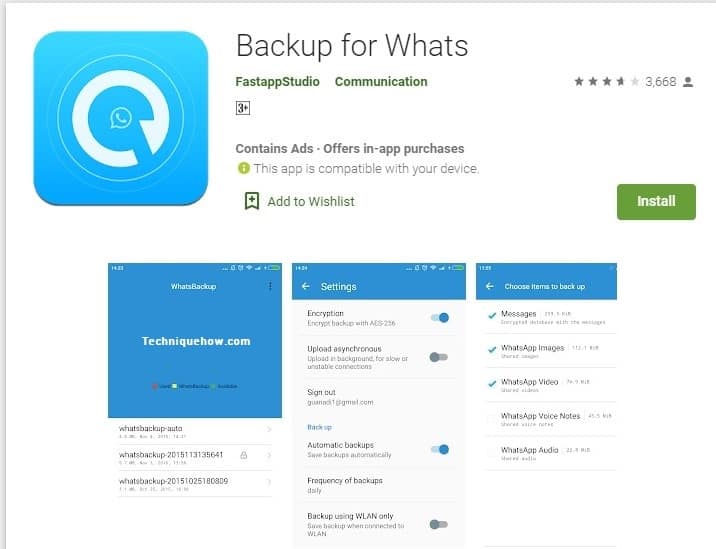 Once you just have backed up all files and data then you can go.
Now let's read what happens on uninstallation Vs deleting WhatsApp profile.
If someone uninstalls WhatsApp is it possible to know for us? When you see one-tick on sent messages, you may assume that the person may have deleted WhatsApp or uninstalled WhatsApp.
But, what is real?…
Since this could likewise imply that the individual may have blocked you on WhatsApp and these outcomes in the equivalent.
Now, let's stay at the topic to understand either the person has deleted WhatsApp or uninstalled WhatsApp.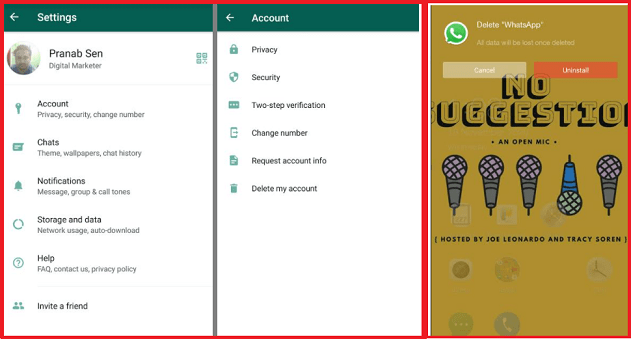 We need to figure out the ways to see whether somebody has uninstalled WhatsApp from his phone. For this, you have to comprehend a couple of things on what happens if you uninstall WhatsApp vs delete WhatsApp.
We need to watch every one of the facts and measures to an extent that can explain if the individual has truly uninstalled the WhatsApp. Furthermore, you will know the after-effects of deleting WhatsApp profile vs uninstalling WhatsApp from mobile.
If you suspect that one of your friends stopped using WhatsApp, you will come up with some of the notices like blank profile pictures, calls are not going through besides the one-tick mark on sent messages which is common.
Now, this article is going to reveal the ways which clarify that what can happen if someone uninstalled WhatsApp or deleted WhatsApp.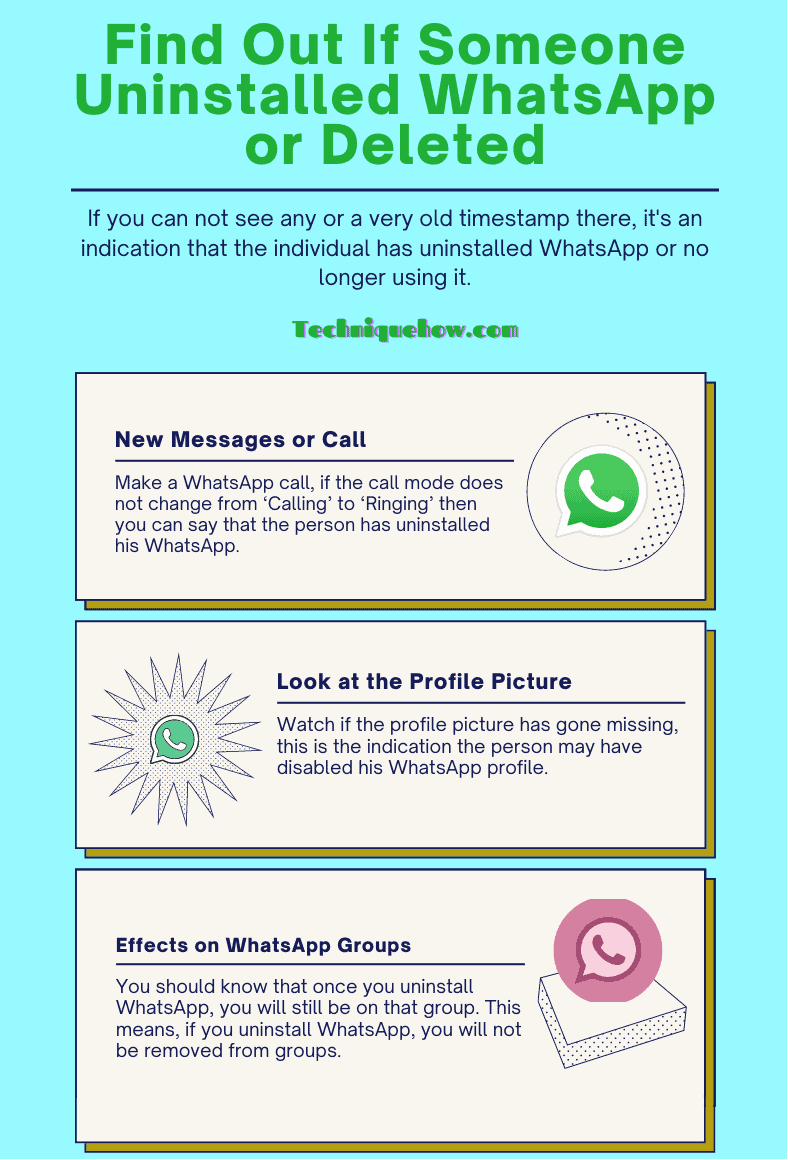 Deleting WhatsApp Profile vs Uninstalling Whatsapp
If you're thinking the both of these facts are the same, don't get confused. If you delete or uninstall your WhatsApp it's real that another person might look the same thing on your profile rather than the profile picture. But, you might lose a lot of things like data from your WhatsApp if you've not backed it up.
So, if you delete the WhatsApp from your mobile the app is still present there and your profile will not be available. However, in the case of uninstalling the WhatsApp, you might lose access to WhatsApp but the profile will be kept alive.
In case of uninstalling the WhatsApp, a new person can easily find you on WhatsApp and send you messages whether on the deletion of WhatsApp no other new person can find you out on WhatsApp through contacts.
Note that, the messages sent during the uninstallation period will arrive once you reinstall the WhatsApp but takes time.
When to Uninstall WhatsApp rather than Deleting Profile?
Uninstalling WhatsApp just restricts access to WhatsApp, nothing more than that. It does not deactivate your profile when you uninstall WhatsApp.
Just keep in mind, you have to take all the back up for your previous messages if you feel those important. Otherwise, all is good.
How do we know if Someone Uninstalled WhatsApp?
If you want to verify if someone uninstalled WhatsApp or not without getting confused, take a gander at three central matters from below:
Most importantly, look at the profile picture. We realize that uninstalling WhatsApp doesn't influence the profile picture yet rather it explains that the individual has not deleted his WhatsApp. If you can see the profile picture is there, you are on the right track.
Next, look at the last seen timestamp

either opening the chat or just from the profile. If you can not see any or a very old timestamp there, it's an indication that the individual has uninstalled WhatsApp or no longer using it.

The final and last thing you will see is to look at the sent messages. If you see a single tick on sent messages for quite a while that doesn't go to double tick. Then, it shows that the person has uninstalled WhatsApp.
What Happens when you Uninstall WhatsApp or Delete Profile?
Let's look at the points which describe the topic in details:
i. For New Messages or Call:
Once you see the chat last seen does not change and reply does not come, just send a new message to that person. In the case of the uninstallation of WhatsApp, you will notice single-tick on sent messages.
For more accuracy, just make a WhatsApp call, if the call mode does not change from 'Calling' to 'Ringing' then you can say that the person has uninstalled his WhatsApp.
However, the messages you send now, WhatsApp will try to deliver those once the person reinstalls the WhatsApp.
ii. Previous WhatsApp Messages
If you're going to uninstall or delete the WhatsApp from the phone, you will lose data if back up is not taken. However, in case of full deletion of your WhatsApp profile, you will lose all data, which means the chat no longer going to appear on the WhatsApp even you have the WhatsApp on your mobile.
Furthermore, if someone deletes his profile or uninstall WhatsApp, that does not affect your messages.
iii. Look at the Profile Picture
To understand if a contact uninstalled WhatsApp or deleted his profile, looking at the profile does the job in an easy way.
Just watch if the profile picture has gone missing, this is the indication the person may have disabled his WhatsApp profile. However, in the case of uninstallation, the profile picture will be still visible.
This technique can be applied to find out if the person has not deleted his WhatsApp. But, if you know the profile picture was never attached to any then look for the other measures in that case.
iv. Contact List Visibility
The next thing you need to observe is the contact list appearance for that person. Just delete the chat from your WhatsApp and open your contact list and find the person. You have to open the contact and look for the WhatsApp tag onto that contact.
If you can see the WhatsApp logo on that contact then you can tell the person has not deleted his WhatsApp profile but just uninstalled WhatsApp
However, if you see no WhatsApp tag or logo appears on that contact or you cannot create a new chat with that contact then be sure that the account is deleted.
If you want to know what happens to the blocked contacts, those will be unchanged.
v. Effects on Media Files
If are looking for the different changes to media file upon deletion or uninstallation of WhatsApp, here you go.
You can see the media files even after you uninstall WhatsApp from your mobile. but, on the contrary, if you delete your WhatsApp profile and keep the app on mobile still you will lose all of your WhatsApp data from mobile.
So, before you make the decision for your WhatsApp don't forget to back up the file in all cases, this will save you from the total mess.
vi. WhatsApp Last Seen Timestamp
If your friend's chat is no longer showing active status but just the last seen. You got another sign of uninstalling WhatsApp. If you try to contact the person but cannot see him online and shows the time when the last conversation happened then this is the indication that tells the person has uninstalled his WhatsApp.
Note that, until he reinstalls and opens the chat the last seen would not be changed to new. Till then, be sure that he is not using WhatsApp. To apply this method more accurately just read the next discussed point.
vii. WhatsApp Groups [Stay on or Not]
If you are confused about what happens to the WhatsApp group, then you should know that once you uninstall WhatsApp, you will still be on that group. Means, if you uninstall WhatsApp, you will not be removed from groups.
But, if you delete your WhatsApp profile, then you will get auto removed from all groups. Remember, when you uninstall WhatsApp, you can be added to a new WhatsApp group by the group admin as you are registered on WhatsApp.
As soon as you reinstall WhatsApp, you will notice the blocked contact-list will remain the same as previously was.
The Bottom Lines:
If you want to get detailed information about uninstalling WhatsApp and deleting the profile, this article discussed all of the points that should be checked.
Also Read: