We often don't want to reveal the name to be visible or just want to see the stories of people but we wouldn't like to let them know that we have seen their Stories on Facebook because of privacy reasons.
But it's not always an easy thing to do, especially when you don't have enough knowledge about the tricks and ways that can help you to see the stories anonymously.
To view Facebook stories anonymously, you can do so by going offline or enabling the flight mode while viewing the story and then clearing the cache data of the Facebook app. After that, don't open the application for another 24 hours lot let the story expire from the list. Then, Facebook won't be able to update the names of the viewers who viewed the story.
As you know the stories only stay up to twenty-four hours and after that, it disappears. So this is how this particular trick works which requires some simple knowledge.
Over here, the article is full of information about tricks and techniques with steps to view a Facebook friend's story anonymously. So if you're trying to find a way to view the stories without them knowing it, you'll find this helpful.
You Must Know the Facebook Update:
To inform you about the latest update of Facebook, which has added a feature that doesn't inform the users about the viewers who are not in their friend list but have viewed their story.
So, if you are trying to view any story that is publicly posted, go for it as Facebook won't notify your name to the user if you're not on their friend's list. Facebook only shows the name of those who are on the friend list and have viewed the story and the rest of the viewer's quantity is shown in numbers as others.
This new feature keeps it a mystery about who has viewed their story but is not on their friend list. So publicly posted stories can be viewed anonymously when you're not in their friend list or have any other connections.
☛ You can follow the methods to download Facebook stories if that is a video by copying the story link.
How to View Facebook Story Anonymously?
There are some certain ways that you can use in order to view Facebook stories anonymously, you can follow the below ones to view the Facebook story without letting them know your name.
1. From Airplane Mode:
This is the go offline method of viewing stories by which Facebook won't able to update your name in the viewer's list and you can successfully view some stories Anonymously so you don't need to worry about your name being informed to. the user or visible in the viewer list.
To view the Facebook story anonymously,
This method of viewing the stories after going offline or after enabling the airplane mode works wonders in keeping the viewer's name anonymous and it also allows them to view entire stories.
To perform this trick all you need to do is first open the Facebook application.
Scroll through all the stories so that it gets loaded but don't click on any of them.
Turn off your mobile data, WiFi or put on airplane mode for the Facebook app.
Then view the stories of Facebook users while in that state.
Now go to settings, and scroll down to find apps and permission. Click on it.
On the next page, click on Apps Manager.
Now you'll see the list of applications from where you need to find and select Facebook.
Click on storage & select clear cache to empty the cache data of Facebook.
Make sure you don't have the Facebook application running in the background.
Now you can turn on the mobile data or wifi but make sure you don't go back to the application for the next twenty-four hours.
Only After twenty-four hours, you can open Facebook as a story only stays active for up to twenty-four hours so if you're not visiting Facebook during those hours, Facebook won't be able to update your name to the viewer's list.
Note: In case you need to open your Facebook account, you can try different browsers or PC to log in with your Facebook account and do further activities but not from the app for a while.
2. Halfway Open Facebook Story:
This method works the best when there is an image in the story. So using this method or trick you'll be able to see a preview of the story but not the entire story. But if it's a video, you'll just get to see the thumbnail of it in the story as this half swiping method doesn't allow you to see the full video or story.
This method can be considered a little tricky as you can only be successful if you can do it absolutely without any mistakes.
So first of all open a story that is to the left or right of the particular story. Now by swiping halfway to the left ( if that story is at the right of the story you're presently viewing) you'll be able to get a preview of it. But don't release your fingers and instead swipe back to the previous one and then release your finger.
First, upload your own story and then view your own story from Facebook App.
Then halfway slide the screen and see other people's stuff.
Unless you open it fully, your name will not be on the viewer's list.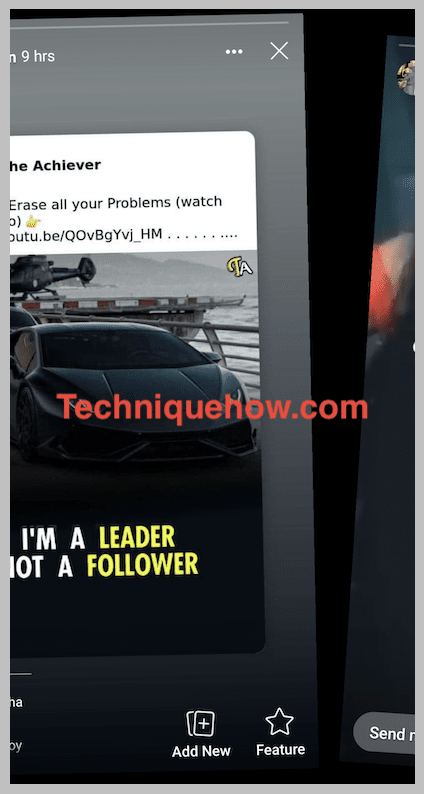 If the next story is at the left of the story you're presently viewing, swiping halfway to the right and you'll be able to get a preview of it. You should remember that while you're half opening the story don't release your finger but instead swipe back in the opposite direction.
3. Ask your Mutual Friend:
This is a simple method and you don't need to perform any trick but request a trusted mutual friend to send a screenshot of the story of that Facebook user whose viewers list you don't want your name to be added.
You can even use the phone of this mutual friend to view the story of this particular user so he'll have his name on the viewers but it's you who have seen the story.
First of all, find a mutual friend whom you can trust and ask for a screenshot of the story of a particular user. As both, you and he will be able to see the stories but as you don't want your name in the viewer's list so you can't view it whereas the mutual friend can, and if he's good enough he'll be able to provide you with a screenshot of the same.
Ask him to take a screenshot of the particular story and send it to you.
You can even meet a mutual friend and ask him to help you by providing his phone to you so that you'll be able to view the story from his Facebook account but in the viewer's list you'll not have the name but he'll have it as if it was his account which you have used to see the story.
That's all.
How to View a Public Facebook Story Anonymously?
Facebook has a feature that allows its users to view the stories that are publicly posted but Facebook doesn't notify or inform the names of those viewers who are not in the friend list or are related to by any connection but only provides no. of viewers as others. So the names of the viewers who aren't on the friend list of the person remain Anonymous.
You can view the public Facebook story even by having another account,
Create a second Facebook account by going to the login page and then create a new account by signing up.
Now go to the person's profile whose story you want to see.
If he or she has posted any stories publicly then you'll be able to see it by clicking on the profile icon then clicking on view story.
Facebook won't add your name to the list of viewers as you're using your secondary account to view it and it's not there in the friend list nor does it have any connections with the user.
So as Facebook doesn't show the name of non-friends viewers you're good to go.
The Bottom Lines:
This article explains the exact way that you should use in order to view the story of someone else anonymously and not seeing your name on the viewed people list.
Also Read: