Your Quick Answer:
If your WhatsApp images are not showing you can just go to 'My Files' and from the 'WhatsApp' folder.
Select all the images inside the 'Private' folder and move those images to the outside or another folder.
Then the existing photos will be visible on your gallery instantly.
Now, in order to save all images in your gallery (that show up), just turn on the 'Media visibility' by swiping the button to the right.
If you're just received a few photos on your WhatsApp that you can view on WhatsApp but are not visible on your mobile gallery then you need a fix. That's going to be a really quick and easy guide to do this.
If you have just turned off the 'Media visibility' feature in your WhatsApp settings then you would not see any of these photos on your gallery. Those pictures or videos will only be visible on WhatsApp chats, however, you can make changes that will show up those media files instantly to your mobile gallery.
Now, in case the photos are not visible for the contacts that are not saved on your phone, you have to tap on images on that chat to see those images there as well as on the gallery.
Find WhatsApp Images if not showing in Gallery
If you're not seeing the images on the gallery that are received in your WhatsApp then you must do simple steps on your iPhone or Android in order to find those and view them.
To view the private WhatsApp images on your gallery,
🔴 Steps To Follow:
Step 1: First of all, open the 'My Files' on your mobile device.
Step 2: Next, just find the folder named 'WhatsApp', under that look for 'WhatsApp images/Media'.
Step 3: Now, from the images folder, see the section folder 'Private' and inside that folder select all the images or files just by tapping the 'Select all' button.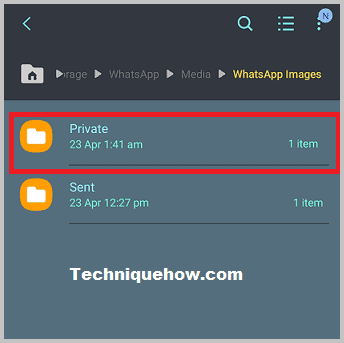 Step 4: Finally, tap on the 'Move' button to shift those images to the SD card or outside of the private folder.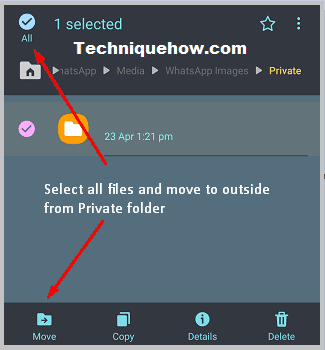 Step 5: Once the shifting of those WhatsApp images is completed, the images will show up in your mobile gallery instantly.
WhatsApp Images Disappeared from the Gallery:
If you have seen that some of your WhatsApp images disappeared from your gallery then must be there a few reasons that make the situation occur. Now, if the images are just disappeared from the mobile gallery, find the reasons below:
1. WhatsApp Auto-Delete Feature:
As per the new WhatsApp policy, if the person in another hand just turned on the auto-delete feature, your images or old chats will be deleted after the scheduled time and the same photos or media will be removed from your gallery as well.
2. Your Media Visibility is Turned Off:
WhatsApp provides its users an option to show or hide the images in chat to appear on the mobile gallery and if you're not seeing any images or videos on your mobile that were received in WhatsApp then just check the Media Visibility option if it's turned off.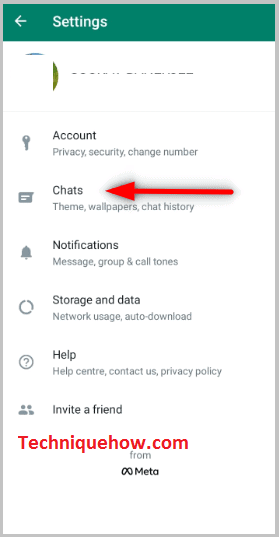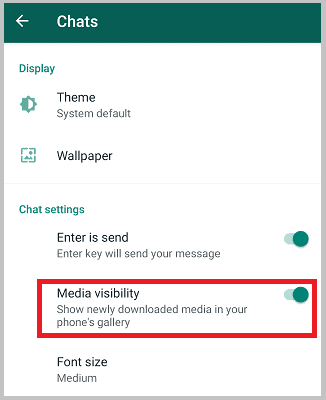 In order to show the images that are received on chats, make sure the feature is 'Turned On' on your WhatsApp.
Why Can't I see WhatsApp Images in the Gallery?
If you're not seeing the WhatsApp images on your mobile gallery then might be you haven't saved the number of the person or just the images are not been downloaded yet on WhatsApp. Also, it is possible that your WhatsApp settings made the images hidden.
There are various reasons responsible for hindering image visibility in our gallery, they are:
1. You haven't saved the number: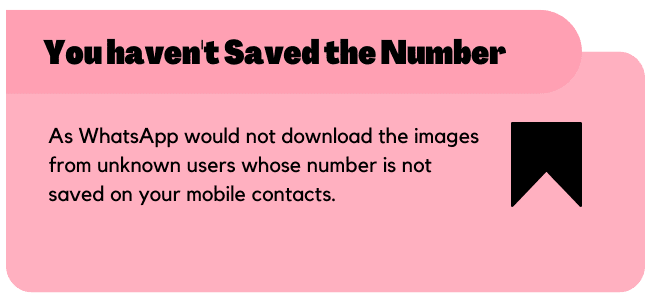 As WhatsApp would not download the images from unknown users whose number is not saved on your mobile contacts. So, in order to show the images that were received on WhatsApp, first tap to view on chat then it will appear on your gallery. Although, if the images sent to the group from any group members, will automatically appear on your gallery without saving their numbers.
This actually means if you haven't saved the contact number of a specific person then you will not be able to view the images they send you in WhatsApp chat, or in your gallery.
2. Slow internet connection: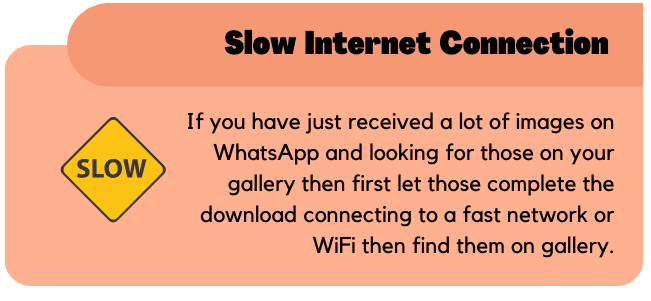 The slow internet connection can slow down the download of received images on your chat, so if you have just received a lot of images on WhatsApp and looking for those on your gallery then first let those complete the download by connecting to a fast network or WiFi and then find them on the gallery.
3. Disabled media visibility feature:
Firstly, one has to go to Settings > Chats > Media visibility; the disabled option may lead to media including images not being seen in the gallery.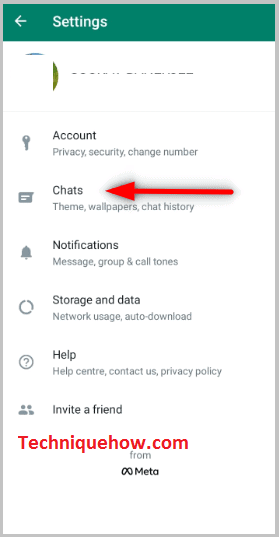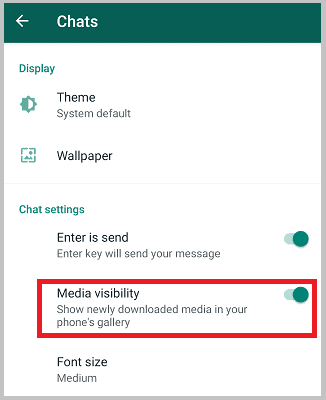 If you just check the feature is turned off just turn it on by swiping to the right as this feature actually hides the images.
iPhone – See Received WhatsApp Images not showing in Gallery
If you're facing this issue on your iPhone first confirm the reasons from above if any of these try fixing them. Although, there is a feature you should check if you're still not seeing the images in the gallery on your iPhone.
Sometimes it is observed that although you have downloaded an image that is sent to you on WhatsApp chat but is not received or saved in the phone gallery. There is a feature available in WhatsApp whose disability may be a reason for causing this kind of problem.
If you're using an iPhone then by changing a few settings your WhatsApp photos or videos will appear on your mobile gallery and will be auto-adjusted for all future incoming photos.
In order to show the WhatsApp images on your iPhone gallery,
🔴 Steps To Follow:
Step 1: First of all, go to WhatsApp>Settings>Chats.
Step 2: Then see whether this media visibility is on or not & find the option 'Save to Camera Roll'.
Step 3: Now, if it is disabled then swipe to the right to turn on the 'Save to Camera Roll' option.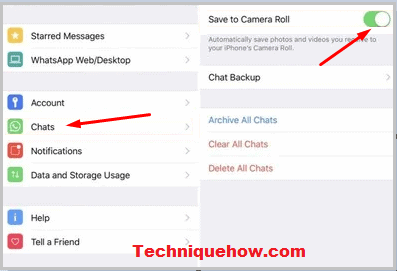 Step 4: Voila, you are now good to go!
View Sent WhatsApp Photos not showing in your Gallery
If you just deleted the images from the source just after sending those in WhatsApp those are still viewable from the chat as those are saved in the dedicated WhatsApp folder. Now, I will explain where to find the images on your mobile.
The photos that are being sent on WhatsApp are not visible in the gallery then you can still find those in your sent folder. If you have deleted those from the original source you can still access those in the sent section on your WhatsApp using a third-party tool.
As WhatsApp may not give access to or view the images in the 'Sent' folder, you can use the app in order to open those files.
To view the sent photos on WhatsApp from your mobile photos:

🔴 Steps To Follow:
Step 1: First of all, install the 'File Explorer' app, this is the commonly used file manager that can be used to view the images that are not visible in the gallery.
Step 2: Next, go to File explorer>WhatsApp>Media>WhatsApp images; under the 'Sent' folder it shows the hidden images that are not visible in the gallery.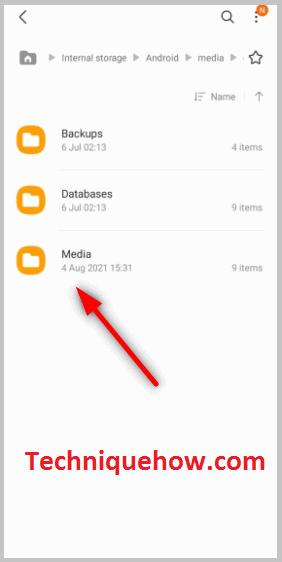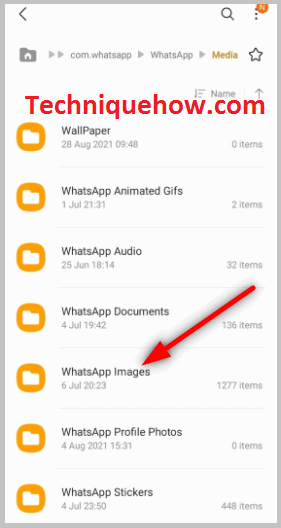 Other ways to view the images that were deleted accidentally, i.e. open recycle bin and retrieve the deleted image, and then it will be visible in the gallery from the original source (you're mobile).
Ways to Fix if WhatsApp Photos are not showing:
If you're looking for the final solution then in this article I have explained the ways to view the photos from your gallery after doing a few simple setups. There are several ways to fix the issue of WhatsApp pictures not being shown they are:
1. Enable Media Visibility:
🔴 Steps To Follow:
Step 1: For android users, open WhatsApp>Settings>Chats>Media Visibility & enable it.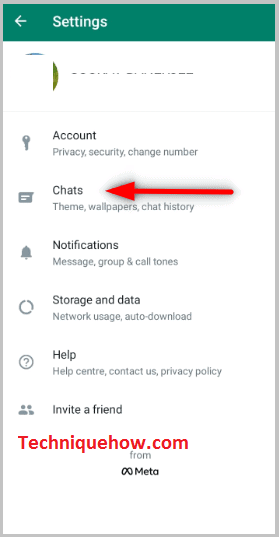 Step 2: For iPhone users, Open Settings>Privacy>Photos (turn on media visibility) or Open WhatsApp>Chats>Save to camera roll (turn it on).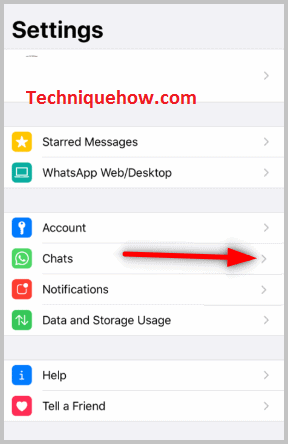 2. Download the received photos by tapping: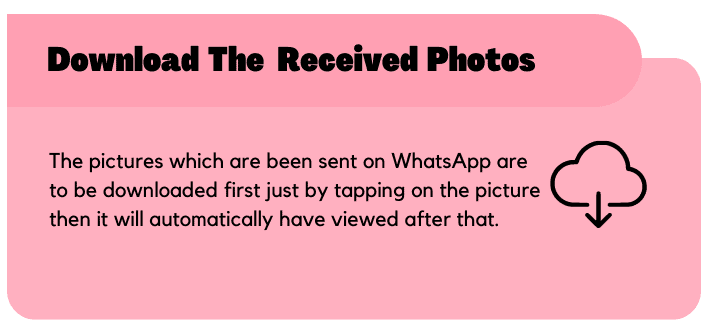 The pictures which are been sent on WhatsApp are to be downloaded first just by tapping on the picture then it will automatically have viewed after that.
Another way is to turn on the auto-saving option from the settings option and turn on saving the images automatically. These are two ways to see WhatsApp images by downloading them.
3. Save the number on your contacts: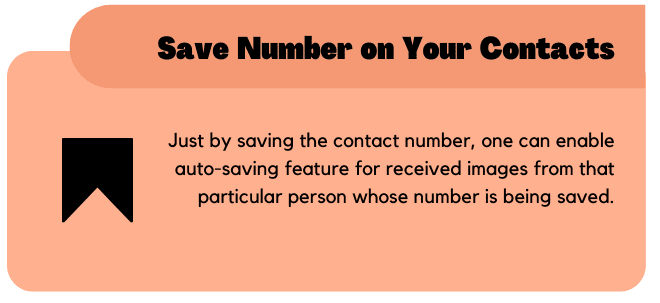 Just by saving the contact number, one can be unable to auto-saving future received images from that particular person whose number is being saved.
Such changes are to be performed for all contacts you want to get the media being received and seen in the gallery.
Once the contact is saved successfully, the issue of WhatsApp photos not being seen is fixed.
The Bottom Lines:
If you are not seeing the WhatsApp images (sent or received) on your gallery then that might be due to the photos being set to not viewable to the gallery or meanwhile it is still not downloaded in chat. In order to fix this just check if the images are viewable on the chat and then turn on the media visibility option to view those images in your mobile gallery.
Also Read: