People normally use the COD method and Credit cards while purchasing anything from Amazon but there is a way to get an item with discounts & a monthly payment system without paying any interest is an outstanding opportunity that everyone likes to grab.
Just contacted Amazon for such a recent option on this 'Monthly Payments' option & got a positive reply that the offer still exists and the criteria to avail this.

In the case of this promotional financing people actually pay the amount for the item with five installment rates but there are some limitations on products that you can grab this opportunity for.
To buy a product from Amazon.com using monthly payments, you have to either get Amazon.com Store Card (partnered with Synchrony Bank) or you have to use the Amazon Rewards Visa Signature Credit Card (partnered with Chase Bank).
Now to qualify for Amazon.com monthly payments, you have to get such Credit cards that are mentioned, but remember that the offer is valid only for some products that are listed on Amazon.com and this is a matter of change.
If you are planning to get your desired items with these monthly payments, you have to check whether this product is available with such an offer on Amazon.com and then only will be available to place the order.
After you make the purchase you have to maintain the installments created automatically with five steps to avail the interest-free payments for your product.
In this article, you can qualify for this Monthly payment on Amazon.com and which products are eligible to avail of this opportunity. Although, you cannot use a gift card in this payment.
What is Amazon Monthly Payments & How to Become Eligible?
Now it's time to give a detailed description of what is the monthly payments and how to qualify for this to get any item from Amazon.com.
To confirm the information, the Amazon gift card department replied to the question.

What Does this Amazon's monthly payment Mean?
Amazon actually offers to its user to get interest-free items with monthly payments on Amazon device family (Kindle, Amazon Fire TV, Alexa-enabled devices) or product category. This is limited to one enrollment per category for each customer.
You have Amazon's 5 monthly payments for items:
| Initial Payment | Shipment Date |
| --- | --- |
| First Payment | 30th Day from the Shipment Date |
| Second Payment | 60th Day from the Shipment Date |
| Third Payment | 90th Day from the Shipment Date |
| Fourth Payment | 120th Day from the Shipment Date |
Become Eligible for Amazon Monthly Payments
Not all credit cards are eligible to avail of this offer, you have a few options to avail the Amazon monthly payments and that's easy to maintain.

To get qualified for this option on Amazon.com you have to maintain some activities that are listed:
Step 1: Your Amazon account should be at least one year old and you must be a US resident.
Step 2: You should have an active credit card and the expiry date should be not less than 140 days from the date the item is shipped.
Step 3: Your Amazon.com history should be perfect and good to be eligible for this monthly payment option.
Step 4: You should have an Amazon.com Store Card enabled Visa credit card for the purchase that you want to make.
Step 5: Along with Amazon.com's history records, you have to have clean product purchase history records to avail of this offer. There is no interest fee or processing fee that is charged on these purchases however the tax on those products made varies depending upon the State LAW.
Note: You can complete all of the installments anytime if you wish to prepay the amounts from your credit card and that is completely optional.
On Which Products: You can avail No Interest
Charging of interest rates is subject to banks that are partnered with Amazon and your Amazon credit history or account history will decide whether this order is eligible to get with interest-free installments or not.
The products listed on Amazon.com should be eligible to qualify for the monthly payment option and this will be decided automatically as per Amazon's algorithm for users, if you qualify for this you can make the purchase with the Amazon Store Card option that will divide your installments with four installments and first initial payment on the shipping date.
However, you can only get the option for one enrolment from each category or Amazon device family that means you cannot purchase two products from your account with the same product category.
Remember: The feature is available for every user as the limitation is there for each user on Amazon.com. If you cannot purchase two items from the same product category, your other family members with different Amazon account can definitely purchase that with the same Terms and Conditions that Amazon applies.
Buy Products from Amazon.com with interest-free Monthly Payments
If you're planning to grab an item from Amazon Monthly payments and if you qualify for the monthly payments then you can definitely grab any item from the Amazon product category.
The process to buy any Amazon items with this month's payment option is very easy and you can get it in three steps if you have any Amazon store card that is eligible for interest-free monthly payments with 140+ days of expiry.
To buy an Amazon item from a single product category:
Step 1: First of all, just add that item to your cart and continue to checkout.
Step 2: On the payment page, you have to select Amazon.com Store Card as the payment option.
Step 3: Now the option will display Special Financing or equal monthly payments option (whichever applies) and you can see that from there and complete the purchase.
Step 4: If the cart is eligible for multiple promotional financing, will be auto-displayed on the final payment page. You have to choose the maximum duration of payment from the range displayed on the screen at the time of purchase.
From one product category, you can purchase only one item with this Monthly Payment option from your account.
If you qualify with the Amazon Terms and Conditions, you must be a US resident with having an Amazon account at least one year old. The Amazon device family, like Firestick, Kindle, and others also comes to this Monthly Payment option that you can buy with.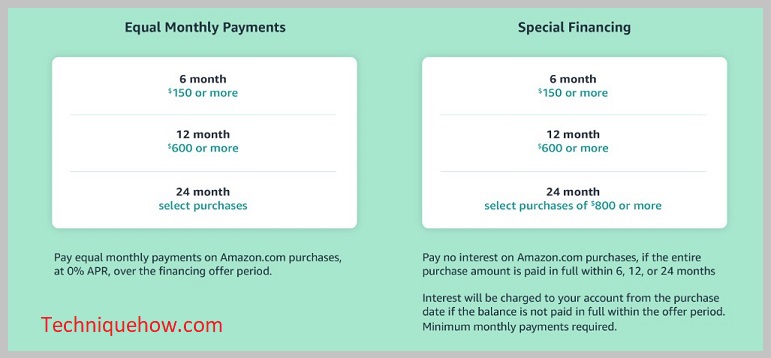 Note: You can also get the opportunity with Amazon Rewards Visa Signature Card if you have that. You can log in with your Amazon account and apply for such cards ( Amazon Rewards Visa Signature Card, Amazon Store Card) online.
'Buy Now Pay Later' for Amazon U.K. Users
Amazon for the UK recently introduced the option that you can buy now and pay the next month with the option 'Buy Now Pay Later' at the checkout page.
Users can buy any product from a product category and the same will be charged the next month but the offer is available for Amazon UK users. Amazon UK users can avail of the offer completely next month's payment with no initial payment for the purchase if qualified for that.
Promotional financing is like the same but you have to make an initial payment of some amount but the rest of the amount will be deducted from the next subsequent months without any interest fee.
In case, you want to grab this opportunity you have to select any product from any Amazon product category and then you can choose the options Amazon Monthly Payments if you are a US resident and then you can buy from the Amazon inventory if you are eligible for this product.
Is this payment plans still exist on Amazon?
If you want to make the purchase today with this Amazon monthly payment option then you have the five-figure option for a product purchase:
Step 1: you have to make the initial payment for an item that is decided automatically on the payment page.
Step 2: Next, you will have the payment to make after 30 days from the date of shipment of that product, the amount to make as the first installment of that product cost.
Step 3: After 60 days from the product shipment date, you have to make the second instalment payment of the product cost that is divided for the second installment of the product.
Step 4: Now the third payment cycle comes after the 90 days from the product shipment date and the amount will be the same as you have paid the previous two installments.
Step 5: The fourth or the final payment cycle comes with the amount that is dated after 120 days from the date of shipment and once you complete this fourth payment installment, your product is completed and you have successfully availed of this offer without any interest fee.
Note: Your credit card should be valid while you are making the purchase. Your card should have to be at least an expiry not less than 140 days from the product shipment date.
Amazon AfterPay:
Amazon AfterPay is the same feature that is taken differently and this option is the same as the 'Buy Now Pay Later' option and Amazon UK users will only be available to get such an offer with no initial payment where the US users will have to pay the initial amount for the purchase made through Amazon monthly payments option through promotional financing and the rest of the cost of the product will be divided into four installments that you can pay on the next upcoming months.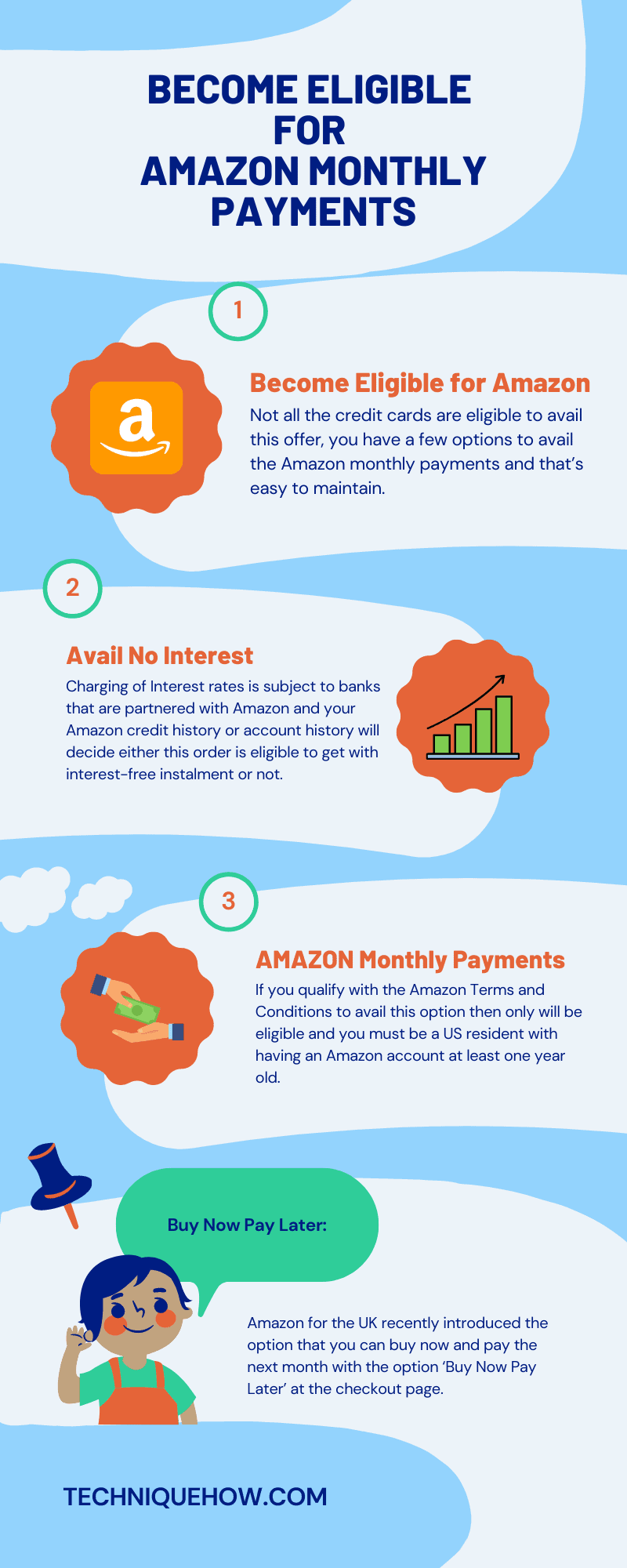 The Bottom Lines:
This article explains that if you want to buy any product from Amazon.com and pay next month then you can choose any product and get it with the 'Monthly Payment' option to pay the amount. You will be charged the initial payment for the amount and the rest of the cost of the product will be divided into four parts that you have to pay every month following some Terms and Conditions that Amazon.com applies.
Also Read: