Your Quick Answer:
To identify fake social media accounts, first, look at the DP and the story the person posts and make sure those are original by looking at the comments.
Also, find alternative social media accounts and if the person mentions the username of the social media there, the account may be real.
Some of the profiles make spam and send unwanted messages on chat and these profiles are directly suspected as fake profiles or spam.
Moreover, if the contacts are in your phonebook, you can easily identify the person who is behind a profile on Telegram.
You can try Techniquehow's Fake Telegram Checker tool, where you have to enter the Telegram ID or username and this will tell if the account is fake or not.
There are some steps to tell if an account is fake.
How To Identify A Fake Telegram Account:
To identify the fake account on Telegram you have to look for a few things that you can do with the below indications:
1. Using Modash.io
Modash.io tool shows graphs of followers and likes, and you can discriminate between fake and real accounts.
You can find notable influencers and fake followers, and you will get 24/7 chat support from them.
🔗 Link: https://www.modash.io/fake-follower-check/
🔴 Steps To Use:
Step 1: First of all, search for Modash.io; in the box provided, enter the username of the person and click on the "Check Profile" button.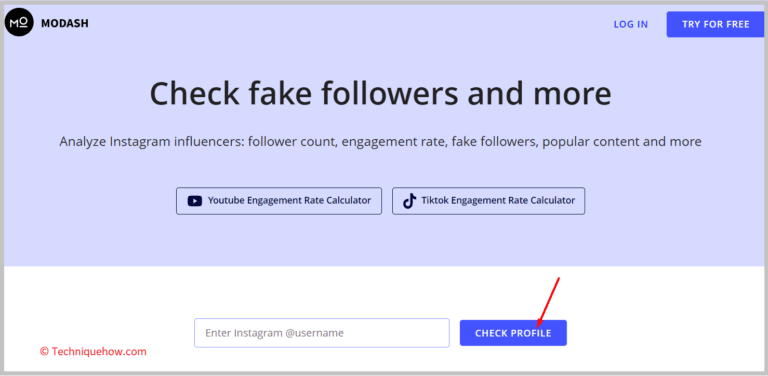 Step 2: It will start fetching the person's social media account data, and you can check followers, average likes, engagement rate, etc.
Step 3: If you buy their premium plan, you can use many additional features like downloading profile data monitoring to their profile.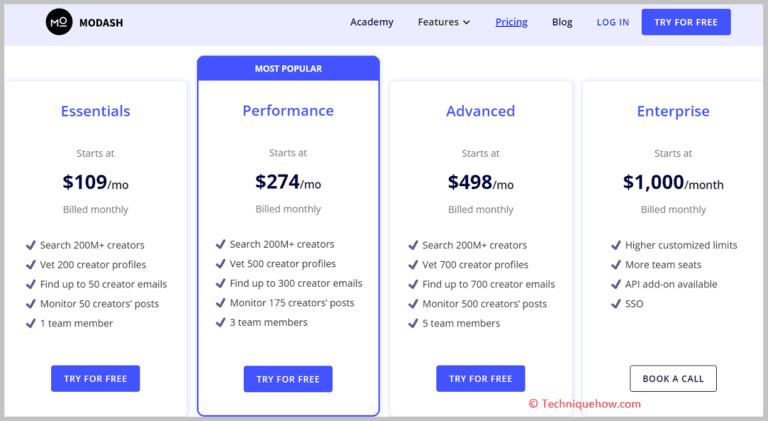 Step 4: With the free plan, you can determine if a social media account is genuine or fake by analyzing its followers and engagement rates.
2. See what He Sends you
On Telegram, people are more interested in channels and if you see someone sending you links to join channels every day and the profile has no DP or the number is unknown to you then that is a fake profile created for the fake promotion of the channels.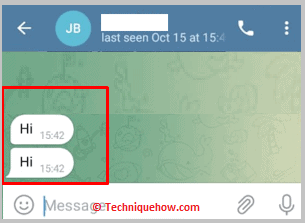 You can just report such profiles if you see something suspicious in the profile or better you can block them instantly.
3. Adding You to Multiple Channels
On Telegram, if a person just adds you to multiple channels that might be to increase his channel members, and the first thing you should do is just go and check the person in your contact address book.
If you know the person then it's good otherwise any random person on Telegram who just adds anyone unknown to them to the channels then that's might be a fake ID who can do such things.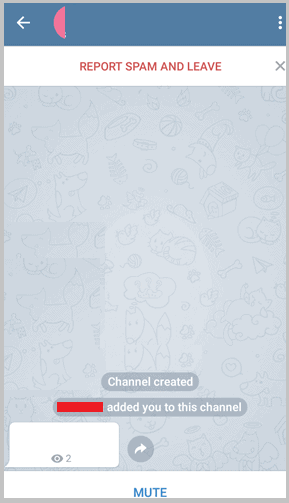 4. Fake Telegram Checker
🔴 How To Use:
Step 1: First, open Techniquehow's Fake Telegram Checker.
Step 2: Once the tool is loaded, enter the Telegram number of the account you want to check.
Step 3: Once you have entered the number, click on the 'Fake Check' button.
It may take a few moments to check the authenticity of the account.
After the tool has finished checking, the result will be displayed. The tool will indicate whether the account is fake or real.
5. Other Social Media
Many people on Telegram try to add members to their Telegram channels to increase the popularity of the channel or group. If you see such people messaging you to join or adding you to Telegram channels then you first look at the profile of the person.
Then just look for the other sources where it gains members (sometimes people use YouTube to get interested people to join the channels).
If you cannot find any authentic sources of the channels or the channels do not add any value then the profile that promotes such things tend to be fake.
This is a simple thing that you can do within a few minutes and you will find out the truth behind this fake account.
The above points you can also check with other messenger apps like the Signal app and you will be able to find the fake profiles.
How to know If it is a scammer on Telegram:
You can try the following methods below to know if someone is a scammer on Telegram:
1. Asking you For Money
If someone is sharing scam-related stuff in a group or personally, or if they are asking to purchase any product or courses, then you can say he is a scammer.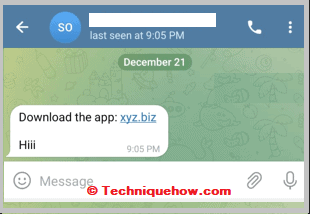 2. Ask you to Join Through Random Spam Links
If any person on Telegram sends you random spam links to join any channel, you can say he is a scammer.
How to Report Fake Account on Telegram: 
To report a fake account on Telegram:
🔴 Steps To Follow:
Step 1: Open the Telegram app, open the person's chat, go to his profile, and copy the username.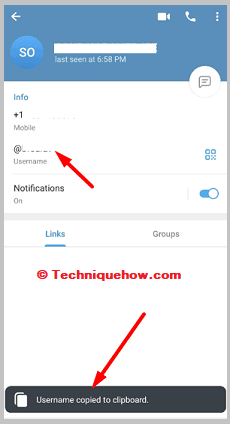 Step 2: Open your Gmail account and compose an email to [email protected], mentioning the username of the person and the reason why the account seems like a fake account.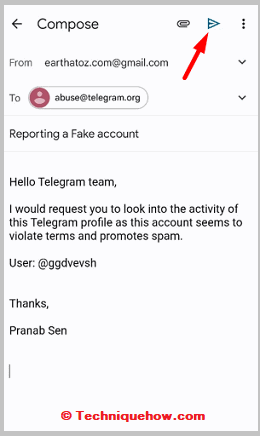 Step 3: It will be easy for them if you add a screenshot that proves that the account is fake.
Also Read: