Your Quick Answer:
To identify fake social media accounts, first look at the DP and the story the person posts and make sure those are original by looking at the comments.
Also, find alternative other social media accounts and if the person mentions the username of the social media there, most probably the account may be real.
If you have many friends on your social media and you're wondering which of those are fake accounts then you can identify those accounts using a few checkpoints.
But, from a large list of people, you have to find out the profiles that are fake, and here will explain the points that you can verify with your social media accounts like WhatsApp, Telegram, Snapchat, Signal, etc.
Some of the profiles make spam and send unwanted messages on chat and these profiles are directly suspected as fake profiles or spam.
By reporting such profiles, you can easily get rid of such unwanted messages on your WhatsApp or Signal.
Moreover, if the contacts are on your phonebook, you can easily identify the person who is behind a profile on WhatsApp, Telegram, Signal, etc.
This article will explain the indications that you might look for in order to identify any social media accounts on WhatsApp, Telegram, or Signal that is real or fake.
How to Identify Fake Social Media Accounts:
If you're on any social media platforms and trying to find out whether the profile if it's fake or not then these are the below points that you must check:
1. Look for Suspected DP:
If you're on your social media and someone is regularly spamming you then the first thing you should do is, just look at the DP of the person.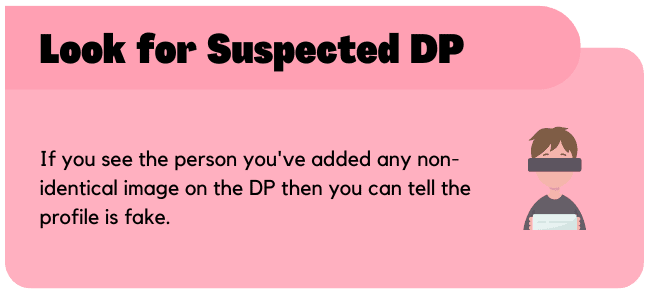 If you see the person you've added any non-identical images (the images that are downloaded online and uploaded on DP or the image that does not prove his identity) on the DP then you can tell the profile is fake.
2. Check for Posts:
Let's check for the posts and these kinds of things helpful to identify the fake profile on Instagram. So, if you're on Instagram and trying to identify fake accounts then just look at the profile of the person and see what he posts.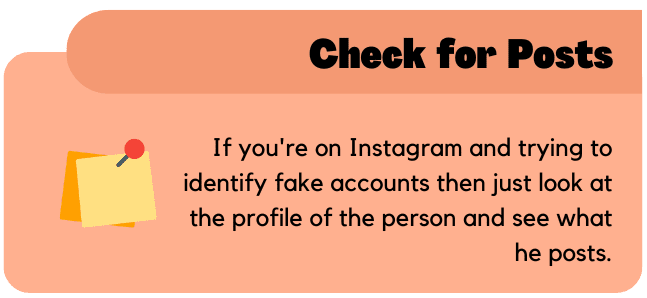 If the daily updates are related to the original photos of self then it's fine otherwise if the account is used to promote products then that might be a signal of being a fake account.
3. Find Group Photos:
If the person on social media shares his updates with a group of people (friends and family) then it proves to be real. However, an account that shares random profile pictures and posts to gain followers or users is a fake social media account.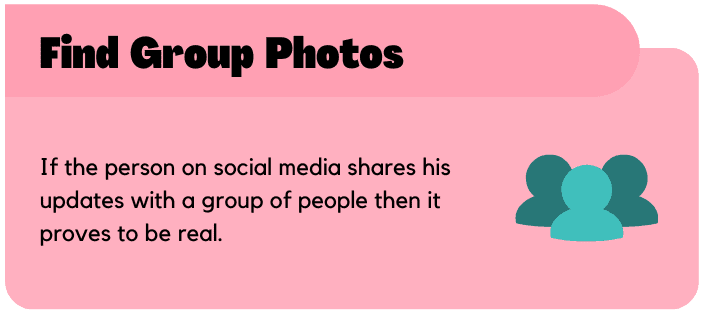 So, before you identify an account check at the post if that comes with the group photos of the person, multiple times.
4. Look into other Social Media Accounts:
You can look at the other social media accounts if the person shares his stuff on there and if he mentions the social media profile details on the other platforms.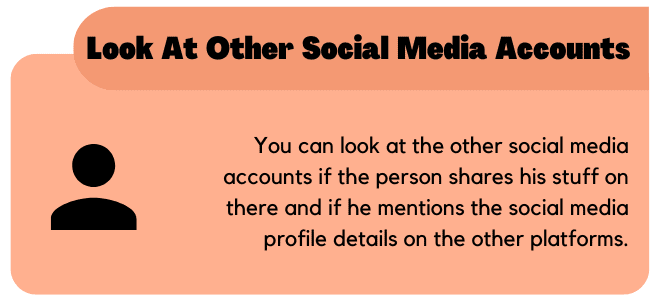 Now, sometimes if you look at the person's profile, you might see he mentions the other social media account details and you have to find out if the person on another social media platform shares this ID there or not.
How to Identify Fake WhatsApp Accounts:
If you're on WhatsApp this is really easy to identify any fake accounts and this is really simple just by looking at the DP and status.
Let's find out the profile with these below points:
1. Look at the DP:
Looking at the DP on someone's WhatsApp profile can tell a lot more than anything else and changes in DP increases the chance of originality of the profile.
If you just look at the DP of someone's WhatsApp profile and you find out that the person has a random DP then you can tell at the first step that the profile is fake and before you make sure, wait and look for some other indications to confirm.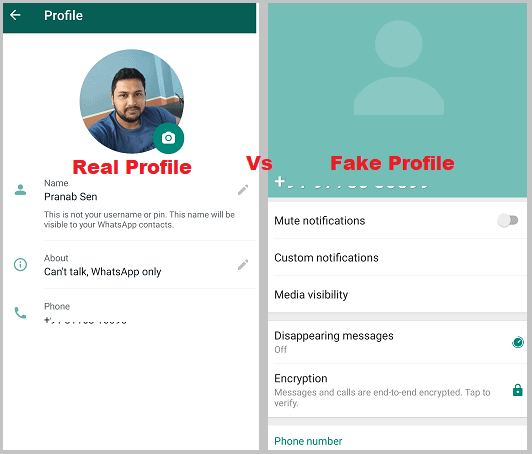 2. Look at the Status:
You can just look at the statuses on the WhatsApp profile and using that you can easily find out if the profile is fake or not. Now, if the person promotes products in status but has no DP in his profile then this person might be hiding the identity of his profile and in this case, you can tell this is a fake WhatsApp account.
That is confirmation of the first and you can be sure in this step that it's a fake ID.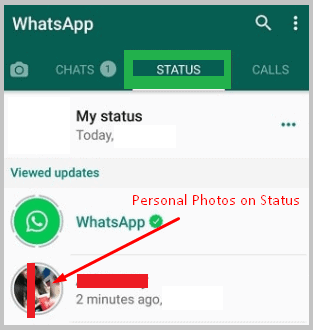 3. Check Daily Behaviour:
Sometimes, just by looking at the daily behavior of the person, you can easily tell if the person has changed his behavior in order to find out if the profile is fake.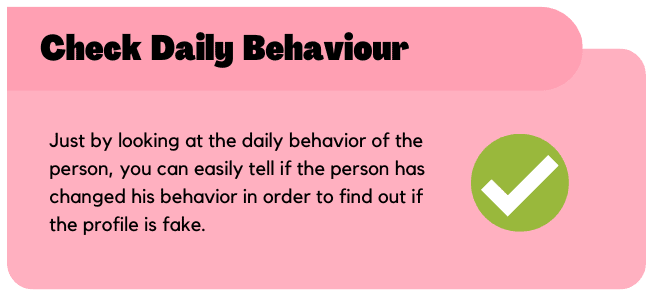 Actually, it is seen someone's profile actually contacts you and after chatting for a while they want you to scam, and if you see such actions by the profile be sure it's a fake profile and just block them for good.
How to Identify Fake Telegram Accounts:
To identify the fake account on Telegram you have to look for a few things that you can do with these below indications:
1. See what He Sends you:
On Telegram, people are more interested in channels and if you see someone sending you links to join channels every day and the profile has no DP or the number is unknown to you then that is a fake profile created for the fake promotion of the channels.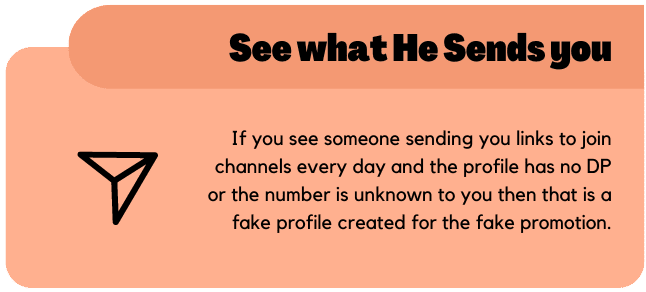 You can just report such profiles if you see something suspicious in the profile or better you can block them instantly.
2. If the Person Adding You to Multiple Channels:
On Telegram, if a person just adds you to multiple channels that might be to increase his channel members, and the first thing you should do is just go and check the person on your contact address book. If you know the person then it's good otherwise any random person on Telegram who just adds anyone unknown to them to the channels then that's might be a fake ID who can do such things.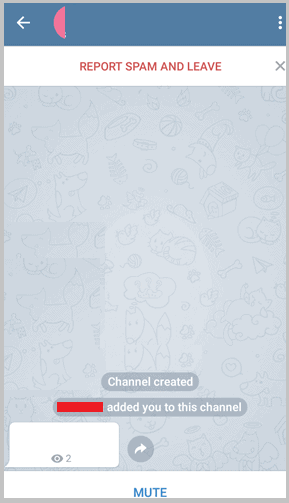 3. Look for other Social Media:
Many people on Telegram try to add members to their Telegram channels to increase the popularity of the channel or group. If you see such people messaging you to join or adding you to Telegram channels then you first look at the profile of the person then just look for the other sources where it gains members (sometimes people use YouTube to get interested people to join into the channels) but if you cannot find any authentic sources of the channels or the channels does not add any value then the profile that promotes such things tend to be fake.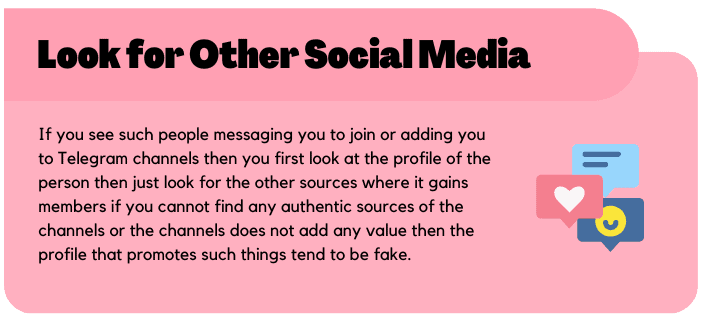 This is a simple thing that you can do within a few minutes and you will find out the truth behind this fake account.
The above points you can also check with other messenger apps like the Signal app and you will be able to find out the fake profiles.
The Bottom Lines:
This article explained the basic steps that might help you identify a fake account on any social media platform. The indications that you might look for in order to suspect any fake profiles are the only way to identify those profiles and take action.
Also Read: