Your Quick Answer:
The limitations include that you cannot upload status directly & you can only view uploaded status from the phone on WhatsApp Web, you also can't delete a status from WhatsApp Web. WhatsApp is constantly bringing updates to it so that users can get a great experience.
You would see the Status icon, which enables you to view your status uploaded by your mobile. This feature is provided on mobiles only but there are some tools that you can use in order to directly upload the status or remove it from the WhatsApp web itself.
There are a lot of features that work on only the WhatsApp mobile version rather than the WhatsApp web. But you would love to know that there are many hidden tricks and ways by which you can upload status on the WhatsApp web.
There are some extensions to download the WhatsApp status that you can try.
There are some issues that you can fix if WhatsApp fails to download a file.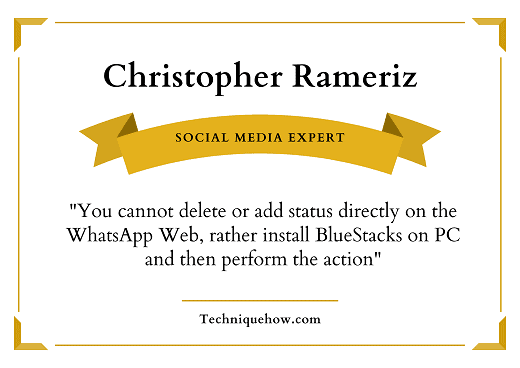 How to Delete Status On WhatsApp Web:
The only way is Bluestacks, which is a trustworthy & unfailing android emulator. With the help of Bluestacks, you can safely install WhatsApp on PC.
But one thing is clear, it is not WhatsApp Web, even if it is being opened on a laptop. This is because in this you will not have to follow any steps like scanning the QR code. It works the same way as WhatsApp on Mobile Phones, but the difference is only in the screen size.
You will not be able to use that WhatsApp by installing it on other devices rather the web can be used on other devices including mobile browsers in desktop mode.
Note: The downloaded file is probably around 140 MB so you have to be patient throughout the installation. It will not be possible to install Bluestacks without a graphic card if your PC is not updated.
Step 1: Install the Bluestack for any Web Browser.
🏷 Here is the official website link: www.bluestacks.com
Step 2: The two versions BlueStacks 10 and Bluestacks 5 will be displayed on this page. Download any one of them that is compatible with your PC Window.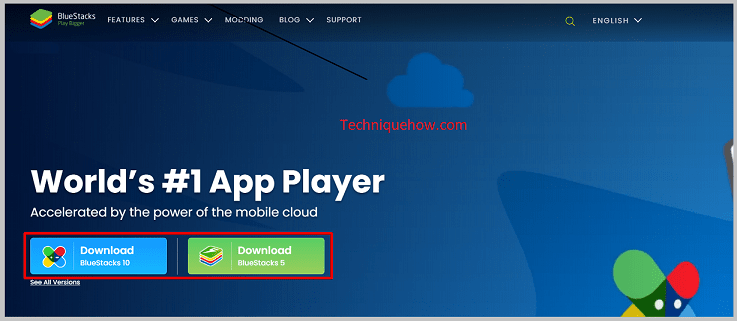 Step 3: Once the installation is done, (Run> Accept the Terms> Next >Next> Install).
Step 4: At the top left corner of Bluestacks, the Search option will be displayed.
Step 5: After that, you have to search for WhatsApp.
Step 6: To download WhatsApp on the play store, you need to search WhatsApp and tap on Enable > Continue > Existing/New. Create a New Account if you don't, otherwise, click on the Existing option.
Step 7: Mention your login details> Next> Continue> Again enter your Google Account Details>Sign In> Let's Go> Accept.

Step 8: Next, search for WhatsApp Messenger, Click on Install. Next, accept for further process.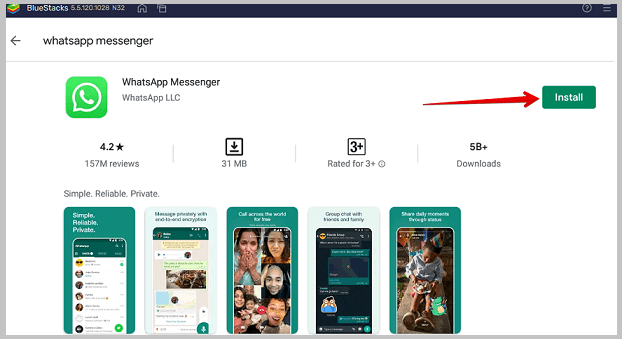 Step 9: Once the installation is complete, click on the Terms and Conditions.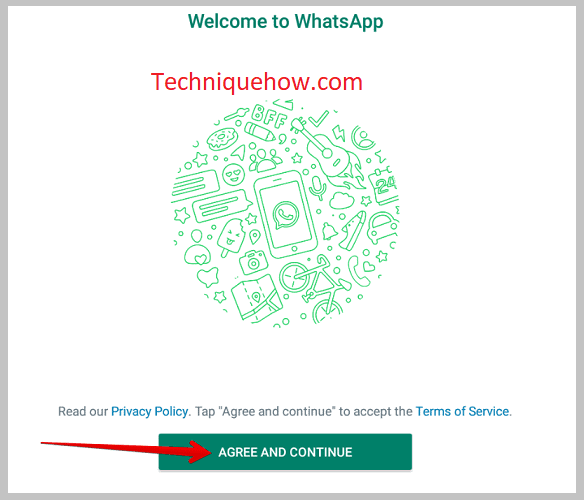 Step 10: After that, enter your phone number> Ok> Verify via text message or verification call.

Now, you're ready to use WhatsApp on your PC without any interruption. Whether you want to upload, delete status, or share pictures.
How to Upload Status on WhatsApp Web:
As given above, some shortcuts and tricks can do the job when it comes to uploading statuses on WhatsApp Web.
🔴 Steps To Follow:
Quickly follow the steps given below:
Step 1: First of all you have to get the "WA plus Web for Whatsapp", an extension on the google chrome web store.
Step 2: Next, click on that option with the help of your mouse. Click on the 'Add to Chrome' button option.

Step 3: Then, open New Tab to open the Whatsapp Web. Once WhatsApp Web is open, you will have to tap on your extension by going to the extension option given at the top right.
Step 4: After that, click on your pined extension. The two options namely Sticker Generator and Status message at the right below corner will be displayed.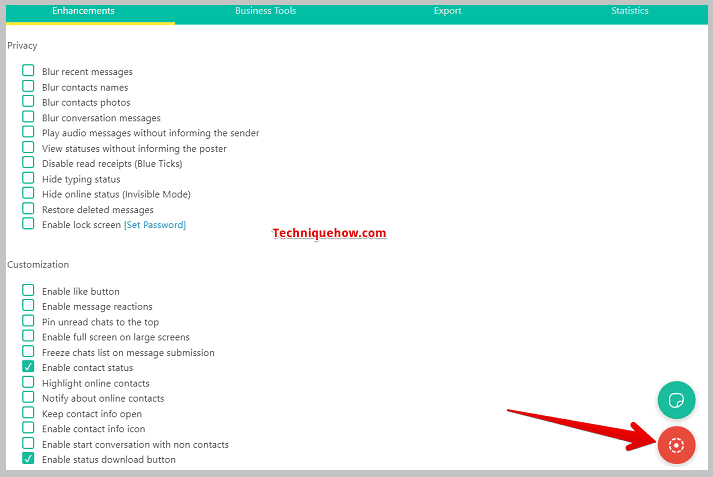 Step 5: Next, click on the Status message option. To upload any status, you need to choose File directly from your PC. If you want to put a status message, you can apply it by texting anything.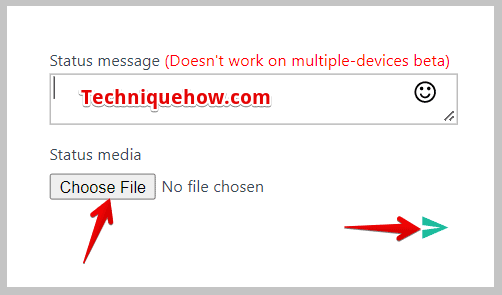 Note: To see if this status has been uploaded, reload WhatsApp web. That's how; you can upload status directly from your Whatsapp Web.
How to Add Status in WhatsApp from Gallery:
There are various ways to access photos from your mobile to your PC, including by emailing, using a USB cable, or using Google Photos.
Here are given steps that show ways to transfer via USB cable:
1. Transfer Data From Mobile to PC:
Step 1: Start by connecting your PC to the system using a USB cable.
Step 2: Once the USB has been connected, make sure to tap on the media transfer option.
Step 3: Once the option has been selected, it will pop up a window on your PC from where you can transfer your photos, videos, etc.
Step 4: You can see the connected phone on a PC or Laptop.
You can transfer the photos to the Pictures folder or DCIM. Simply copy and paste from your phone to your device.
2. Upload Status from Device:
Step 1: Open WhatsApp web on chrome and tap on the extension.
Step 2: Tap on the red circle icon.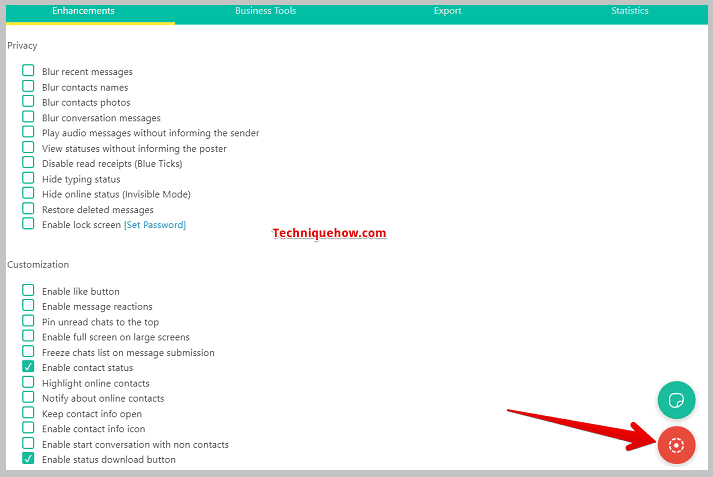 Step 3: Choose the file to upload and tap on the paper plane icon to upload on status.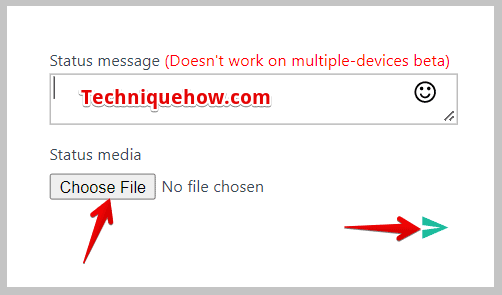 It's done.
🔯 Update WhatsApp Status Video:
You can upload only 30 seconds video on your Bluestacks Whatsapp. For long videos, you can upload split videos in parts the same as the phone. Simply follow the steps above to install Bluestacks to open WhatsApp with it, there you are good to go with uploading pictures and videos.
How to Download Status Video on WhatsApp Web:
With the help of Status Saver, you can download someone's WhatsApp status video. For Whatsapp Web, some extensions can do this.
There is another simplest way that you need to follow:
Step 1: Open your WhatsApp Web on your PC/Computer.
Step 2: Next, sync your mobile device with Whatsapp Web.
Step 3: Install the WA plus Web for Whatsapp extension on your browser.

Step 4: Now tick on the option 'Enable status download button' and open the status you want to download.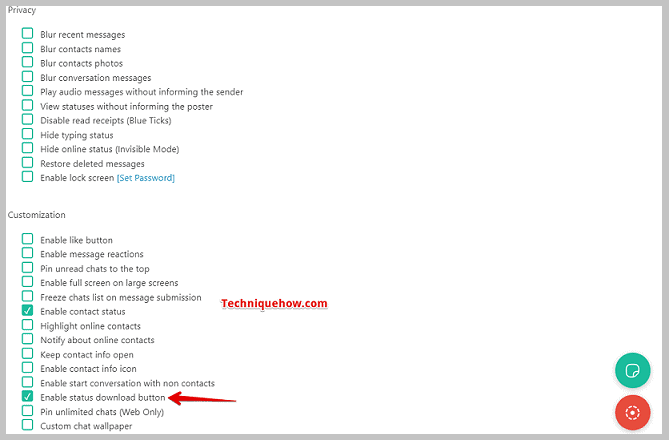 Step 5: Now, just tap on the downward arrow 'Download' button.

Once tapped onto this, the video will be saved on your PC.
The Bottom Lines:
This article explained the different ways that you can use to upload or delete status directly from the WhatsApp web or the PC itself. Just follow the above methods and you can also download others' statuses as well those methods.
Also Read: