If you just open the WhatsApp chat then you might see someone as 'Online' if he is active on WhatsApp. But, if you are not present at that time, you might miss the person and in order to know when someone comes on WhatsApp, you must set an app that notifies you when someone comes online on WhatsApp.
☛ If you want an app to do this automatically, check out these best WhatsApp online tracker apps.
To get notified on WhatsApp when someone comes online, first of all, install WhatsDog, mSpy, or OnlineNotify on your mobile and run. After that, log in with your WhatsApp number. Just tap on the active option and make sure the campaign is shown in green.
Note: There are some tricks that create fake last seen that you might know how it's done.
To get notifications while someone comes online on WhatsApp,
Firstly, install OnlineNotify on your phone.
Now this will ask for permissions, just tap on 'Allow'.
Once the setup is complete, select the 'contacts' you want to enable the alert for.
When someone comes online or goes offline, you will be notified on screen.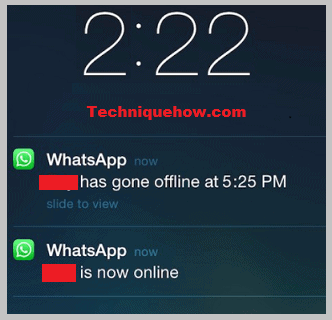 Now, when he/she comes on WhatsApp, you will be notified.
☛ Even, you can check if someone is online on WhatsApp without opening a chat.
[1] WhatsApp online notification Tracker Free Apps
The free apps are to get Online Notification:
WhatsDog
mSpy
OnlineNotify
WhatzTrack
This does not matter if your using iOS (iPhone/iPad) or Android, the system is available on both types of devices.
These are the third-party apps for your android & iPhone to get an instant alert whenever someone comes online on WhatsApp.
But, on iPhone, the app generally needs jailbreaking means you can easily run this on your iPhone 6 or 7. For the latest versions, if you have the jailbreaking you can do this as well.
In this article, we have listed the apps which are working on this process to pop up an alert for a WhatsApp user's active status.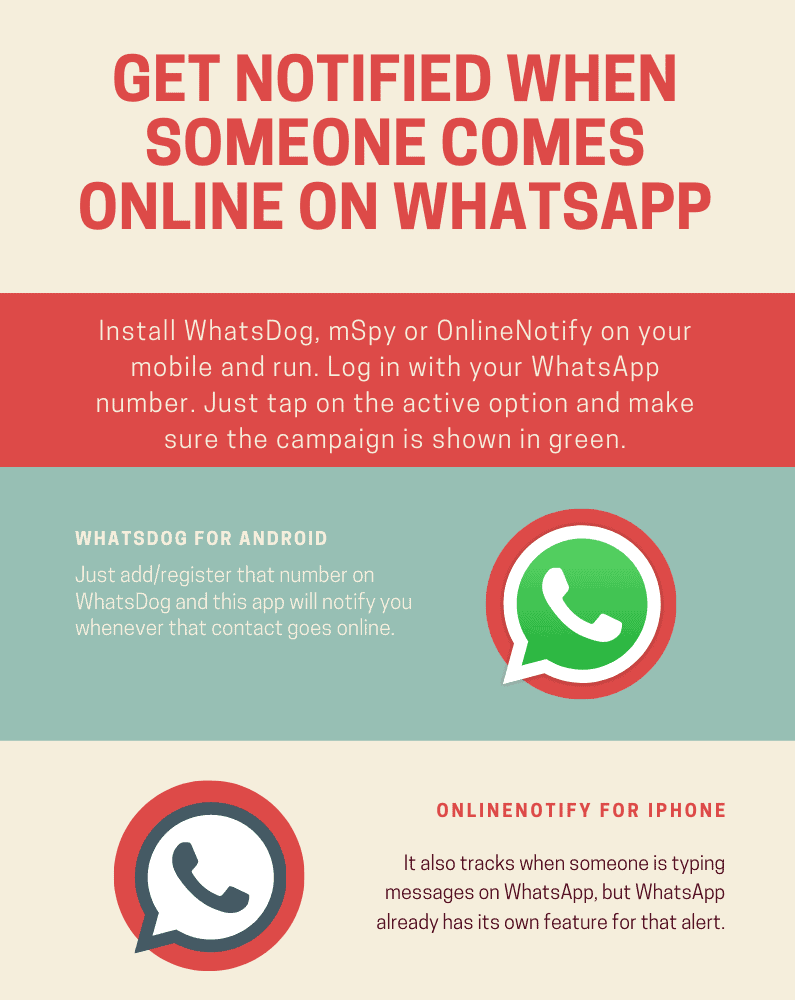 Why does the last seen timestamp HIDE sometimes?…
If you see someone's profile picture is visible but the last seen timestamp is blank then a person's inactivity on WhatsApp might be a reason for that.
You must understand that if you have your data connection turned off then also you will not be able to see the updated last active time of your friends.
Another reason for the blank last active timestamp is when someone has blocked you on WhatsApp. However, in that case, the profile picture of that user will be set to blank or hidden as well.
[2] Receive Notification when Anyone Comes Online
You will get the alert when someone goes online on WhatsApp after the setup in the following guide which includes the best apps for your Android or iPhone devices.
To check if someone is online on WhatsApp try these apps and for sure you'll be able to see who is online to chat with that person on WhatsApp Messenger.
1. WhatsDog for Android:
WhatsDog, offered by Second Lemon, is the best app to check who is online on WhatsApp. You can easily get it by searching in Google and install the .apk file.
To get a notification when someone comes online on WhatsApp:
1. Download & Install WhatsDog on your and Android.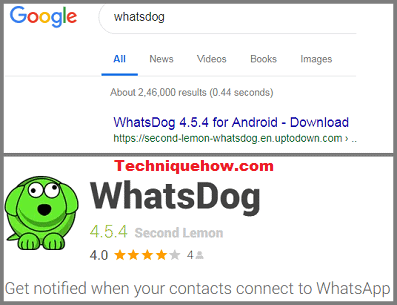 2. To track a number just add/register that number on WhatsDog and this app will notify you whenever that contact goes online. Yes, an alert with sound.
So if someone needs this app, ask him to download and install first.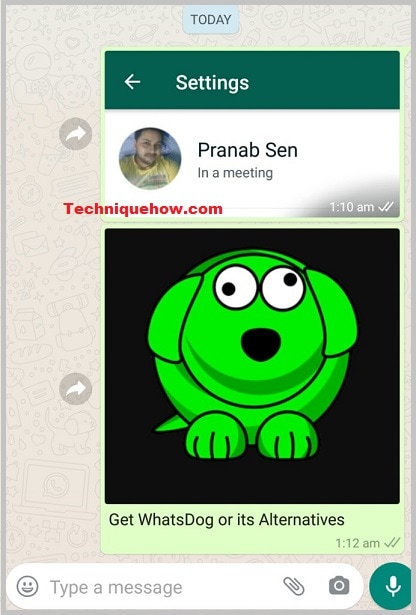 WhatsDog also shows how long the person has been online in a day. This is the best one for your Android to give a try.
Another app named GbWhatsApp can do this as well.
2. mSpy: Know if someone is online on WhatsApp
mSpy is the best mobile spy app for both Android and iPhone. This application is used to track WhatsApp data as well as gives an alert when someone comes online on WhatsApp.
On your iPhone it doesn't require jailbreaking, this could be installed easily without that.
The best part.
Live support available all the time if you face any issue of installation and using it.
This user-friendly app can also be installed in your Android device and offers the same as on iPhone.
Benefits:
mSpy provides information that is 100% accurate.
1. You will get alert when someone comes online on WhatsApp.
2. You can select a contact and get all the required info for that person including call logs, messages, emails, history and much more.
3. This app can provide all of the necessary information for the online chats as well.
To install the mSpy app, search it in Google and allow third-party installation on your device to complete the installation process on Android.
For installing it on your iPhone, just go to iCloud and take the backup at first and install that without a jailbreak version.
3. OnlineNotify for iPhone:
If you have a jailbroken iPhone then you are good to go with OnlineNotify. This app is available only for the iOS devices and provides notifications on exits and entries of someone else on WhatsApp.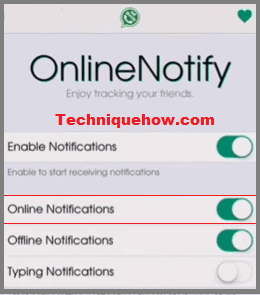 To track if someone is online on WhatsApp on your iPhone:
First, Download and Install OnlineNotify on your iPhone.
Still, some claim that it also tracks when someone is typing messages on WhatsApp, but WhatsApp already has its own feature for that alert.
This app can be useful in most of the cases but still fails sometimes to provide the information.
Benefits:
1. You will receive the notification not only when someone comes online, but also when he/she exits.
2. This app can be installed on all versions of iOS.
Besides these things, there are a few cons you might consider before buying it:
1. This app is not free, it charges nearly 2 USD.
2. The accurate working capabilities of this app are 83% of the time.
3. You must jailbreak your iPhone to use this app.
However, this app is not available as of now for Android but to install it on your iPhone, Google OnlineNotify.
4. WhatzTrack Tracker for iPhone
If you are looking for an app that works without jailbreaking then WhatzTrack is the best-paid app and does not need access permission. That is why this WhatzTrack also keeps the safety concern on top and does the work on its own.
You can use WhatzTrack on iPhone and monitor when someone comes online on WhatsApp and spend time.
Remember that, the app has the lowest and reasonable monthly fee to monitor WhatsApp user's activity. You can CALL this app a spying app for WhatsApp.
You can monitor if someone comes online or when he goes offline using this WhatzTrack.
Benefits:
1. WhatzTrack is giving a lot of features with a very small fee but does not require access permission on your phone contacts.
2. WhatzTrack can work without jailbreaking.
3. You can also monitor how long a person stays online on WhatsApp.
4. Available on both Android & iPhone devices.
The Bottom Lines:
The apps described here are the best among the list to receive an alert.
Some of those apps, need root permission(Android) or jailbreaking(iOS) to run on the devices. Here we have listed the alternative apps for this solution as well.
If you have sent a message to someone that was marked as delivered but you cannot see the last seen time, this indicates a few facts which are given below:
➊ The person is getting alert of your message but maybe he is using 'flight mode' or turned off data on mobile before viewing it.
➋ WhatsApp also provides the 'Mark as unread' option which hides the read receipts. Also, you can untick the read receipts option for all users as well which stops the read receipts to appear.
Also Read: