Your Quick Answer:
To read the WhatsApp group messages without being seen,
First, make sure the notification is turned on for that group and install the 'Unseen Last Seen Hidden Chat' app on your mobile.
Now when someone sends a message to you on the WhatsApp group, you can view those messages either it was sent in a group or in a chat directly from this third-party app.
If you read messages from this app, the other person would not know that you have read the messages.
The basic step that most people follow is just using the WhatsApp web to see the chats and messages but this has a limitation.
WhatsApp Group-message Viewer:
How To See Whatsapp Group Messages Without Seen:
If you want to read WhatsApp messages without knowing the other person then you have many choices. The simplest thing that you can do is just by turning on the flight mode option and then seeing the WhatsApp messages that came on your phone after that close that WhatsApp and turn on the mobile data.
Let's describe how can you read WhatsApp messages without them knowing:
◘ When you get notifications that someone sends to your WhatsApp initially just turn off your mobile data or Wi-Fi.
◘ Now open your WhatsApp chat and read those messages.
◘ Close that WhatsApp on your phone from your tasks.
◘ Connect to the internet again. The person will not get any blue tick sign when you have read those messages.
Whenever the phone gets connected to the WhatsApp application again the person gets the blue tick on the read receipt instantly at that time.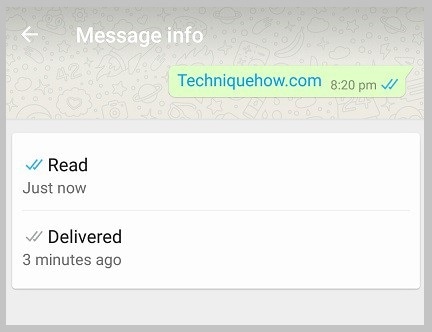 You can say that they would not get the correct read time rather they will get the read receipts when the WhatsApp application gets connected to the internet.
But there is another way that you can turn off your read receipt from the settings and by doing this you would not get a read receipt for the messages you send to someone else.
1. Without Blue Tick:
The blue ticks on messages are something that you get when someone reads your sent messages on WhatsApp and vice-versa. If someone reads your sent messages you also get the blue tick for your sent messages.
Let's follow the process in order to turn off the blue tick option while reading someone's messages on WhatsApp:
Step 1: First of all, open your WhatsApp and then go to the 'Settings' option from the top three-dot icon.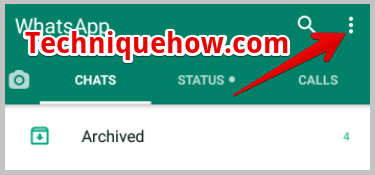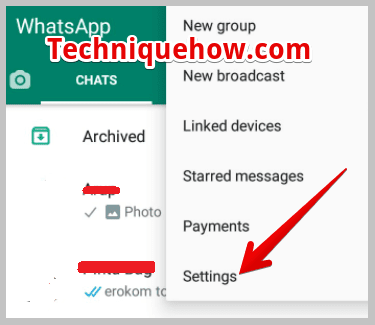 Step 2: Now from the settings go to Accounts and then go to the Privacy option.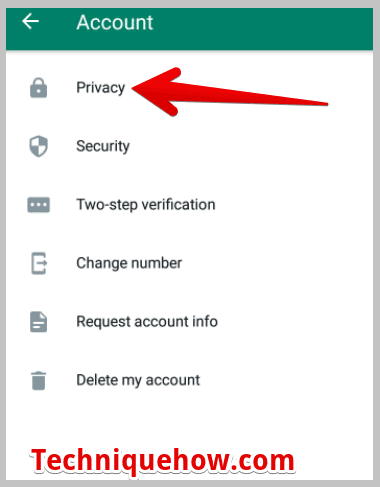 Step 3: Under the privacy option you will see the option 'Read receipts'.
Step 4: Just swipe the button to the left to turn off Read receipts.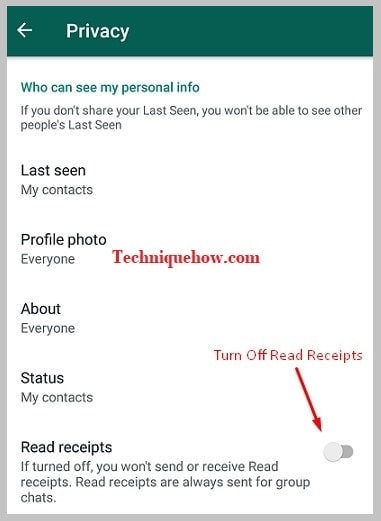 Step 5: Once you have done this, all of your sent messages will never get any blue ticks and finally, other people will no longer see blue ticks when you read their messages.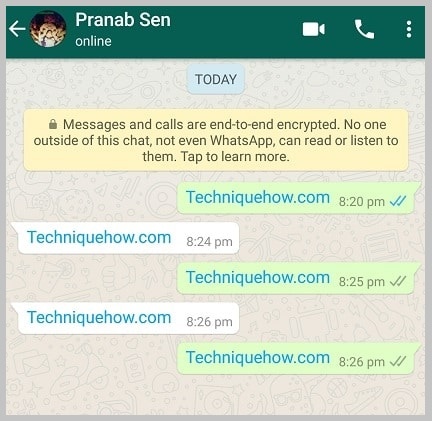 Step 6: As you see even if you get the reply the tick has not gone to blue for sent messages.
After you swipe it to the left, the read receipts will no longer be received and the person will not get the double-blue tick when you read his messages.
2. Without Opening the App:
If you have got a few messages on your WhatsApp group and you don't want to show yourself as Online or don't want to open WhatsApp but want to read the messages as well of that particular group then you can do some following steps.
You will have two parts to this, firstly you will be able to see the text messages and other files like images or videos that can be easily viewed from your phone gallery where the WhatsApp media messages are being saved, and this works for those saved contacts that appear as group members.
Just one thing is that the contacts that are present on the WhatsApp groups should also have to be present on your contact list as well to get the media files automatically saved on your phone media.
Let's get this sorted out in some simple steps:
Step 1: Make sure you just have turned on your notification for that WhatsApp group or it is not muted.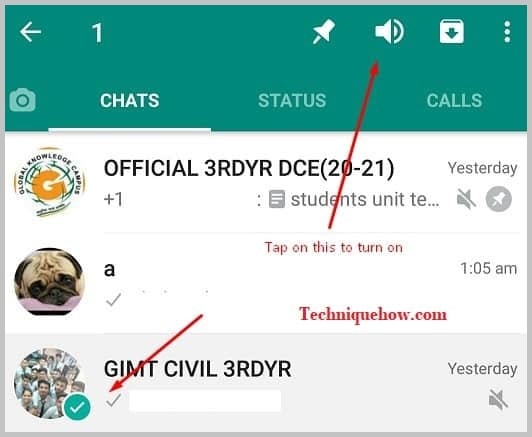 Step 2: Now once someone sends you messages on that WhatsApp group this will be notified on your notification bar on your Android or iPhone devices.
Step 3: When someone sends you media like videos or images, this will be saved on your phone automatically if your settings are made to auto-download the media files and the WhatsApp group contacts are saved onto your phone book.
That's all you have to do to see the messages and media on a WhatsApp group without being seen.
3. With mSpy:
mSpy is the best spying app that you can get for both iOS and Android. This mSpy is used to track online status, get notifications, or hide last seen and like many things.
To view received WhatsApp messages without them knowing, just do the following: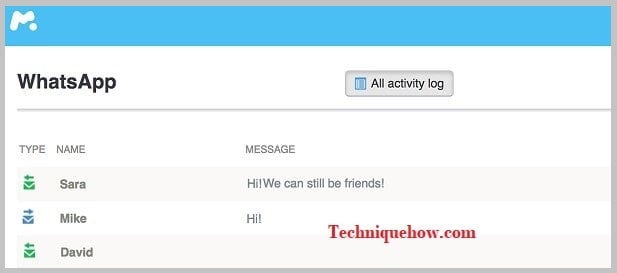 ◘ Create an account on mSpy with your email ID or set a strong password.
◘ Download & Install mSpy on the target devices where WhatsApp is installed.
◘ After that, log in to your account into the mSpy dashboard with those IDs and Passwords.
◘ Now you can easily see other messages on your phone without letting the sender know about that.
That's all you have to do.
Apps to Read WhatsApp Group Messages Without Senders Knowing:
If you want to use any third-party apps that can do the job for you then you can use the following apps that you can get from the Play Store. Now what this app is doing is, this tracks all of the incoming WhatsApp messages and save them on its internal dashboard when someone sends messages, you can view those messages and the person will not get the blue tick for those messages as you are not using the WhatsApp Messenger originally to see those messages.
1. UNSEEN – NO LAST SEEN
⭐️ Features:
◘ Can record all incoming WhatsApp messages and save them.
◘ WhatsApp messages including media or text messages can be seen through this app.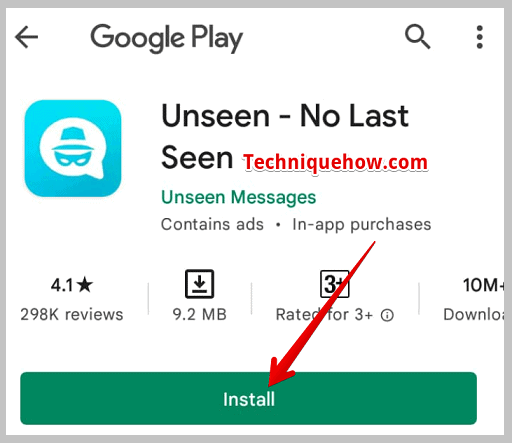 🔴 How Does it Work:
When you read the messages on this app then your read receipt will not be sent to that person as you are seeing the recorded messages on this UNSEEN app and not using WhatsApp messenger.
2. Offline Chat – no last seen
⭐️ Features:
◘ No 'Read receipts' or last seen.
◘ Can view all messages from WhatsApp, and Facebook without being seen.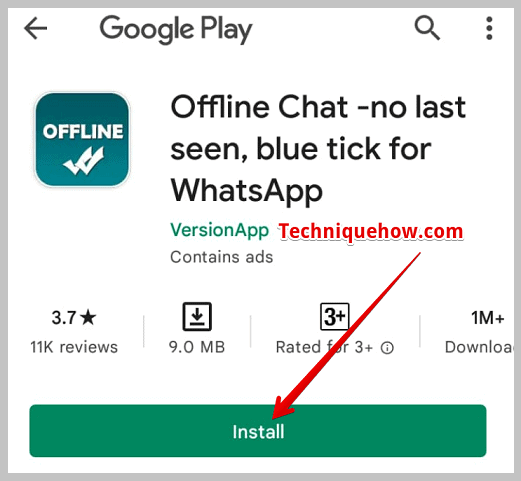 🔴 How Does it Work:
When someone sends you messages on WhatsApp then those messages get recorded on this app and you can see those messages on this app and the same will not be notified to the particular person.
Also Read: