A Reverse Username Search is a search space that allows finding people using a username on any social media platform or even email. Most the people use same username to create more than one social media account, in that scenario, reverse username search helps to search out all profiles on different social media platforms.
In this article, let's take a close look at the topics related to reverse username, it's working, and majorly the tools for searching the username.
What is Reverse Username Search?
A search engine where you can locate a person using just their username is a Reverse Username Search. You can find using the username of any social profile or email.
Even, using the tools you can match the profile name and the profile information to confirm whether a person portraying himself to be, is really that or not.
Following is the list of ways of using Reverse Username Search:
1. Find the lost connection
If somehow you have lost the connection, you can find them using their addresses, social accounts, and even email addresses with a name search.
2. Check Authenticity
You can check whether the person showcasing himself on the internet is real or fake.
3. Verify Businesses & Identities
You can verify the information about any business or a person, using their business profile name.
How Does Reverse Username Search Work?
Reverse Username Search is a type of search system, where you have to enter the username of the person, whose information you want to locate. Reverse Username Search puts his sources on work and gave you the result in the form of detailed information of a searched person. From head till toe, the information you can get by this.
Now let's see how to use it:
Step 1: First, go to the website of any Reverse Username Search tool. Ex- Reverse Username Search | People Search – SocialCatfish.com
Step 2: On the search bar, enter the username of the person you want to locate.
Step 3: Tap > Search and wait a few minutes to get the report and click on 'continue' to get complete information.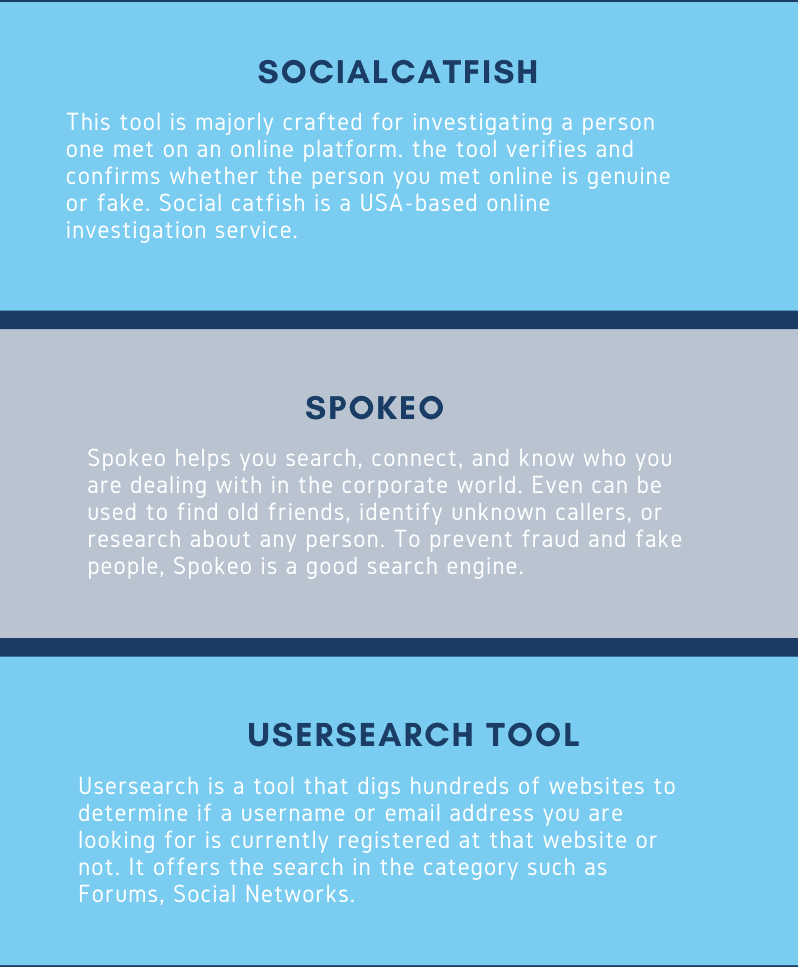 Tools for Reverse Username Search
A Reserve Username Search does not possess an official site on the web. Hence, to search you have to use different tools, designed for it.
Let's learn about different tools and their mechanism:
1. SocialCatfish
This tool is majorly crafted for investigating a person you met on an online platform, the tool verifies and confirms whether the person you encountered online is genuine or fake.
Features:
It searches using its proprietary online tools and verifies things like images, social profiles, phone numbers, emails, and a lot more information about the person.
Steps to Use:
Step 1: Visit the official website, Reverse Username Search | People Search – SocialCatfish.
Step 2: On the home page, tap on the "Search Bar" and enter the "username", of the person you want to investigate.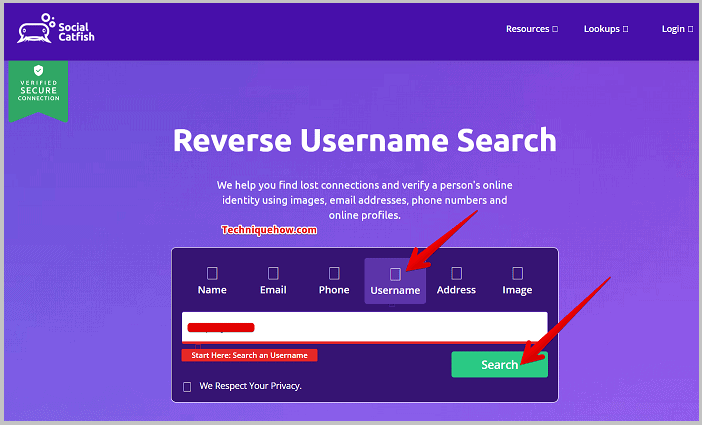 Step 3: In a while, a report will appear on the screen, tap on "Continue" to get the detailed information.
2. Spokeo
Spokeo helps you search, connect, and know who you are dealing with in the corporate world. Even can be used to find old friends, identify unknown callers, or research about any person. To prevent fraud and fake people, Spokeo is a good search engine.
Features:
Spokeo, analyze using its 12 billion records from numerous data sources to create a report with available contact info, location history, photos, social media accounts, family members, court records, work information, and much more.
Steps:
Step 1: First of all, go to the Spokeo Search Tool on your browser.
Step 2: On the top is the search bar, enter the name, username, email, contact info, or anything of the person you want to have info about.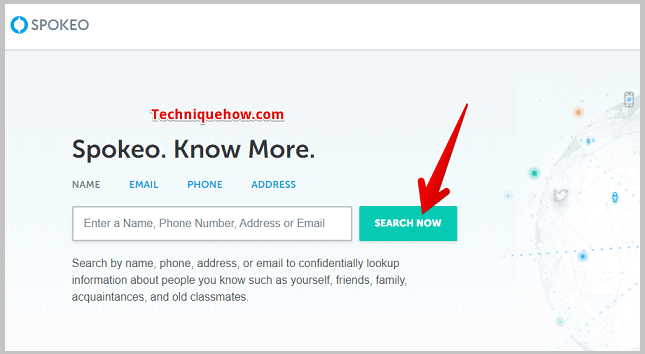 Step 3: Tap on "Search", and after a few seconds, it will display a detailed information report.
The Spokeo is a paid app, hence you need to pay to get accurate information.
3. Usersearch Tool
Usersearch is a tool that digs hundreds of websites to determine if a username or email address you are looking for, is currently registered at that website or not.
It offers the search in the category such as Forums, Social Networks.
Features:
Usersearch is currently experimenting with its services in 6 different types of user searches:
Social network user lookups
Forum user lookups
Crypto site user lookups
Reverse email search
Search by Email
Steps to Use:
Step 1: Of course, go to the official visit by the given link, Username Search | Find User Profiles (usersearch.org).
Step 2: Choose the category from the displayed list.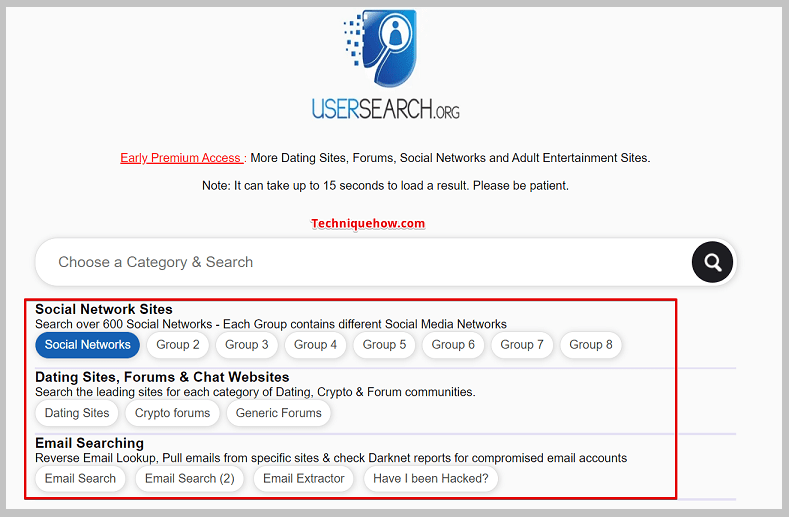 Step 3: Tap on the search bar and enter the username, then press the search icon.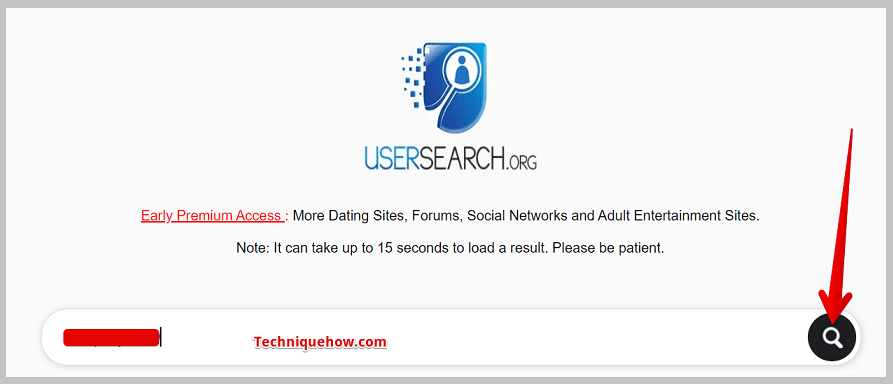 A reporting interface will get opened, scroll a little to find your desired information.
The Bottom Lines:
A reverse username search is an amazing search engine to find out about any person. You don't even have to add a lot of information, some tools are paid but work in that manner also.
Also Read: