Your Quick Answer:
To view protected tweets just tap the request button and if the person accepts then you can see the tweets.
Twitter allows those people only to see the private profile or its protected tweets if they are following the profile or follow request is accepted.
If someone makes the settings private then all previous tweets will also be hidden from non-followers.
To view protected tweets without following the person on Twitter, you can just follow the person using a fake ID and the person should accept your follow request.
You can look up a few things to know if it is possible to view a private Twitter account.
This article will explain the different methods to view the protected tweets and if any reasons for not working this.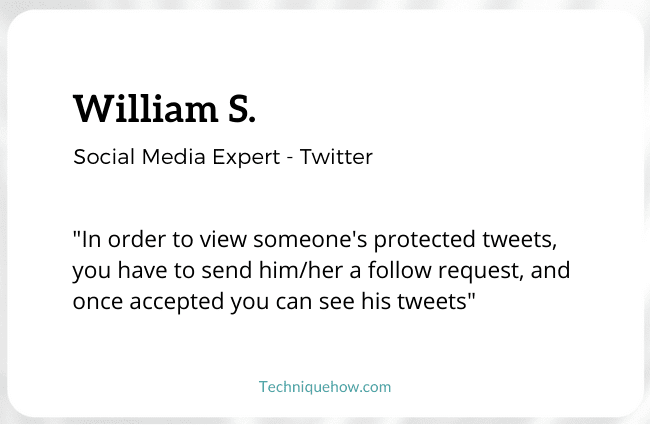 How to View Someone's Protected Tweets on Twitter?
It is always considered unethical to see protected tweets or data but in this way you can do this completely in a legal way.
To view someone's protected Tweets on Twitter,
The first thing you have to do is to send a request to the user whom you want to follow or want to view protected tweets. (Users make their profile public so anyone can see their posts but in this situation, their account information will not be private anymore.)
After sending a request you have to wait until the user Accepts your request.
After getting approval from the user, the protected tweets can easily be visible to you as normal tweets and you can easily view their new tweets as well.
That's all you have to do and you can see their all stuff or tweets. But, if you want to view the tweets without following from your ID or without being his follower then there is another way to do this.
One thing you always keep in mind, once you have made an account on Twitter & that account is seen by all the Twitter users by default your private tweets will get access only to people if you give permission to them.
Video on Private Twitter and Its Settings:
Watch the video below to understand a private Twitter account:
Ways to View Protected Tweets without Following him
In order to view the protected or private profile tweets without being his real follower, you can step forward by creating a fake ID and being a fake follower of that person, and seeing all the protected tweets.
There are some ways below that you can use to view the protected tweets:
1. Create a Fake Twitter ID:
Just you have to make a fake account by using another number or any random identity. After that, you have to send the person a follow request whose tweets you wish to view without being a follower of the person.
One thing you always keep in mind is that you are not becoming a follower of that person from your real profile rather the fake ID turns this part into success. You have to wait until your request gets accepted by the user.
Once your request gets accepted then you can easily view the user's personal information and protected tweets without disclosing your original identity. Making a fake account on Twitter is not a tough thing if you have alternative mobile or Email ID.
If you make a fake account on Twitter and see protected tweets, viewing tweets of someone is possible along with the old ones.

Make sure you don't use the account for spam or to harm anyone then this account might be permanently deleted.
2. Check the Follower list on the Profile:
You can see the followers or even the tweets are protected and from there you can find the people, the person has in the follower list that you have to inspect for this method.
To view the tweets you have to connect with the user and your request must be accepted by them. You must always keep an eye on the follower's profile and see if any changes of interest and according to that you can create a Fake ID profile.
You might find a few people whom you can easily clone and create a profile and if you notice that the person accepting random people in his follower list then getting accepted will be really easy.
The main part is, that the process will help you create such a profile that the person can easily identify and accept in the most possible way.
The key points maybe a DP, Name of Profile, Country, or people involved in the field, and according to these points, if you make an ID on Twitter, they might accept or add you.
3. Using Online Tools:
If you want to view the Twitter posts that are protected then the tools or bots can help you with a few profiles and if the bot has any pre-access to those profiles.
As you know there are a lot of fake Twitter profiles that are used by bots to become followers of such a profile previous when that profile was public and if that profile turns into the private tweets settings then with the help of those previous fake bot profiles, this can show you the protected tweets of someone.
Although, there could be various algorithms that these tools use and each thing is done differently as per requirements.
So to view the protected tweets you can also use the bots that can show the protected tweets or older tweets without even creating or taking any extra steps.
4. Ask Others to Send in Message:
If you know the other person who is a follower with the account whose tweets you want to view then you can request the person to send the tweets in a Direct Message manually or by taking screenshots of his all old tweets. In this way, you can easily see the tweets of that protected account with the help of your mutual follower.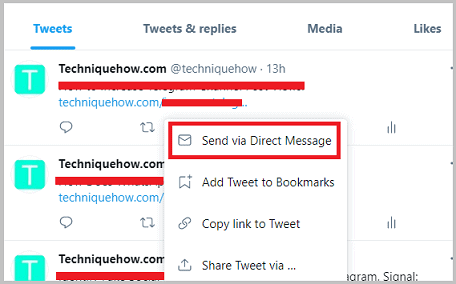 Alternative to view protected tweets without following:
You can also do this,
First, go to the Twitter profile viewer page.
Now, enter the username of Twitter's private profile.
Once you hit search, this will show up the private stuff in which data are collected.
[The steps for the tools out there, are almost the same for all]
Can you View Protected Tweets without Following them?
On Twitter, it is well-known fact that without following or getting permission from the user you can't view their protected tweets. If you want to access their tweets then you have to wait until your requests get accepted from their side. For the sake of privacy, Twitter can't share protected tweets with the person who is not following the user.
If someone makes the tweets public then only you can see but their protected Tweets can only be accessed by their approved fan and followers.
The Bottom Lines:
These are the above-mentioned methods that will show the ways you can take to see protected tweets on Twitter and the only way is by being a fake follower of the person or by using a tool that does this using an algorithm.
Also Read: