If you want to delete a snap on your Snapchat then just by tapping onto the snap & unsaving the same can complete the process right there.
But, in case the same you want to be deleted from another person's end who saved the snap then the process is a little tricky but is possible.
As Snapchat does not have to clear conversation from both sides, you can still block the person in order to delete the snap from both sides even it was saved. That's a great trick that I have tried myself and this works also for the saved snaps.
To delete a snap that someone else saved on his Snapchat, you just have to find the conversation at first then go to his profile, and then block the person. Now, once the blocking is done, you will notice the whole chat will disappear and the same will happen with that person as well.
This technique will just remove all of the snaps including the saved ones from that person's end without doing anything extra.
To delete a snap that someone else saved,
First, you have to go to the chat and then open his profile.
Now, from the three-dots icon open settings and 'Block' the person.
Once the person is blocked from your Snapchat, his chat will be away from your inbox, and including saved messages on chat will be deleted from his inbox as well.
This process can complete the task that you're wondering for, also you can delete the whole Snapchat account if the fact to delete the saved snap is sensitive.
But, in case you want to remove from your end without blocking the person the process is simple. If the messages are being so silly or awkward, you don't need to deactivate your Snapchat account. Instead, you can delete the message.
Yes, you will be pleased to hear that there is a way to those messages on Snapchat and clear up all records.
Let's dive into a more detailed step-by-step guide.
Delete Snapchat Messages that someone else Saved
If just someone else saved your snaps and you want them to be deleted then there are only two methods to do that.
I just found these methods actually work in this regard.
In order to delete the snaps someone else saved:
1. Blocking the Person:
Block the person right now and all of the snaps on the chat will be fully deleted from both sides and this is mostly used in order to deal with such a situation on Snapchat.
2. Deleting Your Snapchat Account:
Although this method is only recommended on the hard stage where nothing left as an option, you can request deleting your Snapchat account and the data will be auto-cleared after 30 days from all over the Snapchat server including those saved messages on chats.
For More…
If the messages are already saved, there is no such feature in Snapchat that can allow users to delete messages saved by other people on their device. Blocking the recipient or deleting your account won't help you either.
Third-party applications like Snap History Eraser claims to delete messages saved on another people's device. These apps come with many features including one that will allow you to delete any sent snaps that someone has saved.
iMyFone Umate Pro
This is the software you can consider using on your PC that can easily erase your Snapchat history data easily in one-click. If you're concerned about your privacy this software is perfect in doing this.
1. Launch the iMyFone Umate Pro.
2. Go to the option 'Erase Private Fragments' and select Snapchat and then click on 'Erase Now'.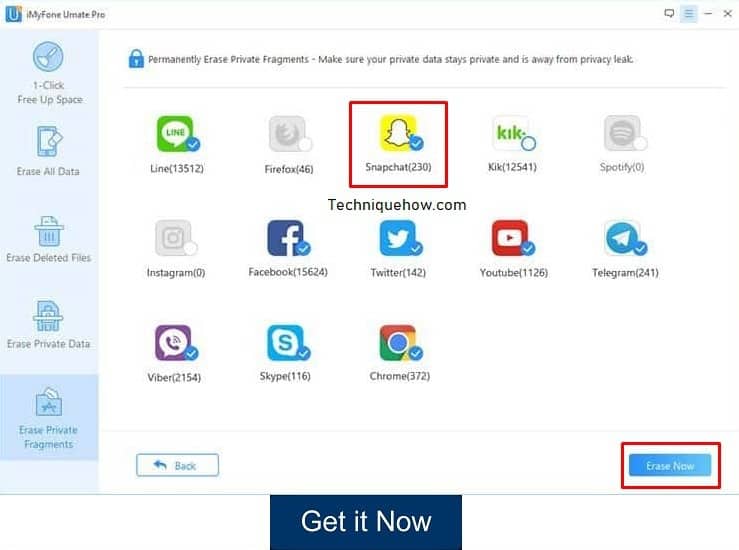 Delete Conversations in Snapchat [iPhone, iPad, Tablets, Android]
To delete Snaps on that your app is having inside on all devices including iPhone, iPad, Android phones & tablets:
First, tap on the Ghost icon.
Next, tap on Settings icon (gear) >> Clear Conversations.
Now tap on any chat that you want to delete and confirm.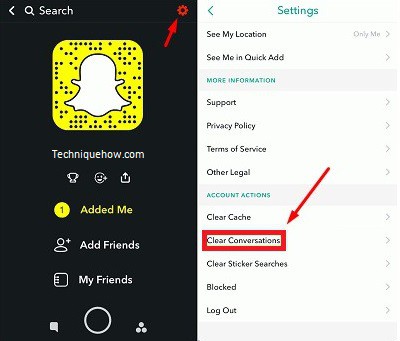 [The above screenshot was taken on a Samsung tablet deleting the historical chats.]
In a very recent update of Snapchat, it is now possible to delete a sent snap on Snapchat. Chances are that you may regret a Snap being sent to another person and you wish to undo it immediately before the user opens it. In that case, navigate to the message that you want to get rid of.
Press down on the message and select the option 'delete'. The recipient will get notified that you deleted a message.
If you are new to Snapchat then you should know that Snapchat supports text messages or text chat and this comes with undo features on sent messages.
So, in this content, we will describe here how you can delete saved Snapchat messages in the simple and easiest way. Here we go:
Unsave Snapchat Messages on Android
Step 1: Open Snapchat.
Step 2: Then, swipe right across the screen to visit the Friends page.
Step 3: Now that you are on the Friends page, choose the Chat column. You will see a list of all the ongoing chat that you had with your friends.
Step 4: Open the particular chat which you wish to delete the message.
Step 5: Now, long press on the message and select the option 'Clear'.
Step 6: When you open the chat again, you will see that a particular message has been disappeared.
Frequently Asked Question:
If I delete a conversation on Snapchat, can the other person still see it?
You and the other person with whom you would have a conversation over Snapchat are both individual users. If you have saved the conversation and then decide to clear it, it would get cleared from your end. If the other contact has saved the conversation, it will not get cleared from their end, unless they decide to clear it like you
What can a Snapchat history eraser do?
When a message automatically disappears from Snapchat, it isn't deleted from the phone memory. Snapchat deletes all its data only temporary, giving chances for privacy leak. The point of Snap History Eraser can permanently delete this stored data from your phone memory.
Can I delete Snapchat messages someone else saved?
It is impossible to delete messages saved by other people unless the receiver deletes the messages by themselves.
If I block someone on Snapchat, can they still see the last message I sent them?
The receiver can still see the messages sent by you even if you block them or remove them as a friend.
The Bottom Lines:
That pretty much wraps up this guide. Snapchat is all about sending photos, videos and texts that disappears and people might not consider deleting messages a problem. But with the passage of time, more users got added to Snapchat and eventually faced problems regarding deletion of saved messages.
The Snapchat new feature Clear Chats is a boon for all those who were facing the problem with deletion of saved messages. It's a decent privacy mechanism that gives users more control over their Snaps. All the steps described above are very simple to understand even for a layman.
Also Read: