For about 30 minutes WhatsApp web stays logged in after you close tab
and once you open the web again, it will be able to access WhatsApp if your phone has an active internet connection. Such an alert is shown when
someone is spying your WhatsApp
through the web.
It's a great way to reply to important messages directly from the system you are working on.
I will say: If you see this notice suddenly and you are not that one who opened WhatsApp on PC then someone is viewing your WhatsApp.
The first thing you should do, just go to WhatsApp web option from the settings and tap 'Log out from all devices'.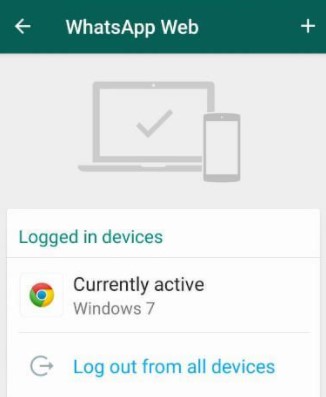 While it is a great feature that can be put to use, you might be often irritated by the notification which is always appearing on your phone screen.
The purpose of not disabling the notification is related to safety issues and privacy.
What does the 'WhatsApp Web is currently active' notification mean?
The notification – WhatsApp Web is currently active, is a pinned notification that does not go away very easily.
No matter how many times you swipe that notification away, it just doesn't go away! Do not worry because we can tell you how to hide and disable this WhatsApp Web Client login in a simple way.
You can try this hack either an iPhone or an Android smartphone and trust us, this method does work!
You call follow these steps to try disabling that WhatsApp Web notification on your phone while you are logged in to the WhatsApp web client and are still using it.
1. Turn Off WhatsApp Web active notification on Android:
If you are an Android smartphone user, in order to turn off the WhatsApp web active notification:
Firstly, you have to do if you want to disable the notification is to go to the 'Settings' of your smartphone.
After you go to the settings, choose the app management option in the settings. The steps after that, are simple and easy to follow.
In the app management option, you will have a list of apps to choose from. These apps are those which are on your smartphone. Choose WhatsApp from the list.
After choosing WhatsApp, press on the notification settings option.
This way you can simply hide WhatsApp web login by swiping away the notification which irked you earlier or you can un-check 'Block all' option to hide all notifications from the app.
2. Disable WhatsApp Web Active Notification for iPhone:
If you are an iPhone user, to disable WhatsApp web active notification:
Step I: Go to the 'Settings' of your phone.
Once, you log out of the WhatsApp web client, you can simply follow the same steps and turn on the allow notifications option.
3. Hide 'WhatsApp Web is currently active' [after log out]
Even when you log out of the WhatsApp web, sometimes that notification doesn't go away. It still stays on the lock screen and no matter how many times you swipe it away, it doesn't even budge. So when you do not know what to do, you can try this simple way to hide that WhatsApp web client notification.
It is also crucial for you to know that sometimes due to some functional errors in the Android versions of a smartphone, the notification still appears on the screen, and thus it will take time to go away. Nevertheless, you can still try this method to disable the notification.
Step #1
Go to the settings of your phone.
Step #2
Then go to the Wi-Fi option.
Step #3
Disable Wi-Fi and data
Step #4
Wait for a while and then switch on your Wi-Fi or data.
The Bottom Lines:
You can see that the notification is gone. It will not appear until and unless you log in to the WhatsApp web again.
I hope I clarified your confusion on how to disable the notification. We tried to bring up the two cases of the problem and tried to give away the best possible hacks. We hope you could follow them and resolve your issue.
Also Read: