Your Quick Answer:
To get the link to an Instagram video or photo, you just have to tap on that post and then on the pop-up, you will see the list of things to do.
Just tap on the 'Copy Link' option from that list and the URL to this video or photo will be copied and you will be able to share it with anyone else.
You can also try the video downloading tool to save it on your device.
If you have ever liked videos or photos on Instagram, you would like to save those on your mobile. As you know saving that onto your device allows you to upload it on WhatsApp and share it with friends.
You can get the link to this video or a photo and share the link with your friends on any social media platform where they will be able to view that by clicking on that link.
If that video is public then the video will be viewable to all but in case, it's not then you have to copy the URL to the Video and download it in order to share it with someone else.
Although, the Snaptube app can help in downloading Instagram videos when you tap the 'share' option on that video on your Instagram app.
In case you're merging two Instagram profiles with all stuff then use this method to download your Instagram videos for reposting.
Reusing copyrighted work is prohibited on Instagram, be careful, we don't encourage you to do such activities, this is just an educational guide.
While you're sharing the link of an Instagram post and by the chance, this Instagram post gets deleted by the owner the link will not be accessible.
Bad URL Timestamp Instagram – How To Fix:
You are on your desktop then to find out the video link from the desktop, first of all, you have to open the video that you have selected, and then just with the help of the HTML version of the page, you will find out a link that you have to open or you can share with your friend if you want them to see.
Let's read the step-by-step guide:
Step 1: Once you are ready with the link to that video page on Instagram just open it on your browser. If this video is private and shared with you, you may be asked to log in on the browser. Make sure you are logged in.
Step 2: Next, on the video page, just right-click and select 'Inspect' or press Ctrl+Shift+I to open the HTML version of that Instagram video page.

Step 3: Just scroll to the bottom and find the link that looks like: Instagram..n.mp4. Now find the URL, just search on the page '.mp4' and after type="video/mp'4′ src="your video link".
Once you found that just edit and copy the entire URL.
Note: If you see 'Bad URL Timestamp' error just replace & with & into URL in all places and then reload the link in the new tab. Now, you got the link to the direct video.
Finally, open that link on the next tab, and by right-clicking there you will see the video source will ask you to download.
How to Download Instagram Video:
There you have the following ways that you can follow:
1. Download Instagram Videos without copying URL
If you are planning to download the Instagram videos without the link then there is an instant way you can do this.
The process below you can follow to record the Instagram story videos or the Instagram posts on both devices:
🏷 To download Instagram stories/posts:
1. First, play the video on your mobile device your mobile device should have a screen recorder installed and this can be done on iOS and Android devices.
You should know that the screen recorder allows recording audio as well, so play the Instagram story or video in full sound if you want the sound to be recorded while the screen recording is turned on.
2. Now once the video starts playing just run the screen recorder and let's record it until it finishes.
Most of the Instagram videos on the post are short and that is why this would not be an issue by using your screen recorder. After the recording is completed, turn the recorder off and save the file on your mobile storage.
This is the easiest and quickest way to save Instagram story videos or posted videos.
⭐️ Where to Find an Instagram Video link on Instagram App?
If you're going to copy the Instagram post link directly from the Instagram app this is definitely possible and Instagram has the option to do this from your Android or iOS devices.
You will see the three-dots icon whether it's an Instagram photo or video, by tapping on that icon you will see a list of features will appear and from there you have to tap on the 'Copy Link' option then the link will be copied on your clipboard.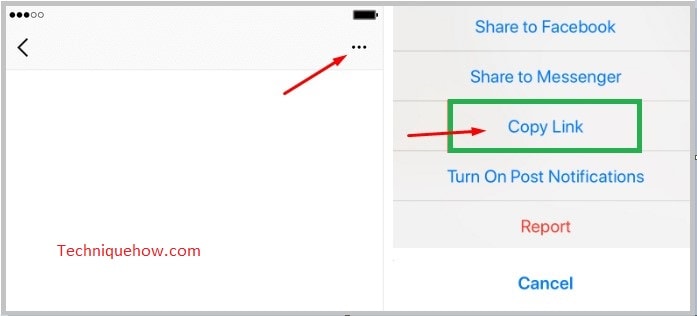 You can apply this same process for all other videos or photos that you want to get the link and if you share this URL with your friend they will be able to view the same Instagram video or photo using that link.
How Download Instagram Videos Online:
Instagram allows users to access their data on their Instagram accounts. If you have just selected some Instagram photos or videos then you can get the link to those photos or videos directly from Instagram. If you have selected multiple videos then you have to get the link for each one separately and for the photos, you have to repeat the same process.
Whether you are on mobile or on your PC, you can follow some simple steps to get the link to that video to share with your friends and the same link will open that video directly on a tab, openable on all browsers.
Let's dive into the step-by-step process:
🔯 Using Third-Party Tools:
When you are on your Instagram app on your iOS or Android device the process becomes very simple to get the link to that post whether it is a video or a photo.
To copy the link, you have to open that post on a mobile browser or directly from the app, copy the link and then follow these steps:
🔴 Steps To Follow:
Step 1: First of all, open the 'Download Instagram Video' tool online,  you can get there from a Google search. 

Step 2: Once you have saved the link (looks like instagram.com/p/*), you have to paste the entire copied video link that you got from your mobile browser.
Step 3: Now, once you have entered the link the tab will show you the exact video, and click to play button.
Step 4: On right-clicking on there, you will find the Download option that you can use for the sharing of that Instagram video on WhatsApp (WhatsApp and Instagram both are parts of the same parent company).
The Bottom Lines:
This article explained the simple ways and their fixes in steps that you can follow to download Instagram videos. For a few reasons, you may have to use online tools in case you are on your mobile that will help you get the video on your device but in case you are on your PC, the 'Inspect element' option will help you to get the Instagram video link in order to save it.
Also Read: