Your Quick Answer:
While managing responses and keeping track of the response rates or engagements directly by LinkedIn is quite complicated, you can export the emails and store them to prevent future contact losses.
Exporting emails directly with other details is now limited on LinkedIn, so with the help of an external tool like SalesQL, you can extract Business and Personal Emails with phone numbers as well as direct connections.
If you are a professional or running a business, staying connected with your clients is important.
But in case you wonder what if your LinkedIn account is deleted how you connect with your contacts, on a big scale how you manage all stuff, or many reasons are required to export the contacts or connections, you can keep a backup by exporting the contacts with emails and can connect to clients by email.
In addition, this article shows how you can export all the contacts or connections of your LinkedIn account. Also, with the help of third-party tools, you can still export the emails of your contacts.
🔯 Can You Download the Emails for the Contacts from LinkedIn?
Linkedin decides to cut off the exporting of email addresses, and if you try to download data from the "Privacy" section, then you will notice that in the results file, there aren't emails, only able to see empty columns.
Because Linkedin released the New GDPR regulations, they wouldn't allow users to download the email in this regulation.
Let see in brief what's the New GDPR regulations:
The GDPR Regulation is a comprehensive European data protection law that provides greater data individual rights and increases the compliance responsibilities of the organizations.
They are in line with their commitment to putting their members first or regular work to maintain their trust.
This regulation has the following rights under the New GDPR regulations:
◘ Easy to access your personal data
◘ In your personal data, correct errors
◘ Remove the personal data
◘ Objects to the personal data process
◘ Export your personal data
Luckily, there are many third-party tools like SalesQL (which allows you to download and export the connections from LinkedIn as the entire set that includes the email or other attributes).
Why Should you Export your LinkedIn Connections:
By exporting connections, you can find prospects, nurture leads with the limitation of message features, and build engaging relationships with the connections, which is virtually impossible.
However, you can integrate them easily into the communication platform of your choice, etc.
1. If your Account is Deleted
In case your account is deleted, then there is still hope to reopen the LinkedIn account with the below steps; if not reopened, still have your contacts exported.
Firstly, you have to go to the login page,
Then enter the email address that is registered with your LinkedIn account, now enter your password, or click sign in.
Now you have to click on the link which you received in your email account.
Finally, click on reactivate to initiate this process, or your LinkedIn account will reopen.
2. Keep Profile Link of Contacts
After exporting the contacts, you have all contact's profile links for future reference. Profile URLs can be customized and are easier to search and look at people.
3. Add People Details with Company Name
Linkedin is a social networking site where professionals, business, and good social marketers reach their target audiences. 
In addition, you can keep all the details of any person or company and will not lose them. This will definitely increase the reach of your business.
How To Export LinkedIn Contacts With Phone Numbers:
In the business world, the network is the greatest asset; that's why you should keep time to time backup of your network data.
The best part is that LinkedIn allows users to export data and everything from their activity with your contact.
You can take advantage of backup in case your LinkedIn account gets suspended due to any reason; at that time, these export emails or contacts will be the major assets for you.
To export your LinkedIn contacts or connections, follow some steps:
🔴 Steps To Follow:
Step 1: Firstly, click on the My Network Icon, which is at the top side of your homepage.

Step 2: Then, look at the connection number and click on "Connection number".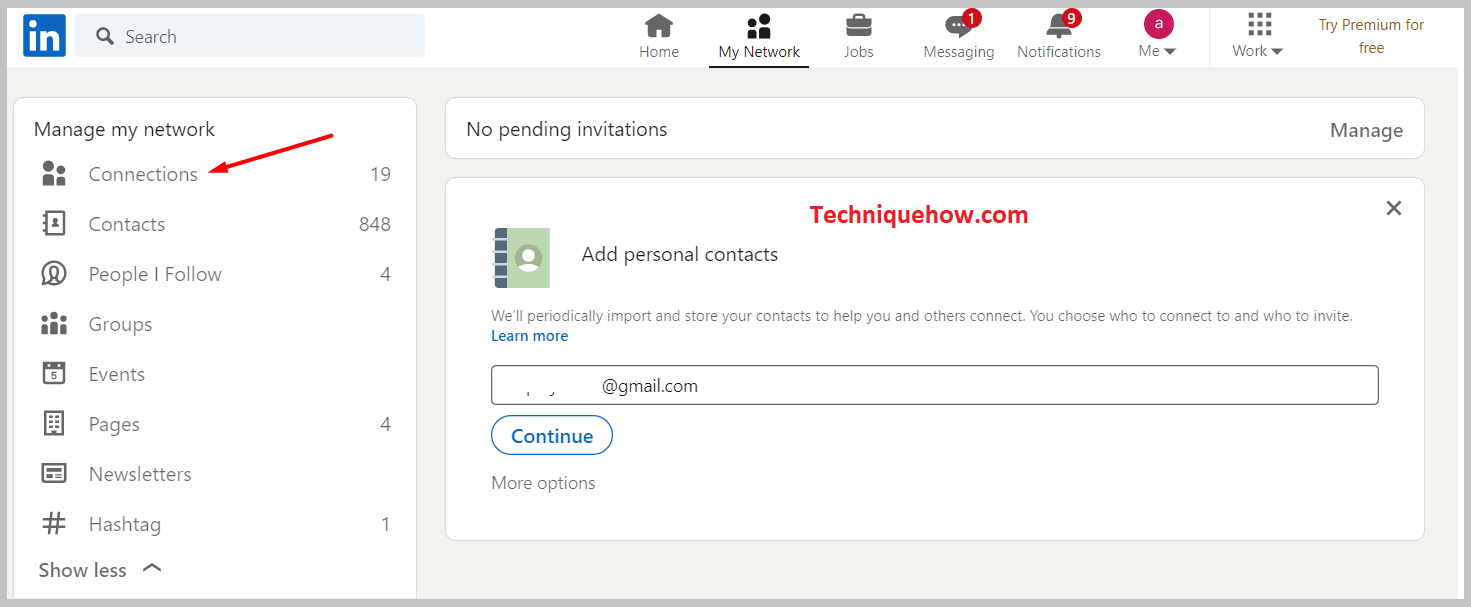 Step 3: Then, Go to the top right to Manage synced and imported contacts.

Step 5: On the button Right, under the advanced actions, click on the "Export contacts".

Finally, Choose connections under the download your data options to export all your contacts and connections.
It may happen while signing into your account, and they ask you to enter your password or click on the requested archive. Afterward, you will receive the email within 10 minutes.
Although, the email address contains the link to your settings and privacy areas where you will be able to download the Zip format file that comes into a .csv file with your connections.
After exporting these contacts, you can use many thighs because you have hundreds of emails with their job titles.
🔯 Export LinkedIn Contacts with Email:
LinkedIn contacts are very important for business and professional purposes, and keeping a backup of your contacts is necessary for preventing future losses. But because of recent changes in LinkedIn regulations, users are not able to download the email addresses with the other details of contact.
In this case, Using the tool, users will be able to extract emails with any contact on LinkedIn (1st, Second, 3rd connections).
On the basis of SalesQL tool experts, it depends on how many downloads you do in a 24-hour period on the LinkedIn subscription. Also, this tool will help to scan each extracted profile.
To export the LinkedIn contacts you can use the SalesQL tool,
Step 1: First of all, Download the SalesQL extension for your browser.
Step 2: Now, turn on the chrome developer tool and install it by unzipping the file.

Step 3: Hit on the SalesQL icon in the Open menu. Then, click on Download Connections.
Step 4: Now, Click on the "Add Connections" or set the contact number to how many you want to download; if you choose the default choice, only 100 credits are available in a month.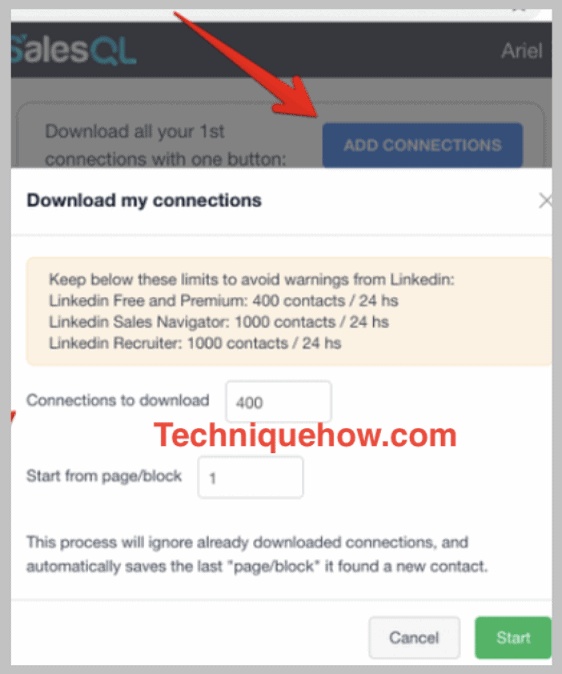 Step 5: Now, you can list out and export the contacts from the SalesQL dashboard.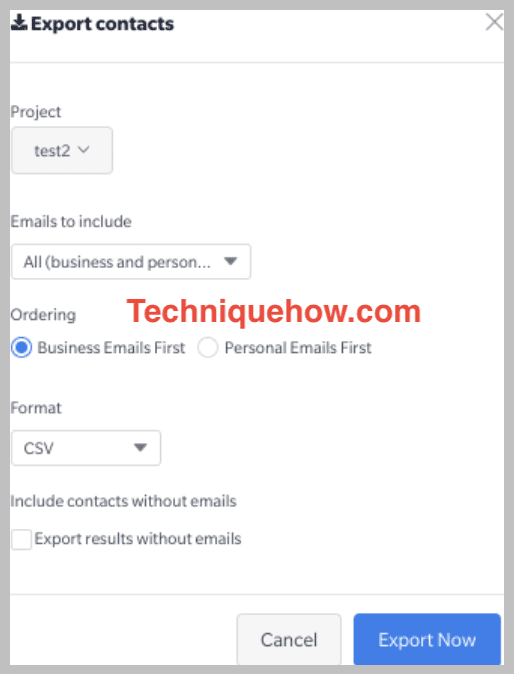 Also Read: