If you want to find and add someone on Snapchat then you can follow different methods in order to add that person on your Snapchat.
When someone just adds you on Snapchat then you probably would not be able to know his phone number unless his number is saved on your contacts.
If you are wondering how to find someone on Snapchat using their phone number then you can just do it by saving that number on your mobile contacts or phonebook.
Immediately the contact will be synced with the number and will be popped up, then you can add them from there.
In order to find or add someone on Snapchat with their phone number, you can use the Hoop app and from there you can add people to your Snapchat account. Also, you can accept or decline friend requests on Snapchat without letting them know.
Alternatively, you can use the Quick Add feature turned on so that you can appear on someone's Snapchat and they can add you.
In the same way, you can add people from Quick Add, who are friends of your friends.
This article will explain the best methods that you can use in order to find someone on Snapchat and add them as a friend using their mobile number.
To add someone on Snapchat from contacts:
It is very easy to find and add someone on your Snapchat account using their phone number but for this, their number has to be saved in your contact book and your contact book should be synced to your Snapchat.
This is one of the most efficient ways of adding someone to your Snapchat account.
However, if only they have you in their contact list, then only, they will be able to see you on their Snapchat.
Just go to All Contacts and tap on the '+Add' button for the person.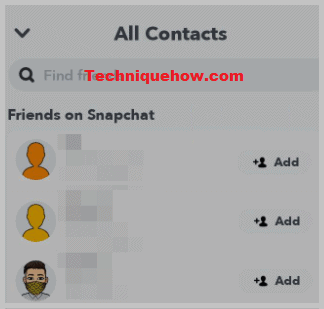 You can add someone on Snapchat using the phone number in the following ways:
Using Hoop app.
By using Snapchat code.
By adding someone from Quick Add Feature.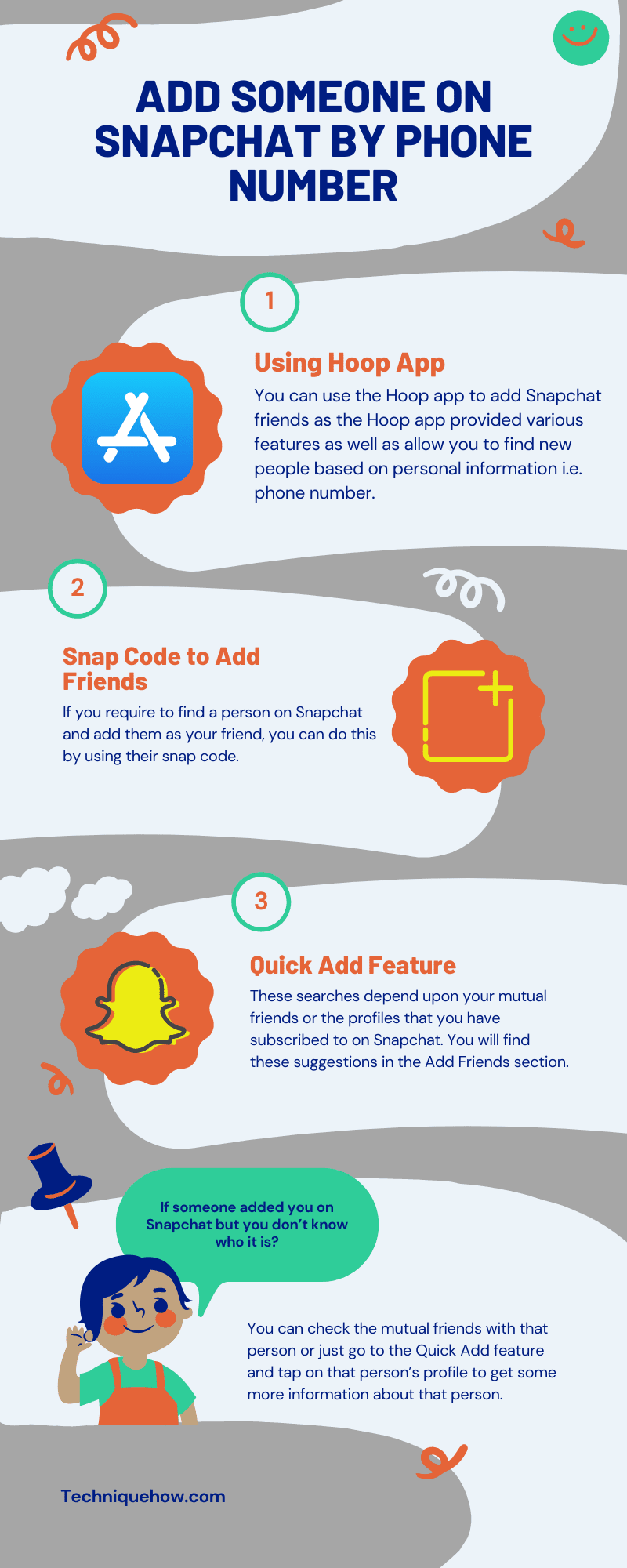 Let's check out the steps with the apps mentioned and the other methods in more detailed steps:
1. Using Hoop App – Add Snapchat Friends
You can use the Hoop app to add Snapchat friends as the Hoop app provided various features as well as allow you to find new people based on personal information such as name, gender, and location that you have entered into your Snapchat account.
⭐ Features:
You can send a request to someone from the profile if you want to connect with them and get their Snapchat ID.
Not only you can send the request to someone but you can also accept or decline the requests someone has sent you without letting them know.
The Hoop app also offers other features such as earning and spending diamonds coins (in-app currency). These in-app currencies can be earned by performing certain tasks such as daily login, referring the app to your friends, and sending profiles.
Each task has a different number of diamonds associated with them which can be earned by doing them.
✅ Steps To Follow:
Now you would think about where these diamonds can be spent, so to send a request to someone on Snapchat you will need to spend some of the diamonds which you have earned.
To add people on Snapchat with the phone number,
Step 1: Firstly, download the Hoop app from either the play store or apple store.


Step 2: Then sign in with your Snapchat account details.
Step 3: Then the app will ask for your permission to access your Snapchat account, tap on "Allow".
Step 4: Before showing the people, the hoop will ask a few questions such as your preferences of male, female, or both, then it will find matches on Snapchat for you.
Step 5: After downloading the app you will by default get 200 diamonds which you can use to send requests.
Step 6: To send a request click on the Snapchat logo but if you would like to pass then click on the red cross icon.
Step 7: Only a limited number of profiles are shown at first. To get more you will need to watch some ads or surveys.
That's all.
2. Use Snap Code to Add Friends
If you require to find a person on Snapchat and add them as your friend, you can do this by using their snap code. Every Snapchat user has their QR code which you can scan in-app and that person's Snapchat id will appear on your screen.
Therefore, if you already have someone's snap code then you can follow the steps mentioned below and add that person as your friend:
Step 1: Open your Snapchat app then go to camera mode.
Step 2: After that go to the profile of the person whom you want to add as a friend.
Step 3: Then find them by clicking on the profile icon present at the top left corner of your screen.
Step 4: Then their snap code will appear in front of you under the yellow box with icons and dots.
Step 5: Point your camera to that snap code. Hold the camera at the code for a few seconds.
Step 6: When the camera has scanned the code, it will locate the account of that person.
Step 7: To add that person, click on the Add Friends in your contact list.
That's all.
3. Add Someone from Quick Add Feature
Snapchat also offers to add someone from various sections. This feature of Snapchat is known as the Quick Add feature.
These searches depend upon your mutual friends or the profiles that you have subscribed to on Snapchat. You will find these suggestions in the Add Friends section.
To add someone from the Quick Add feature, you have to follow these steps:
Simply tap on the Add friends option on your Snapchat.
Now, there will be Quick Add option where the friends will be listed.
Just tap on the button to Add friend and it will be done.
NOTE: These suggestions are based on who you are already friends with, the phone numbers saved in your phone book, and even if you have a friend whose name is saved in your phone book then his Snapchat friends can also be visible in your Quick Add Feature.
If someone added you on Snapchat but you don't know who it is?
There are a few ways that you can get information about the person who has added you on Snapchat but you do not know who it is. You can check the mutual friends with that person or just go to the Quick Add feature and tap on that person's profile to get some more information about that person. If you think that you might know that person and that profile is not fake then you can accept that request but if you think the profile is fake then it is advised to just decline that request.
The Bottom Lines:
This article explained that how you can use the phone number of someone in order to add him to your Snapchat account. There are best methods are described above and you can choose which one suits your way in order to add him on Snapchat.
Also Read: