Your Quick Answer:
But, if you had made changes multiple times on your profile maybe this time you would not be able to change it, Facebook may want you to do some steps in order to change the birthdate.
To change the birthdate you just have to go to the 'Edit Profile' section. From there just click on 'Basic info' and then click on the existing birthdate Arrow to edit.
Now enter the correct date you want to replace with and 'Save'. If that has passed 3 times then you can change it by contacting the Facebook Help team.
There if your Facebook is locked, you can follow the unlocking guide & precautions to take before.
How to Change Birthday on Facebook After Limit:
If you have exceeded your limit of changing the date of birth then change the birthday on Facebook after the limit,
Step 1: First, log in with your Facebook Login credentials.
Step 2: Now, go to the Facebook help link.
Step 3: Once you're on the page just select the year, month & date, and the reason you're changing the date of birth for your Facebook profile.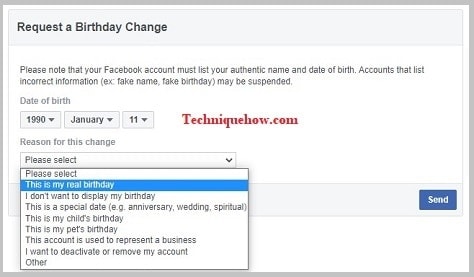 Make sure you are putting the exact date of birth this time as Facebook may ask you to submit proof for this.
You would not be able to change the birthday on your Facebook profile until 14 days after the last change.
How to Change Date of Birth on Facebook:
Facebook lets you manage your birth date on your profile. If you want to change your Facebook profile's date of birth then you have to follow the simple steps that you can do in the Facebook Lite app or even on your desktop just by going to facebook.com.
Step 1: First of all, log in with your Email ID/Mobile number and password. 
Step 2: Now go to your profile section and click on the 'Edit Profile' option.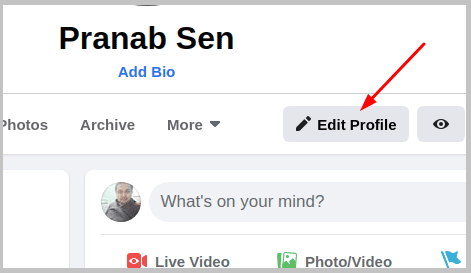 Step 3: Once the profile tab opens, you have to select the 'Basic info' from the list on the left side.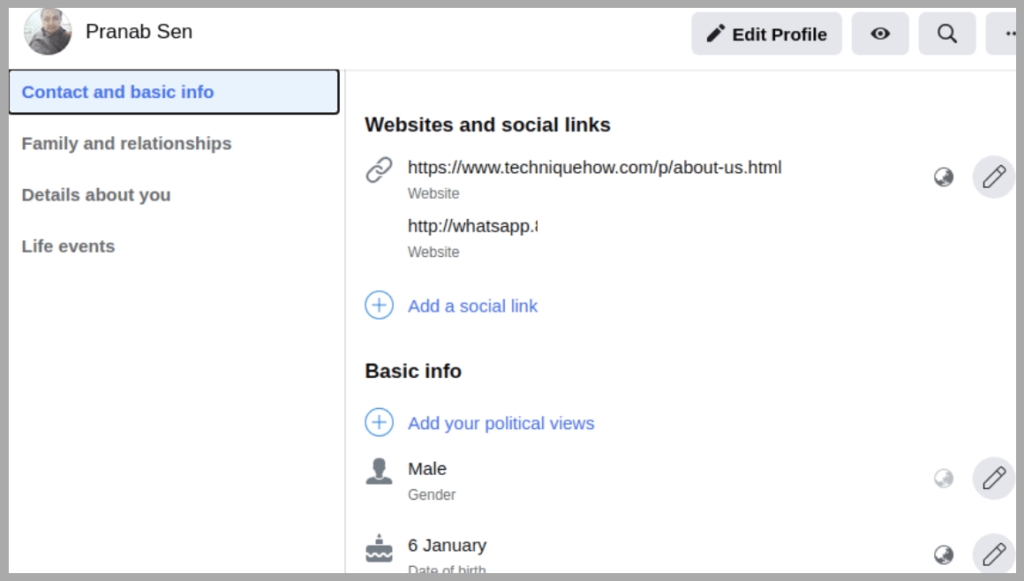 Step 4: All of your information including mobile number, date of birth, birth year, etc will be visible.
Step 5: To change the date of birth you have to do click on the down arrow and from there we have to set the exact date and month you want to change. If you have not exceeded the limit, you can change also the year on your date of birth settings.
Once you complete the action by clicking the 'Save' button, your new date of birth is set for your Facebook profile.
Why Can't you change the Birthdate on Facebook:
There are many reasons that you cannot change your date of birth on your Facebook profile. Facebook takes it very seriously for the protection and the fake people on the platform. The most common reason is to prevent spam and stop fake account activities.
That is why the birthdate plays a major role in this segment, these are the most sensitive information that Facebook takes and ask users to verify the profile with that date.
If this happens to you, keeping the exact date of birth on your Facebook profile will help you unlock your profile if it gets blocked for any reason.
It is not necessary to change your date of birth frequently and genuinely this may not be needed rather it is a fake profile.
If you have not exceeded your three-time limit on changing your date of birth or not seeing any error message like 'contact to Facebook' then you are eligible to edit the date of birth after a certain period of time. You can wait at least 14 days to get the edit section to appear to further change your date of birth for your Facebook profile. 
In short:
1. Wait for at least 14 days to pass.
2. If you have not crossed your three-times of limit, don't contact Facebook rather wait for the time period to pass and your edit section will be visible again for your Facebook profile.
3. Contact Facebook if they can allow you to edit your date of birth. 
How to Change Age on Facebook Profile after Limit Exceeds:
If you have exceeded the limit of changing the date of birth on your Facebook profile, you will see this no longer editable to put the new information as per Facebook policy.
In that case, you have to do a few simple steps that might help you change to the original and this will be the permanent setup based on the real information.
Here are the steps to follow:
Step 1: Just open the Facebook profile tab.
Step 2: From there choose 'Contact and basic info'  from the list.
Step 3: Choose the legal option 'Contact us' to inform Facebook about your real date of birth. Now on that form, you have to put any documents as proof of your age that you want to set for your date of birth and click 'Submit'.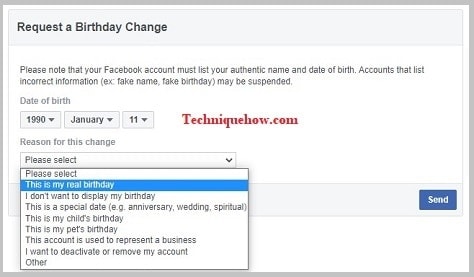 Step 4: The Facebook representative will contact you on your registered email ID informing the latest change that happened on your account.
If everything is ok and approved then your date of birth will be changed to the original one as per the proof you have sent to them.
Note: Sometimes this process takes a long time to effect the change of date of birth on your Facebook profile. If the link is not available in some cases just wait for a while and everything will be normal in a few days.
🔯 How Many Days it's Locked for after the Change:
Sometimes you may have mistakenly saved the wrong date on the birthdate field on your FB profile and wondering how to change the date. Facebook takes the birthdate as sensitive information in case of account recovery.
If you have made these mistakes for the sake of privacy then there are other ways to prevent that without changing the birthdate every time.
After 2 weeks or 14 days are passed, you can again edit the birthdate on Facebook. But, the limit is 3 times that you can edit the age for a Facebook profile from your end.
🔯 What should I do if I can't change my date of birth on Facebook:
In case of an emergency situation, if you are thinking that your friends will be notified of your wrong birthday then you can set the date of birth privacy to 'Only Me' and this will stop Facebook from notifying a wrong Birthday alert to your friends.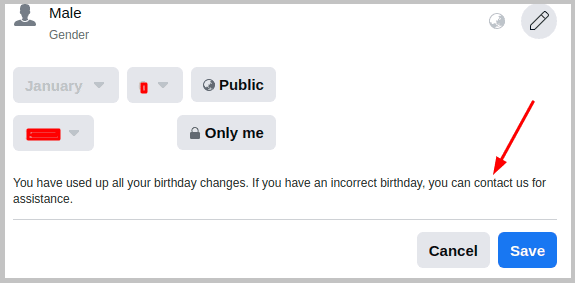 Facebook Data Privacy: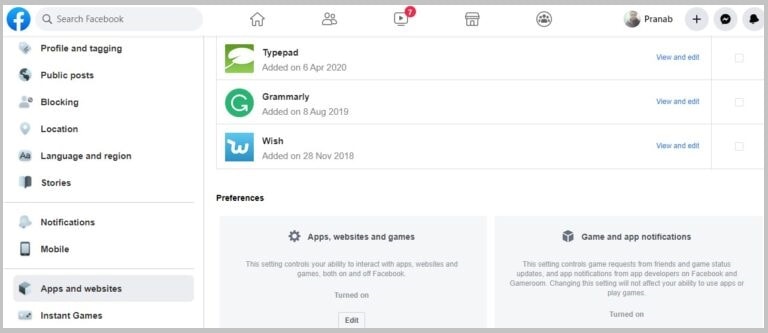 If you have a Facebook account you should be concerned about the data privacy on your Facebook account. Before you show up your account information, make sure the audience you select.
Although, from the privacy settings you can allow apps or delete them in order to safeguard your account. Sometimes, allowing some third-party apps can get your account banned from Facebook, and also your privacy may be in danger.
You'll get into trouble if you have changed the birthdate more than 3 times, after that you have to follow the official way to change it again.
Also Read: