Your Quick Answer:
One way to contact TikTok Support is, by reporting your problem on the app. Open TikTok and go to the "Me" icon. You'll see three dots on the top-right corner of the screen, tap on that, then tap on "Report a problem".
You'll see a list of options; tap on the option closest to your concern; when you are asked if your issue has been resolved, tap on "No". Tap on "Still have a problem" and now you can type your feedback in and attach related photos. Remember to press "Report" after you are done.
You can also use the TikTok feedback form by copying and pasting the URL to your browser. Type in your username and email ID, describe your problem, and tap on "Submit". Your feedback will be recorded.
You can send emails to TikTok email support via the following email ids:
[email protected] (to report a general problem) or [email protected] (to report an issue related to terms and conditions or privacy policies), [email protected] (For general feedback that you think might be helpful), and [email protected] (for advertisement-related queries).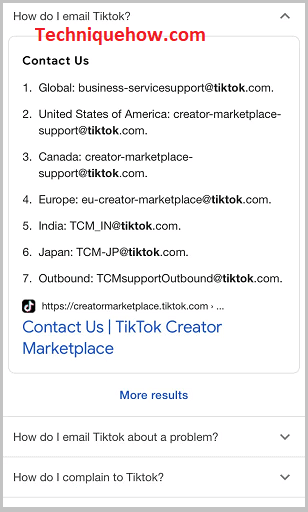 It is not recommended to use the third method as most of the emails TikTok receives are business-related.
How Do I Contact TikTok Support Help And Feedback:
There are a few methods that you can try to contact TikTok support:
1. Report a Problem
You can report your problem on the app directly by following the mentioned steps:
🔴 Steps To Follow:
Step 1: Open the TikTok app from the home screen on your phone.
Step 2: Now tap on the "Me" icon on the right end of the menu bar. This action will take you to your TikTok profile to see your videos and essential information related to your following.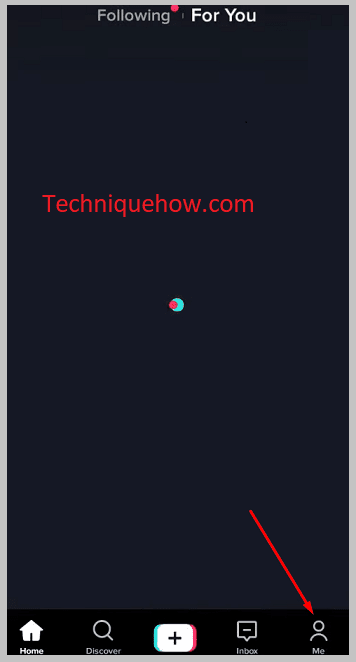 Step 3: Tap on the three dots icon at the top right end of the screen. This action will lead you to the "Settings and privacy" tab of TikTok.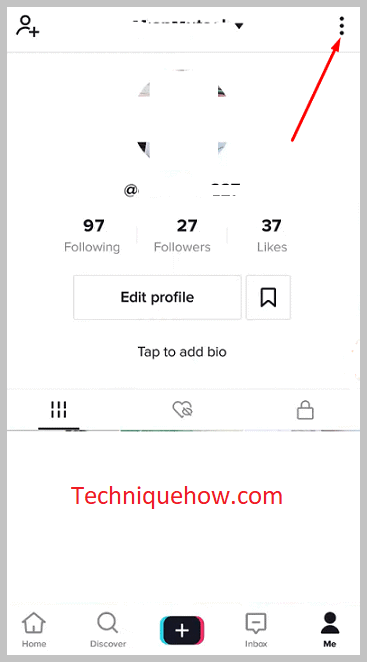 Step 4: Now scroll down until you find the "Report a problem" option and tap on it.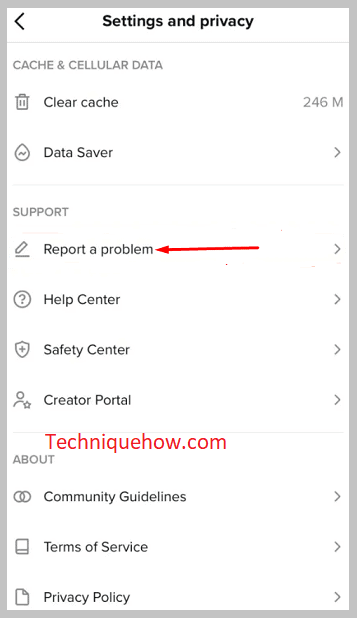 Step 5: You will have been led to the "Feedback and help" tab of TikTok. There will be various options in this section, each dealing with a specific concern, like frequently asked questions such as "How to delete posted videos" and topics ranging from "Account and Profile" to "Video and Sound".
Select the topic or question related to your current requirement. For example, you've tapped on the "How to delete posted videos" option.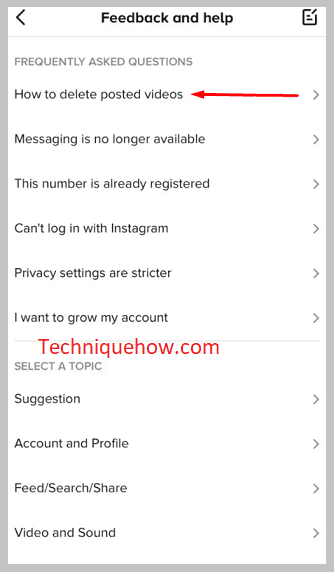 Step 6: A screen appears with ways in which the issue can be resolved, and at the bottom will be a question, "Is your problem resolved?". There will be two options: a "Yes" and a "No". Tap on "No."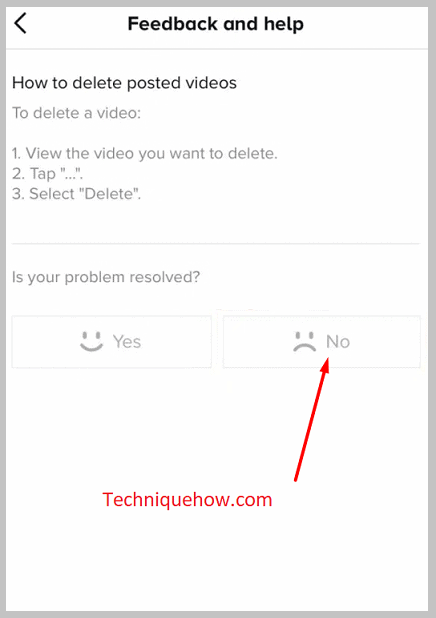 Step 7: A new option will appear at the bottom of the text, saying, "Still have problem" tap on it.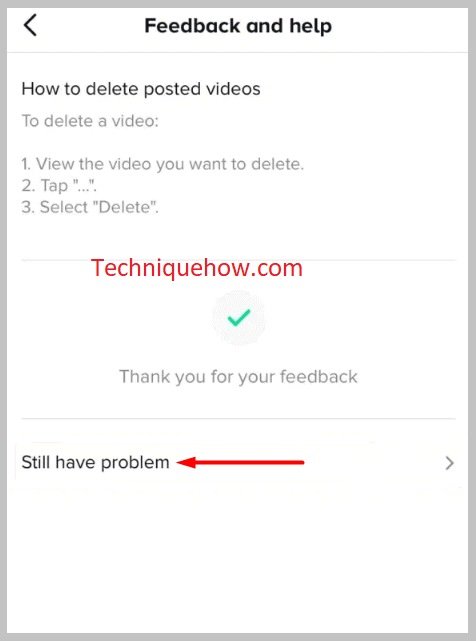 Step 8: The "Report a problem" tab will remain open in front of you. Here, you can describe the problem under the "Tell us your feedback" section. There will be an option to upload a few photos for reference. Then tap on "Report". Your problem will have been reported.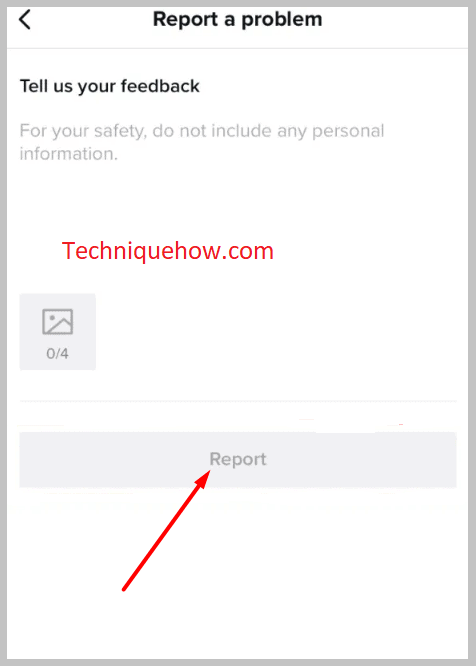 2. Use the TikTok feedback form
You can very easily use the TikTok feedback form as a contact method. You may use this method when you have to report bugs or when your account has been banned or suspended for some unknown reason, and you would like to get it back. Here is how you can master this technique.
🔴 Steps To Follow:
Step 1: Use the Feedback form URL by tapping on the link or copying the link and pasting it on the Google search bar.
Step 2: You'll be faced with the form asking for information of contact and the details of the current problem you are facing or of the kind of help you would like.
Please enter the email address attached to your account and type in your username, although it is optional. Typing your username is optional, but mention it for an added advantage.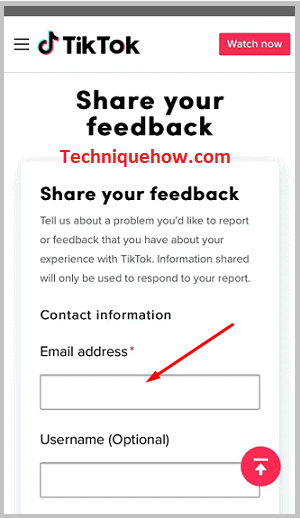 Step 3: Scroll down and select the topic of your concern from a drop-down list that includes options like "TikTok on TV", "Change account information", et cetera.
Then type in your problem and how you would like help with it under the heading "How can we help?" You can attach files to explain your situation better. This option is strictly not mandatory, so you can skip it. Accept the privacy policy after going through it and the declaration of honesty so that you can continue.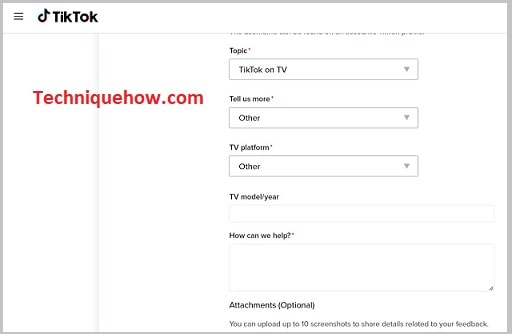 Step 4: Tap on the "Submit" option displayed in bright red at the bottom of the form. Your problem is submitted.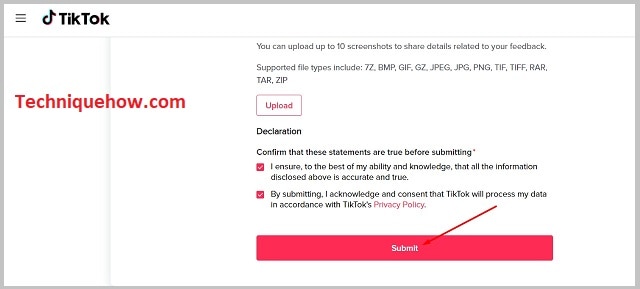 3. TikTok Email Support
This method involves directly emailing TikTok. There are various email IDs available, each for addressing a specific problem. For most common uses, like being locked out of your app or having an issue with a bug, you can use this contact method. To email them, you have to copy the email id related to your concern and then go to your Gmail and tap on "Compose" here.
You can paste the copied email id into the "To" section. You have to type in a subject and a short email describing your problem and the help you would require and tap on the send option, which will be at the top of the screen on the phone, and at the bottom, on a PC. Your email will be instantly sent!
Given below are some of the IDs you can use:
If you want to report a problem you're facing with your account, use the emails IDs [email protected]. Make sure you clearly explain the issue you are facing.
If it's a legal problem (for example, anything related to the terms and conditions of the privacy policy), write to them at [email protected].
If you want to ask questions or share general feedback, like writing about a new feature that you don't like, or a term in the privacy policy you disagree with, use the email id [email protected] to contact them.
If you are a creator of TikTok and have any queries related to advertisements, email TikTok at the id [email protected].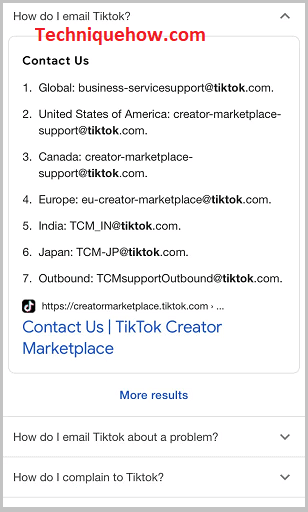 Note: Using the ways mentioned above, you can contact TikTok. However, try sticking to the first two mentioned methods, as TikTok receives thousands of emails every second on these IDs, most of which are business-related queries. But if you do decide to choose the third option, make sure you're using the proper email id for your requirement!
Also Read: