Do you want to know if someone has read your emails or just you have been blocked? This article will answer both of the questions in a single method.
A question from Techniquehow's reader:
Jennifer asked me if this is possible to find out for previously sent emails?…
I have a simple answer to this informing the functions of Mailtrack that also I replied to Jennifer:
Mail track works by sending a script with your mail. Once the person opens the email, he is actually opening the script that you get the notification for. How could you implement a script of Mailtrack on your sent emails? By resending these right? This is how it works.

I have sent many emails to their Gmail id but no response from them. Then, I took this way to find out if I am blocked on Gmail on not.
To know if someone blocked you on Gmail or has read your email on Gmail, just install this MailTrack on your browser (Chrome). Sign up with the basic mode to get ticks on sent emails. Now, send an email by enabling the Mailtrack on it and this will tell you either your messages are read or not to confirm the blocking.
Additionally, in this article, I have explained the steps to find out if your Outlook or Yahoo mail is blocked by someone.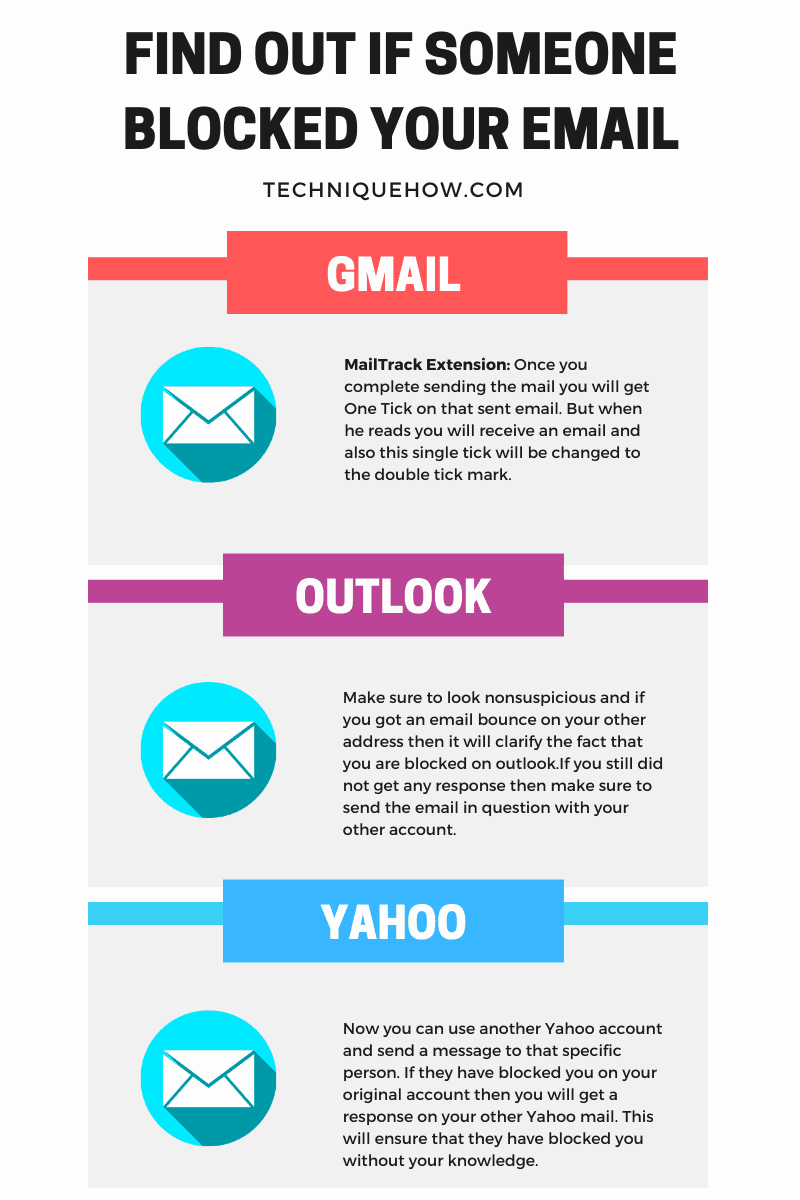 Here I have shared the step-by-step guide with screenshots that might be helpful to understand for you.

If you get double-tick you're not blocked on Gmail but if you not then maybe the person has blocked you.
But to become really sure you have to make the setup correctly. Let's dive into the process.
…if you see that someone disappeared from your contact list, this may be due to he has blocked you.
But, few more situations can produce this doubt to fit in your mind.
…just check more signals for that person in your Gmail account.
Note: If you want to allow someone from your end to send emails just unblock the Gmail id of that person.
If there someone is who disappeared from your Gmail chat or showing a blank icon on the person's DP in the contact list.
You can request the delivery reports by allowing return a read receipt on Gmail. But this limited for a few users, for the rest here is the method.
If you want to ignore a person in Gmail who disturbs you by emails, then you can block that person's email id.
But, if you send a mail to a person and if he has blocked you, neither you will get failed-report nor any successful or blocking related reports. Just you are blind now to track this.
Know if You're Blocked on Hangouts on Mobile
Hangouts users should have a Google account to make any calls or chats. The contacts you have on Gmail are auto listed in Hangouts while you tap on contacts on your Hangouts app.
In this portion, you will see the list of people available for chat including all online and offline friends. Now, if you can't find someone on the list who was in your Gmail contacts then this simply means the person has blocked your email.
Remember, though Gmail it is not easy to know if a person blocked you. However, this Hangouts mobile app can make the confirmation clear if someone blocked you on Gmail.
What happens to blocked emails in Gmail?
Blocking someone on Gmail would affect your GTalk and GChat. Your friend will no longer receive your chat messages if you are blocked by him.
However, on other services like Google+ and Hangouts, you may find that person.
The thing this blocking does is, move your sent mail to his or her spam mail folder.
The solution is.
Don't worry. Here I will share the game-changing learning with that you can easily track their behaviour and also you will get reports for that email when Gmail users read it.
Confirm if Your Email Has been Blocked on Gmail: Mailtrack
Yes, It is possible to know if someone has read your Gmail just by using your computer.
You get an alert-email back with all of the information when the person reads your email. You will need to install an extension for this.
If you don't get that mail back, you can understand that your mail still in his inbox or spam folder and not read till now. But whenever it is read you will get surely a reply. The reader of that mail will have no control to stop that email alert from coming to you.
First of all, go ahead and install MailTrack for Chrome.
To know if someone blocked you on Gmail:
1. Open the chrome browser then go to settings. Then, go to Extensions and click get more Extensions.
2. Search for "Mailtrack" and click + ADD TO CHROME. Check the info like it is offered by Mailtrack.
3. Then, a pop-up will display. Just click Add extension and it will start downloading and will install automatically.
4. After that, it will redirect to a link where you need to sign in to allow permission. Just sing in there with your Google account.
5. Now, to allow permission just click on the Allow button. Then, it will come to the Dashboard. Just keep the basic Free plan and close the window.
6. Next, log in to your Gmail Standard mode. It will only work in the standard model of Gmail. Check there two symbols added to the newly added extension. Keep them as it is.
7. After this, type an email to send that person whom you want to track on Gmail if he blocked you and to get read alert mail for that.
8. Once you complete sending the mail you will get One Tick on that sent email. But when he reads you will receive an email and also this single tick will be changed to the double tick mark.

9. Next, After he reads you will receive an email like this.
10. Now you will see double-tick on that sent mail when that person read that email. This also shows the time and platform he used to read that email.
How to Know if someone blocked you on Outlook?
Sometimes another person blocked have you on outlook and you don't even have any idea about that. If you think that someone is not responsive to your outlook then it might be the reason that they have blocked you.
You can prefer the following steps to ensure that if someone has blocked you or not.
At first, send an email to that specific blocked contact.
Now, wait for their response if they also use it.
If you don't receive an email back then don't directly assume that they have blocked you.
Attempt to send more emails to that person using another email address.
Make sure to look nonsuspicious and if you got an email bounce on your other address then it will clarify the fact that you are blocked on outlook.
If you still did not get any response then make sure to send the email in question with your other account.
You can also contact that person using your alternate unknown email or by phone.
You can ask that person personally if they have blocked you or not.
How to tell if someone blocked your email in Yahoo mail?
If you think that someone has blocked you on Yahoo mail then you can ensure by using unrevealed steps. Sometimes people block you and you think that you are facing any technical or network issue.
But to ensure if they have blocked you or not, you can step on the listed steps. You can easily find out if you are blocked by someone, in your Yahoo mail. May Yahoo does not send any notifications regarding blocked account and so you need to proceed with other ways to ensure.
To tell if your email is blocked on Yahoo,
Firstly, sign in to Yahoo account and wait for a moment to get the list of contact.
Find for the contact or suspicious contact.
Make sure to press double click on the name of that specific person.
Send message and press enter.
Wait if you get any response or not.
Now you can use another Yahoo account and send a message to that specific person. If they have blocked you on your original account then you will get a response on your other Yahoo mail. This will ensure that they have blocked you without your knowledge.
The Bottom Lines:
Just follow this step-by-step guide above, and you can get a good reach to track if someone blocked you on Gmail. You will get instant notification whenever your sent email is read. It is a very straightforward and efficient way to know if they are receiving your emails in their inbox or not.
Most of the people read their inbox emails in 1 to 2 days. So, you can expect read-alert-mails in a maximum of 2 days. If you don't get email alerts for your sent emails, then it apparently means that the person blocked you.
#1. What happens if too many people blocked you on Gmail?
If you emailed to many people and all of them blocked your email id then this sends a bad signal to Gmail and Gmail by default delivers your new emails to the SPAM folder for new users.
If the person blocks your email ID, this automatically hits your emails to the SPAM folder which is recorded by Gmail to send the future emails in that position. So, if someone claims that he has not received the email, just ask him to check into the SPAM folder.

#2. Why did I still receive Gmail as spam every day even after blocking?
Blocking a Gmail account does not restrict the email delivery rather it works only in the Inbox of the receiver. If you blocked someone, you will never receive his email in your Inbox, but the email will be present in the SPAM folder and this is not changeable. If you want to remove the emails also from the spam folder then you have to take the action manually by sending those emails to Trash/Bin.
#3. If you unblock a person later, will his queue of emails be available?
If you previously blocked anyone and now unblocked the person then the messages sent by the person will still be on your Gmail. You have two places to find those ones. Either you look for those on spam folder or new automatically the new ones in Inbox.
However, don't forget to mark the emails not spam to receive the new delivery of that person directly into your Gmail Inbox.
Also Read: