I was looking for someone on Instagram and searched for that name and when I tap on the name I got the message 'User Not Found' on his profile.
I have a lot of bookmarks in my browser of
different Instagram profiles
and whenever I click on that, it redirects me to the profile where I can see all the stuff if the profile is public or I am his follower.
Usually, Instagram shows you the number of posts, followers and following list even the profile is private or without an account. But here I could not see any post count on that profile and I wondered what does 'User Not Found' mean.
I got into several things to understand the reasons why it displays 'User Not Found' on Instagram profile and I found the causes that will lead you to such type of error on your Instagram. Eventually, the fix to this I also added in this article.
The reasons behind this 'User Not Found' error are many i.e. if you misspell the username or if the profile is deactivated, you will see this error message on that profile. Not only that, sometimes I have seen the person whose account was banned by Instagram itself, shows this type of message to others whenever he tried to open his profile on Instagram.
⦿ What does it mean for 'User not Found'?
'User Not Found' gets displayed when someone either just deleted his Instagram profile or changed his username. Also, in case if he has just blocked you, you will see the same error.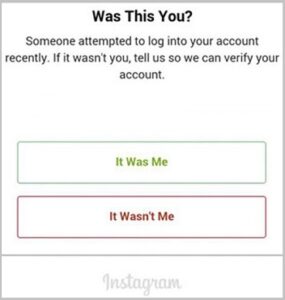 If you've just changed your username or password and see such an error then look back to the search bar to search your username there. Not found?… This error actually happens due to many reasons, I have enlisted a lot of them but not limited to. Most probably, Instagram has banned your account that is why you're seeing your profile picture on the account along with the 'User Not Found' error, you need to request a review to Instagram to restore your access.
If you see the profile picture along with the 'User Not Found' error, be sure that the person has no access to his account for either Instagram blocked his account or he had just temporarily deactivated his Instagram.
Now, in a few cases, when a user gets banned by Instagram or disables the profile, you will still be able to see the old profile picture. I have seen this on a friend's profile when Instagram locked his account temporarily due to the community standard violations.
Instagram User Not Found means Blocked or Deactivated?
If you see the 'User Not Found' error on your Instagram while you are trying to open someone's profile then this can happen due to several reasons on your Instagram. If you just mistyped any username on Instagram to open someone's profile, the same will be directed to a wrong direction that will show you the user not found.
Also, either the user just changed his username or just deleted his profile. In both cases, such error happens while you're trying to open his profile from your Instagram account. Now let's find out what are the reasons that create the problem 'User Not Found' issue on your Instagram.
1. User May have deleted His profile
'User Not Found' means the person is not accessible on Instagram from your profile. Now, this situation occurs whenever a person deletes his Instagram profile.
Let's come to the point & talk about the 'User Not Found' issue, first of all, you must be sure if a person has deleted his profile or not. If you can see his profile picture whenever you open his Instagram profile from your Instagram app or on the desktop then this might be a clear indication that the person either has blocked you or just removed his details from Instagram just by deactivating his account.
On my case, I just was looking for someone who has the same issue while I was trying to find him out on my Instagram, I just got the same error message 'User Not Found'. I shifted to the Incognito browser mode and checked out his profile through the profile link and I see the same profile is visible with all the information like following counts, follower counts and post counts.
2. Maybe the person changed the Username
Now in another case, I got someone's experience that whenever he tried the same method by finding him his profile without an account on a browser window, he actually see the same message like 'User Not Found' and this just got cleared for me that the person either deactivated his profile or just changed his username. I thought that if the person just changed his username he still might be on the following list and soon I informed my friend to find on his profile from the following list that profile and if the case is just he has changed the username of his profile, the person will still be available on the following list where can get the new username for the new link of his Instagram profile.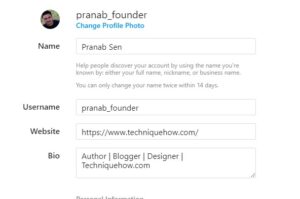 You know the person will only be available only if he has not blocked you rather he just changed only the username of his Instagram profile, in this case, all of your likes and comments to his posts will be available and you will not be removed from his follower list.
3. You have Mistyped the Username
This is the most common error that you do by yourself by Mistyping the username of someone's profile link. Whenever you open your profile on your desktop try checking the URL correctly to open the exact link.
I remembered that whenever someone has sent me a wrong profile link to open from my app I just see the same error 'User Not Found'. Next day when I pinged my friend to resend the link that opened the original profile with the different URL, later he confirmed he just mistyped the username and that is why I got the error message on my Instagram.
4. User May have Disabled His Instagram
If the user has temporarily deactivated his Instagram account in that case you see the profile picture on his name and the error message 'User Not Found'. When you see this type of message on someone's Instagram profile then be sure that the person has deleted his Instagram profile rather he has blocked you if you find him from your friend's profile the same.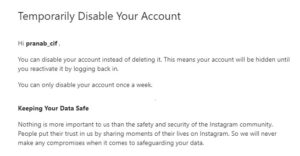 I have many friends of this kind, who has repeatedly shown me the same error message every time I open their Instagram account. I confirmed this was a temporary deactivation of a profile when I see them again on my follower list after a few days. During those days you won't see the profile of that person who has just deactivated his Instagram (with an error message like 'User Not Found').
5. Maybe Instagram Banned the Account for Spam
There is another reason that comes to that end showing 'User Not Found' if the person has excessively spammed on Instagram. In that case, Instagram will block his profile for a limited period of time or may ban his Instagram profile permanently. The person is suspected on Instagram for violating any community standard guidelines for that Instagram took action on that person by blocking his actions and the total profile (sometimes for a temporary period of time).
If such a situation happens to someone you will see his profile under the error message 'User Not Found' and fix to the problem is automatic. After a few days, you will see the profile again on Instagram when Instagram removes the ban from his profile.
6. The page no longer exists
If you have just the link of the profile just type that on your mobile browser or desktop browser window without an account logged in and check what it shows for that link. If you see an error message like this page isn't available or the user does not exist then this is due to the link is broken as the person is not available on Instagram or just deleted his Instagram profile.
💡 TIP: Whenever you see this kind of error first of all 'Fact check' the situation. If you see a profile has 'User Not Found' instead of the name but you can see the Follow button, post count on the profile that means the user is tricking by changing his name to that error like the message and this is really funny if you can find it out that I did for my friend who actually was freaking prank me by changing his profile name to 'User Not Found' while the other stuff like post count, followers count and the following count was visible on that profile.
⦿

Instagram User not Found but can see Profile Picture

If you want to fix the 'User Not Found' problem on your Instagram then you have to take some few steps to fix this issue from your Instagram account. Many people have experienced that whenever they changed their username, their Instagram was automatically banned by mistake or due to some policy violation on Instagram, the account got suspended temporarily. Now if you see the problem is happening for your profile then you can go for a fix.

But if you see the problem for other people, the same will be restored by Instagram itself by the request of that person. Now let's talk about some of the best fixes that might be helpful in

restoring an Instagram account

that shows 'User Not Found'.
➊

Delete Third-party apps
If you are using any third-party tools to automate your Instagram for your likes & post comments or for the follower list gain then this can be an issue of spam for what Instagram may ban your account permanently or for a temporary period. To fix touch issue in future you have to delete all of such third-party apps that take your Instagram credentials to use your account by a bot automatically. It is recommended that you uninstall all of such third-party apps or don't use any online tools to do any spam to be safe on Instagram and also change your password to recover your account from this hack.
➋

Wait for a Week
A few Instagram accounts get restored after a few days, Instagram will automatically restore all of your access on account to do all activity again. If you wait for a while like for a week, you can see the account access will be restored automatically. When Instagram bans your account for a temporary period of time like 7 days, remember the time of blocking period of your account may be 7 days to a few weeks long and the same is determined on the basis of your activity you have been doing on your account till the date. When Instagram bans your account you are not eligible to open your secondary account on Instagram, there might be a chance you will get banned soon if they notice such activity again on your new account.
➌

Request a Review to Instagram
The final solution is, by contacting the Instagram team for a review request. If you're supposed to be blocked by Instagram for spam or abuse and if you feel that was an error then you can request a review to the Instagram team, they can give your account back to you if they find out the problem is not serious, explain well if they ask for a clarification to restore your account on an urgent basis.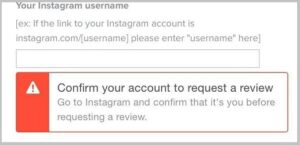 Now requesting the Instagram team to review your account may take a longer period of time or sometimes they would not take action even within the first week and the most disgusting fact is they may not reply you back whenever your account's spam activity is very high that it cannot be restored on the Instagram server again.
Finally, I want to suggest you that if you see this type of error this could be either the person has blocked you or your Instagram banned your profile. In both cases, you have you can solve the issue by requesting the Instagram team to restore your account access if you feel that was in an error or if this is for a temporary period of time for your own account then you have to wait till the problem gets fixed automatically during that time.
Also Read: