Your Quick Answer:
You might see some profiles as 'User Not Found' when you tap on the name from DM or from an old link. You can keep the profile URL on your bookmarks and if these are available, open the profiles.
The reasons behind this 'User Not Found' error are many i.e. if you misspell the username or if the profile is deactivated, you will see this error message on that profile.
Not only that, sometimes you may have seen the person whose account was banned by Instagram itself, shows this type of message to others whenever opens his profile on Instagram.
What Does it Mean for 'User Not Found' But Can See Profile Picture:
If you have any Instagram user not found but can see profile picture, it means that you're encountering a situation where you can view the profile picture of a particular user, but their account appears to be non-existent or inaccessible.
This could happen for various reasons, such as the user deactivating or temporarily disabling their account, or their account being deleted or suspended by Instagram.
Make sure that you're not blocked by the user whose profile you're trying to access. If you've been blocked, you won't be able to view their posts or interact with their account in any way, even though you can still see their profile picture.
However, if none of the above solutions work, it's likely that the user has permanently deleted their Instagram account. When an account is deleted, its profile picture may still be visible for a period of time, but the entire account and all associated content are no longer accessible.
How To Fix If Instagram User not Found:
If you want to fix the 'User Not Found' problem on your Instagram then you have to take a few steps to fix this issue from your Instagram account.
The best fixes that might be helpful in restoring an Instagram account that shows as User Not Found:
1. Using Webstagram Tool
Using Webstagram, you can compare your statistics with your competitors and see who wins.
🔗 Link: https://webstagram.org/
🔴 Steps To Use:
Step 1: Open the Webstagram website on your browser, and on the given box, enter the targeted person's username or complete profile link.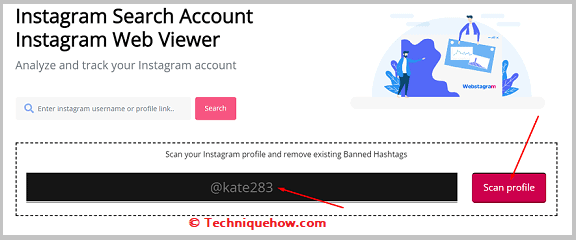 Step 2: Click on the Search button next to the search box and start searching, it will start fetching data, and you can look up the profile and find if the person is deactivated or blocked.
2. Delete Third-party Apps
If you are using any third-party tools to automate your Instagram for your likes & post comments or for the follower list gain then this can be an issue of spam for which Instagram may ban your account permanently or for a temporary period.
To fix the touch issue in the future, you have to delete all such third-party apps that automatically use your Instagram credentials to use your account by a bot. It is recommended that you uninstall all of such third-party apps or don't use any online tools to do any spam, to be safe on Instagram, and also to change your password to recover your account from this hack.
3. Request a Review on Instagram
The final solution is, by contacting the Instagram team for a review request. If you're supposed to be blocked by Instagram for spam or abuse and if you feel that was an error then you can request a review from the Instagram team, they can give your account back to you if they find out the problem is not serious, explain well if they ask for a clarification to restore your account on an urgent basis.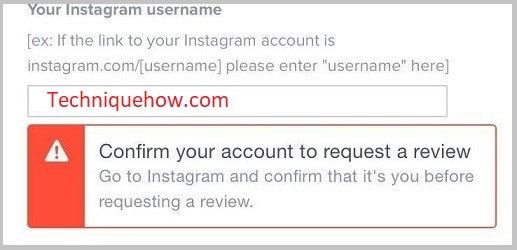 Why Can't I Find Someone on Instagram If Not Blocked:
These might be the reasons:
1. The profile Has been deactivated
Instagram has an account deactivation feature, which means during this deactivation period, his Instagram account will behave like a deleted account.
It is not the same as deletion, as you can reactivate your account again within a time limit, but this time, the posts, photos, likes, and even the person's entire profile will be hidden from Instagram. Since his profile is hidden, you cannot see his mutual friends.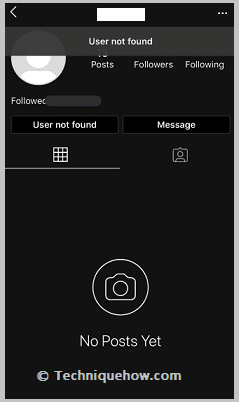 2. Changed Name or Username on Profile
Like other social media platforms, you can also change your Instagram username, so if the targeted person is not in your friend list and suddenly changes his username, it will be difficult for anyone to find his Instagram profile.

Why Can't I see someone's posts on Instagram but not blocked:
You have the following reasons:
1. The profile is Private
If the person's profile is private, you can not see his content; to see his posts, reels, and everything, you need to follow the person. Private profiles always get higher security from Instagram, and stalkers can not stalk on their accounts.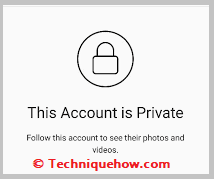 2. The Posts Are deleted
If the Instagram technical team deleted any account for violation, you can also not find the person. If the reported content of the video is hyperbolic speech, Instagram first warns them to remove it.
If they don't follow this policy after receiving a warning, their account will be first disabled and eventually permanently suspended. So, you can not find a deleted account there.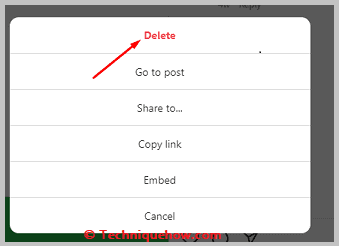 3. The profile Has been deactivated
You cannot find the user if the person deactivated or deleted his TikTok account. As it has this deactivation feature, users can take a break from Instagram, and during this time, your existing account will behave like a deleted account.
Deactivation is not the same as deletion because, after 30 days, you can get it back. But during this time, you can not find his account.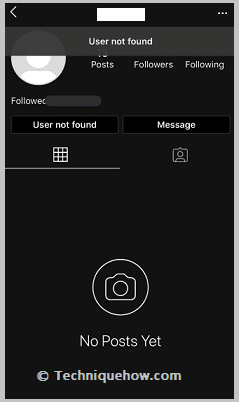 Instagram User Not Found Means Blocked Or Deactivated:
If you see the 'User Not Found' error on your Instagram while you are trying to open someone's profile then this can happen due to several reasons on your Instagram.
Now let's find out what are the reasons that create the problem 'User Not Found' issue on your Instagram:
1. User May have deleted His profile
The 'User Not Found' means the person is not accessible on Instagram from your profile. Now, this situation occurs whenever a person deletes his Instagram profile.
Here you can read the guide to find out if the person has deleted his Instagram account.
First of all, you must be sure if a person has deleted his profile or not. If you can see his profile picture whenever you open his Instagram profile from your Instagram app or on the desktop then this might be a clear indication that the person either has blocked you or just removed his details from Instagram just by deactivating his account.
2. Mistyped the Username
This is the most common error that you make by yourself by Mistyping the username of someone's profile link.
Whenever you open your profile on your desktop try checking the URL correctly to open the exact link.
You can search for the person from the followers or followings tab and then go to his profile.
3. Banned the Account for Spam
There is another reason that comes to that end showing 'User Not Found' if the person has excessively spammed on Instagram. In that case, Instagram will block his profile for a limited period of time or may ban his Instagram profile permanently.
The person is suspected on Instagram of violating any community standard guidelines Instagram took action on that person by blocking his actions and the whole profile (sometimes for a temporary period of time).
If such a situation happens to someone you will see his profile under the error message 'User Not Found' and the fix to the problem is automatic. After a few days, you will see the profile again on Instagram after the ban is removed from the profile.