Your Quick Answer:
To fix the Macbook camera picture quality, you should increase the light in the room or go to a brighter place. Really this creates problem while you are shooting or making video calls over the night or at the place with less light.
There are many ways to get rid of this issue. Definitely, the first one is by using the external camera i.e. your iPhone camera will also work but that is fine if you're recording or going into a serious conference.
However, the second option was quite easy installing a software tool that allows you to adjust the brightness and light on your camera and you can shoot or go live in a darkroom as well.
In this article, there are the features and limitations and the settings of the tools to activate & use.
What does Someone Expect from the Macbook Pro Camera:
If you're on your MacBook for using ZOOM or Skype over it, the camera should provide nice visibility in all lighting situations that everyone should expect.
Adjusting the brightness and light control can help you fix the camera quality that goes well in those lesser lighting areas as well.
While you're talking about the camera quality, you might have two things to do only. Just adjust the brightness and let's use the higher resolution so that the video quality takes a ride upward.
1. Adjust Camera Settings:
Adjusting camera settings is important as the basic inbuilt webcam settings would not let you do this. You have to install the third-party tool on your MacBook and allow this software to control your webcam settings.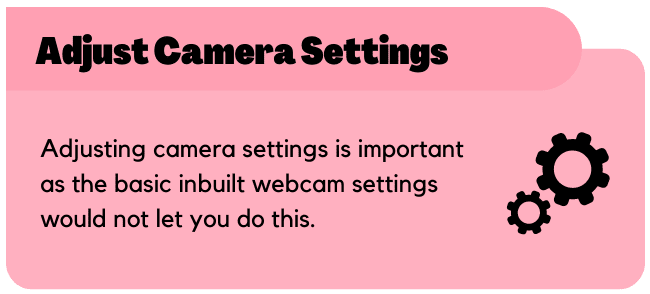 Note: There is nothing to worry about as this software will only be used to increase camera quality by improving visibility even in a dark area of a room by tuning the brightness & contrast.
2. MacBook Camera Brightness Adjust:
Brightness will increase the visibility for you while you're on a live video call but you will see that MacBook does not have the settings to adjust this by default. Well, to resolve this you must have any software installed on your MacBook that allows you to do the camera adjustment.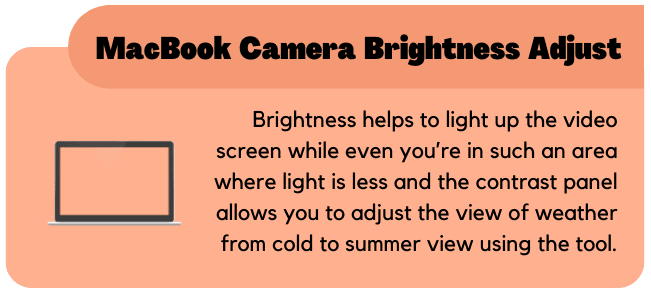 Brightness helps to light up the video screen even if you're in such an area where light is less and the contrast panel allows you to adjust the view of weather from cold to summer view using the tool.
3. MacBook Air Camera Resolution:
Choosing the highest resolution or aspect ratio will allow your cam to record high-quality video but the inbuilt cam has a lower resolution cam that does not provide really good quality.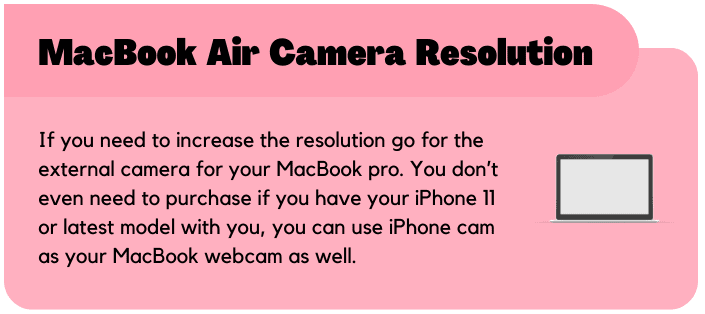 If you need to increase the resolution go for the external camera for your MacBook pro. You don't even need to purchase if you have your iPhone 11 with you, you can use the iPhone cam as your MacBook webcam as well.
How to Improve MacBook Camera Quality:
If you want to improve camera quality you can do this from two different methods, one is using the Logitech webcam hardware tool and the other way is by using the software tools:
Using Tools – To adjust Brightness and light:
There are two tools that do a huge adjustment on your webcam by enhancing the brightness and many other controls over the video control panel and improving the video quality.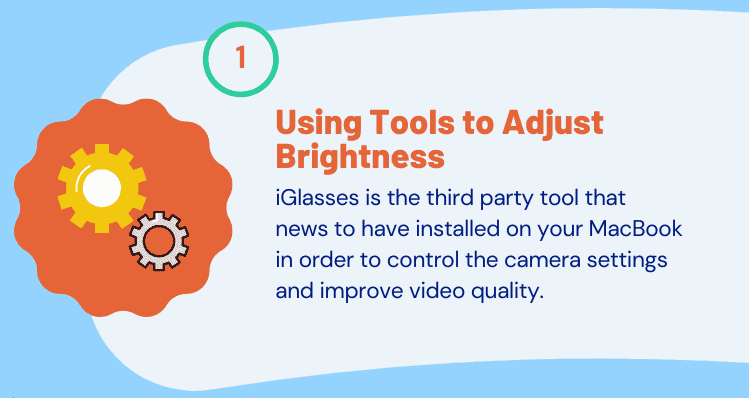 You can use either the Ecamm iGlasses tool or the ManyCam for your purpose and these tools can easily fix the video quality issue just by making some changes to your MacBook.
🔯 iGlasses by Ecamm:
iGlasses is a third-party tool that you can install on your MacBook in order to control the camera settings and improve video quality.
You just need to have macOS 10.12 or newer to use this tool and purchase it at $19.95 with a lifetime license. Better you go with the free trial plan at the first.
You can download and try it for free. This tool has very small resources that make it load faster and no extra huge space on your hard drive.
🔴 Steps To Follow:
Step 1: Install the Ecamm iGlasses on your MacBook.
Step 2: Open your video settings and select iGlasses for your webcam to run with.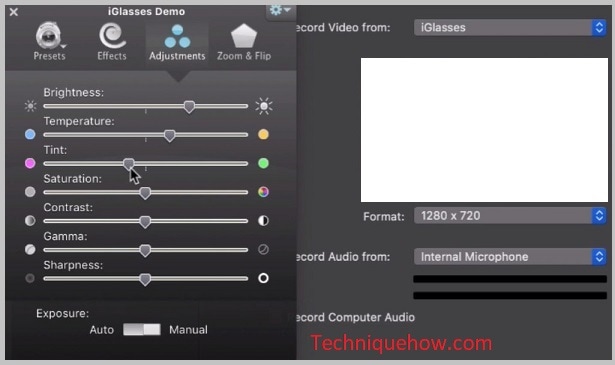 Now, you will be able to control the settings and brightness of your webcam as per your wish and all the apps will use the same settings after the setup is completed.
🔯 ManyCam for Mac:
ManyCam is another efficient & useful video management tool that you can use for your MacBook to modify or fix the video quality issue on your own.
You just have to download the tool on your Mac and select the drive from your webcam.
You can start the plan from $29 per year and also use the Free trial version of this ManyCam tool. Note this tool takes up huge space for your MacBook, so make sure you have enough space present on your MacBook.
🔴 Steps To Follow:
Step 1: First of all, install the ManyCam on your MacBook, you can start with the free trial option as well.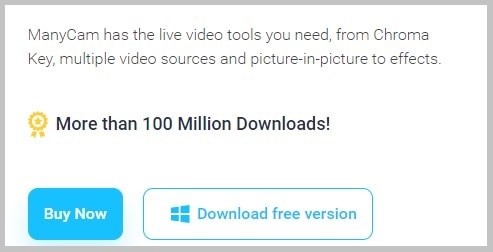 Step 2: Once the installation is completed, just run and select the HD Pro cam from the webcam control panel and the apps will use this ManyCam as its default webcam settings.
Note: This tool provides a lot of options and you have to set the brightness & other hues there only once and the same will take effect for all video calling apps.
2. iPhone camera on Macbook as the virtual Camera:
The best way to improve the total resolution on your webcam is by using an external cam. As you know, you can use any external cam on your MacBook Pro like Fujifilm, Logitech Webcam, and your iPhone device.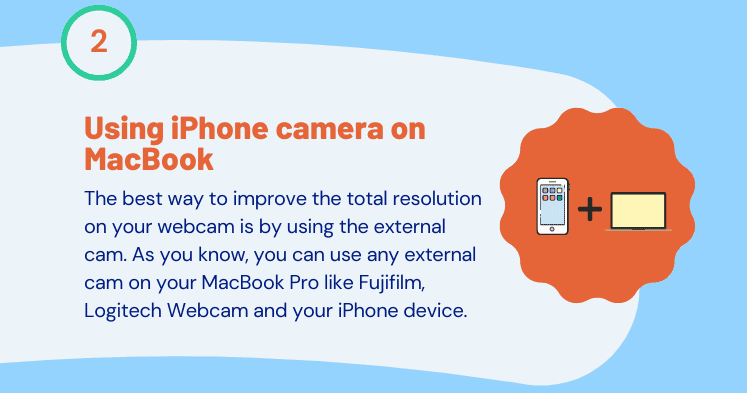 This guide will show you how you can connect your iPhone cam to MacBook Pro and use it as a MacBook default webcam for all apps.
On the first setup, every time you connect this will start automatically, just from the video control panel check for the default webcam is set to EpocCam.
Let's start the guide step-by-step:
🔴 Steps To Follow:
Step 1: First of all, go to the app store and find EpocCam there, the free version will allow recording 480p and the premium will allow taking 1080p on webcam. Choose your option accordingly and install it on your iPhone.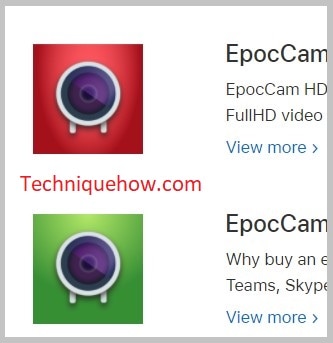 Step 2: Before you set up this for your MacBook, you need to install the driver to run EpocCam on your Mac. Just install & run this.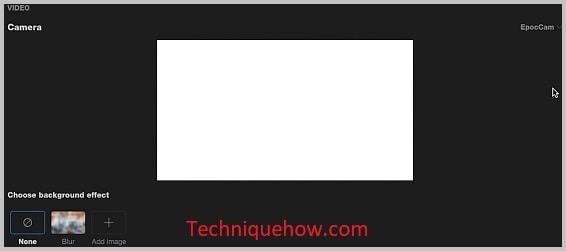 Step 3: Once the driver is installed, connect your iPhone using USB to MacBook and just check your EpocCam on your iPhone & set the resolution to 1080p.
After the driver is installed on the webcam panel you will have the option to select EpocCam and set it as the default webcam. Upon that you are now set to the iPhone camera to use as your MacBook webcam.
🔴 A few DIY tips for Fixing webcam issues:
If you are using MacBook and want a guide on how you can fix the video quality issue on your MacBook FaceTime webcam without doing anything then look for some steps: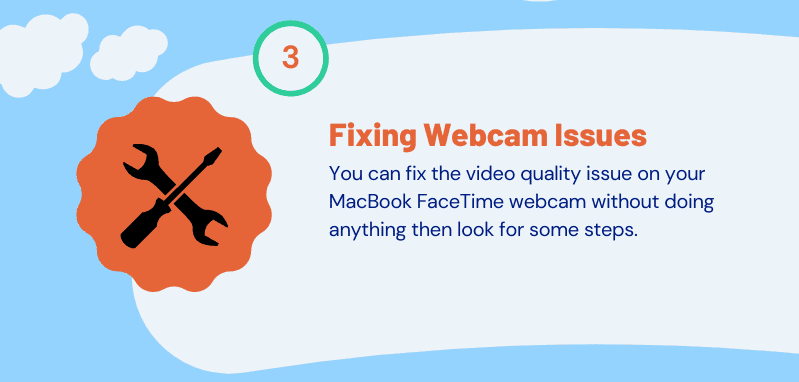 While you're on any live video call try shooting yourself in such an area where you can get enough light as the FaceTime cam works well in the lighting area. Also, try shooting outdoor, it provides better quality than indoors.
Look for the webcam panel if you have not set to any other option and make the default to FaceTime webcam in case you want to revert back to your MacBook default webcam.
The Bottom Lines:
You have learned ways to improve the camera quality using software tool as well as hardware tools. The EpocCam is the best tool to use if you have an iPhone for using its camera as a webcam, else you can try the Ecamm iGlasses software tool to improve video quality.
Also Read: