Your Quick Answer:
To merge two Instagram accounts, firstly just install any Repost app and then copy and repost your Instagram stuff to the new account. 
That's all you have to do but to get back your followers you have to make an effort and hold with patience.
There are a few ways that you can use to move all of your Instagram posts to the new account and delete the unnecessary ones.

Note: If you are wondering to merge two Instagram accounts then this is not possible on Instagram although you can repost the stuff on Instagram to get the followers back you have to take a few manual actions.
Merging Instagram accounts work in these ways:
Post notification on Instagram about your new Instagram.
Use a reposting app to clone the stuff you've shared before.
Delete the old and change username of the second one (if you want to set the same as before).
To merge two Instagram accounts,
First of all, install the 'FastSave for Instagram' app, this is a reposting app that will clone all of your Instagram posts on the new account.
Now, copy and repost all of your Instagram posts from your old account to the new account.
Next, once the posts are cloned then just publish a few posts regarding following you on the new profile for a few days consistently for your followers.
This step is recommended for followers to see this and follow you on your new Instagram profile.
Don't worry at all. Here, in this article, I am going to provide you with a step-by-step guide that will make the process really simple and easy to execute.
Ways to merge two Instagram Accounts on iPhone or Android
Merging your social media profiles definitely means that all followers and posts you want to be merged and cloned to your new profile.
But that's not true for all types of social media platforms like Instagram.
Instagram has multiple features along with a few limitations and exclusions that its users have to bear.
Listen, actually Instagram in the near future may bring this feature for its users to merge multiple accounts. For now, you can use manual ways for managing accounts on the same app or repost the images.
So, until Instagram allows you to take advantage of such features in the future, use these methods smartly to get things done easily on your iPad or iPhone.
Although, there is another technique to move your followers back to the new Instagram profile.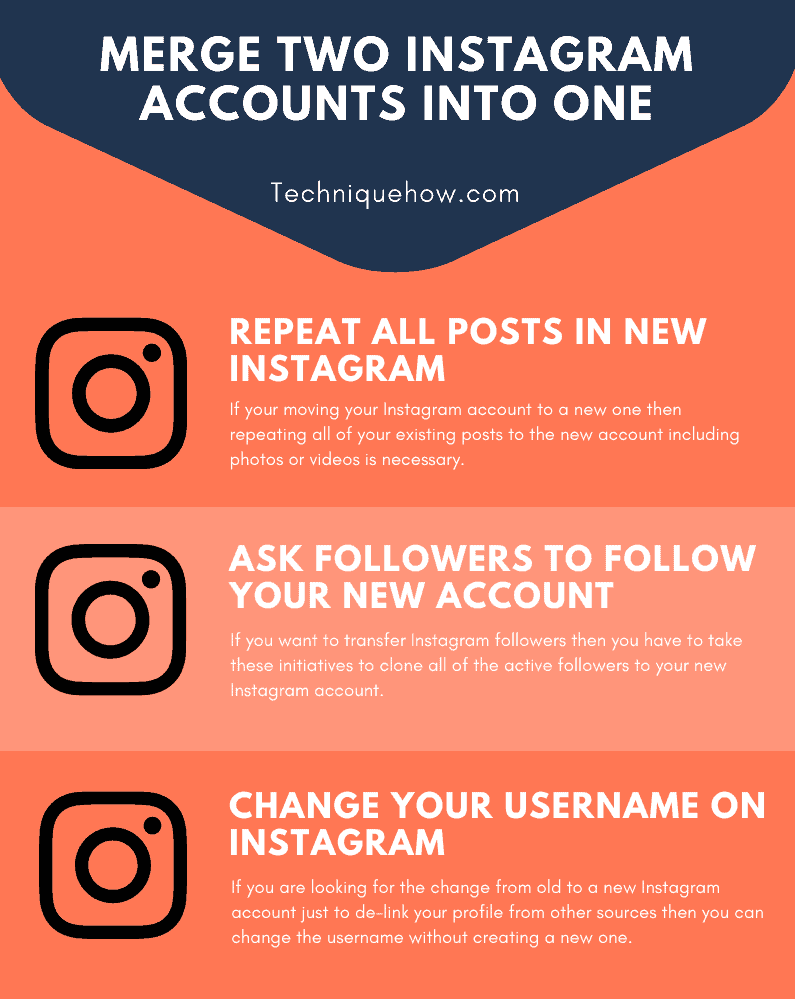 1. Repeat ALL posts in New Instagram
If your moving your Instagram account to a new one then repeating all of your existing posts to the new account including photos or videos is necessary. The users will identify you by your posts so it is always recommended to repost all of your stuff to your new Instagram account.
Note that Instagram doesn't have any features to transfer your posts like Google Drive or Facebook.
You have to manually download all of your Instagram photos and post them on your new account.
Strong Points:
Repeating your Instagram posts on your new account helps users to follow you on your new account by identifying you.
The users that identify you through those posts turn into followers only after you delete the same posts from the old account and make an announcement of your new Instagram account to follow you.
Bonus:
You can also take the help of some marketing companies that help Instagram influencers to come out of such a situation quickly and get new real Instagram followers legally.
Drawbacks:
If you want to repost all of your Instagram photos then this definitely will take a huge time and you have to do it one by one.
Another thing is you have to delete all of your old profile staff instantly after you clone the posts to your new profile. This will restrict access of your followers to your posts on that account.
Along with the followers, you will also be unable to access your own stuff as this deletion is permanent on Instagram.
Please note that it is not mandatory to delete, but it is advised for better results.
Why should I repost photos and videos?
Instagram currently doesn't have any such feature that you can use to mass download or upload your posts from one account to another.
However, you can try any tools available on the internet to download all of your posts at once and repost one by one.
Another point to add is that you don't have to post all of your old posts, just repost some recent ones from the last year.
How to Repost Instagram photos using Apps?
You have many apps that can repost your Instagram photos or videos instantly. If you want to do it automatically using an app you can use 'FastSave for Instagram', available on the Google play store.
Step 1: Just open your Google play store and install FastSave for Instagram.
Step 2: From the screen, once you log in with Instagram you will see all of the photos of your current Instagram account.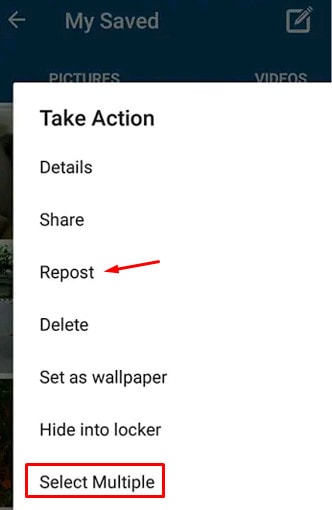 Step 3: You just have to select multiple photos that you want to repost and then tap on the 'Repost' option.
Once you tap on 'Repost', all of your Instagram photos will be cloned to the new account.
Now, after reposting you have to delete them all from the old account. If you want to delete all of the Instagram posts at once, check this guide.
2. Ask to Follow Your New Account
If you want to transfer Instagram followers then you have to take these initiatives to clone all of the active followers to your new Instagram account.
The process is manual.
You can post most of your teaching photographs or videos to the new one and you can share it through your old Instagram account.
Transfer Instagram Followers to Another account:
Asking people directly really works.
So just directly post an image where you have to directly ask your followers to you come and follow your new Instagram account that you have just created for a mass share of new stuff.
Note that the word 'mass share of new stuff' clearly denotes that you are offering something huge and this gonna attract your followers to come & follow you on new Instagram.
These are the only ways that you can apply to get your followers to your new account.
If you're looking for an automatic way then, for now, this is the best. You should understand the advantages of this technique.
If your followers are loyal and your original fan then definitely they are going to follow you on your new Instagram. Along with that, all of the inactive users will no longer be on your follower's list.
The best part.
If the follow-me post reaches to the new ones that increase the chances of getting new followers to your account. That's good, right?…
Strong Points:
i) If you are using this technique to gain all of your followers to your Instagram account then the advantage you get is massive followers.
ii) When you are requesting your followers directly through posts then this is delivered to all of the active members on Instagram. Those who are the real fans and active profiles will definitely follow you back on the new Instagram. In this process, you have the advantage to get out of all inactive users or ghost followers on Instagram.
iii) While most users are looking for online tools to get the followers back onto their account but those are not safe. But, if you use this technique, this will never give you any trouble.
Drawbacks:
The big drawback of this technique is you have to wait a long until the users view your post and value your request. this totally depends on your followers to either follow your new account or not you cannot force them.
If you are trying to clone all of your followers, the old profile remains with the same as it was. So, better you avoid posting on the old account if you wish to discontinue that.
3. Change your Username on Instagram
You might be wondering, how it does help to change your username on Instagram to merge different accounts!!
Well, definitely there is no direct connection between these two words but it helps a lot.
If you are looking for the change from old to a new Instagram account just to de-link your profile from other sources then you can change the username without creating a new one.

You can transform your personal account to a brand page just by changing your name on Instagram.
Instagram allows multiple special characters in the username that you can use to create a unique username for your profile.
How to select a username on Instagram?
If your followers identify you with the username or the Instagram profile name then you have to decide which one you should replace.
I know you will you definite rituals that profile which have the maximum followers.
So when you are trying to merge two accounts just change the username of the old one at first.
Now change the new account username the same as the old one.
Just set a different username to your old Instagram profile. You have access to many special characters that you can use while creating an Instagram username.
This replacement will have to be announced with your followers by any post on Instagram.
Remember: If you don't change the old username at first you cannot set that to your new Instagram profile. Be careful.
Where does the technique work great? If you are shifting your Instagram account which is linked to other social media platforms or websites with this username link then this method is 100% useful.
Strong Points:
You have made this possible through this method to follow your Instagram account from other resources without making any changes there.
If you just repost all of your stuff to the new account, you can delete the old account if you don't want to get the followers back from that ID.
Drawbacks:
In this method, you cannot get the followers of your previous Instagram account automatically. You have to follow the same method by asking your followers to follow you on a new account and this is a lengthy process.
Your new followers will miss out on the posts published on the previous profile and you have to repost all of those stuff on your new account.
4. Merge two Instagram accounts on iPhone
iPhone users can use up to 5 accounts on their Instagram iOS app and this is the same for all iOS as well as Android users. But if you want to merge two Instagram accounts then Instagram does not have such features.
All you can do is just make a new one and repost all of those posts using any third-party iOS apps to make the process fast.
You can install it 'Documents by Readdle' app from iTunes on your iOS device.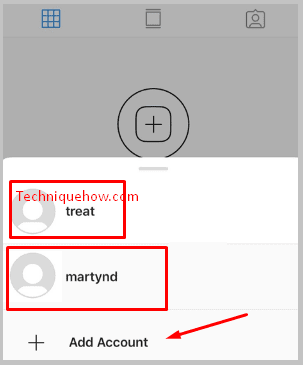 This iOS app can download all of Instagram posts in click and store on your phone.
You can repost all of those whenever you want.
Strong Points:
If you are making any changes to your Instagram accounts then merging two accounts may not be possible but you can report all of the images quickly and easily by using such Apps.
Drawbacks:
The drawback is you cannot merge two accounts in this process but the outcome you get is the same as you could get in merging two accounts. For transferring the Instagram followers, you have to follow the previous methods discussed above.
5. Delete Old Instagram
You might be wondering how deleting an Instagram account how can be helpful to merge two account followers.
Actually, when you are deleting your old Instagram account you are discouraging other people to follow you on your old profile.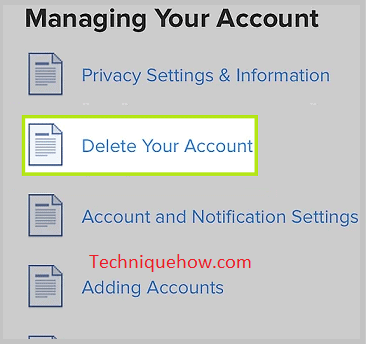 But before you delete your old Instagram account just make sure that you have already posted an announcement about your new Instagram profile on your old account.
Drawbacks:
You will use all of your previous followers on that account and this cannot be undone.
Along with this, you will also lose all of your posts including photos or videos that you have posted before on your old Instagram account.
How many Instagram accounts can be handled at a time?
On a single device you can use up to five accounts on your Instagram app but you have options like Parallel space or Dual space that offers to clone any apps like Instagram. You can try such an app to clone your Instagram app and use another 5 accounts there and just repeat.
The Bottom Lines:
Finally, you have to be cautious about your Instagram posts. That you will lose your old posts after the deletion of your old Instagram profile, so take the backup or download all photos.
Remember that to transfer your followers you have to take the manual initiatives to merge the followers to your new Instagram account.
Also Read: