Your Quick Answer:
To recover the suspended Facebook account, firstly, go and log in to your Facebook account.
After, logging in, you will be asked to either submit an identity proof or enter the information asked related to your Facebook account, such as your date of birth, etc.
Thereafter, set a new password and open your account. The first and foremost thing you should do is delete all the stuff which violates Facebook policies. 
And, for protecting one account from getting disabled, try keeping your Facebook account logged in on the Facebook app.
Why Does Facebook Suspend Accounts:
There are some reasons for which Facebook suspends your account:
1. Due to Violation of Terms of use
No organization or social media platform suspends the account of its user without any solid reasons. Similarly, on Facebook, until and unless the user violates the rules and terms of use, it does not suspend the account.
Violation of terms of use includes posting inflammatory content, sharing and sending inappropriate messages, Copyright infringement, and related stuff. These are the primary cause of suspending the account.
However, if you are 100% sure you have not done something like this, the reason for your account suspension might be something different.
2. Your Account was made to Spam on Facebook
Do you know, that Facebook suspends the account of the user after spam has been reported against him?
If Facebook found that more than 10 + other users on Facebook have marked your account as "spam" due to any Xyz reason, will suspend your account.
There can be many reasons why other users have 'spammed' your account, however, as per the research majority lies under the head of inappropriate activity and messages.
Nowadays, people do not even think once before reporting someone's account as "spam". Although regarding one's safety, there is nothing wrong with that, and sometimes innocent users have to suffer without doing anything, like this.
3. Due to Many reports from Facebook Users
Just like "spam", other users have reported your account as fake or annoying to Facebook, because of which your account would have been suspended.
Since Facebook has given a very handy option to the users to block or report other users, people also enjoy doing it.
Well, unless and until there is some serious reason for suspension, there are ways by which you can recover your suspended account. Let us move further and look for recovery options.
When Does Facebook Disable the Account?
Facebook disables the account, after sending 3 warning e-mails for review and soon suspension.
When Facebook encounters improper activity, it starts sending your e-mails stating the issue as well as the solution for the same and also 30 days for working on the solution. However, if you miss the emails or fail to fix them, your account will be suspended.
Facebook will send you a minimum of 2 review emails and the third will be of warning for suspension if the necessary action is not been taken within 30 days.
How To Recover Suspended Facebook Account:
Here are the steps to recover your suspended Facebook Account. Follow the following instructions:
1. Verify your Facebook Account
To recover your suspended account, you need to first inform Facebook that you are using that account and wish to get it back. For that, you have to log in to your Facebook account and have to complete the required process.
Step 1: Login and Do Security Check
First of all, go to the Facebook app or web, whatever is convenient for you, and log in to your account.
After your account is been suspended or disabled, when you log in, you have to do a security check.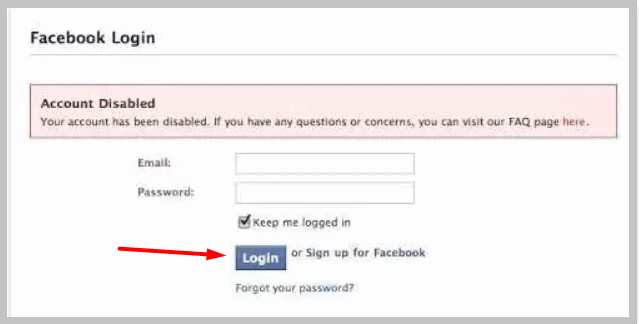 For security checks, a verification code will be sent to your registered phone number or a verification link will be sent to be connected email address. 
You have to complete this task, before moving further.
Step 2: Verify Account
After a security check, many a time, you will be able to directly log in to your account, but in case of suspension and disabled, you have to show identity proof or have to solve a personal info quiz.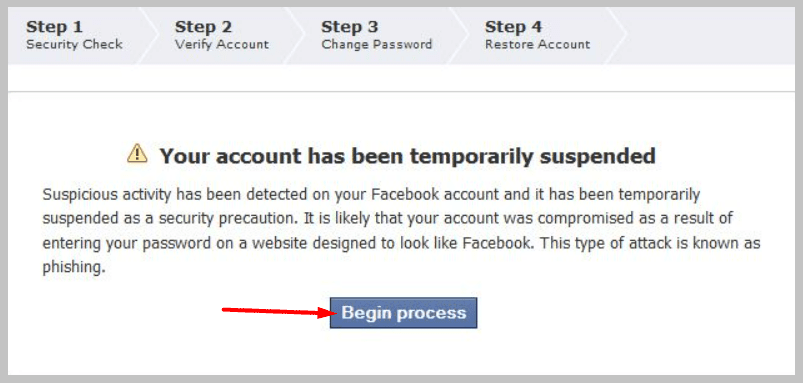 Yes, it is totally on Facebook what he asks you to perform for verifying you and allowing you to enter into your account.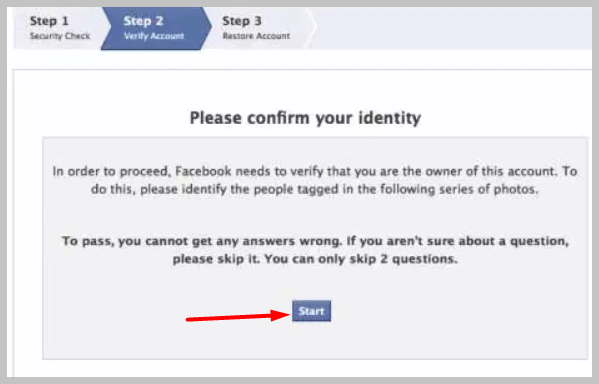 Majorly, it will ask you to upload a 'government' approved identity card or your date of birth, etc.
That's it.
Step 3: Change Password
Once your verification is done, you will be asked to change your password and set a new one, so that no third person can access your Facebook account and again push you into trouble.
Hence, set a strong password and move towards the final step of recovery.
Step 4: Recover the account
Now, you are all set to recover your suspended account. You just have to follow the steps and mainly have to give accurate information at the time of verification.
2. Keep your Account Logged In
Do not keep your Facebook account 'log out' continuously for a month or two. If you do so, there are very high chances of getting a month or two. If you do so, there are very high chances of Facebook considering you as an inactive user and disabling your account.
Hence, even though, if you are not able to scroll through your Facebook feeds daily, do not log out. Let your Facebook account login into the Facebook app, because if you keep your Account Logged In for a few months or date on Facebook App, then chances are rare that it would be disabled. 
3. Delete Such Stuff that Violates Policies
After receiving a review email, the first thing you must do is clean your Facebook account. Delete the stuff that violates the policies and is not rightful content as per the term of service and rule book of Facebook.
You should delete such things and make your account look real. It is better than getting caught in trouble.
Also Read: