Your Quick Answer:
To remove restrictions from a Telegram account, you need to open the Telegram app.
Read the reply to the message that the channel has sent you. Then you need to click on No! Never did that! You need to describe and type your issue in the message box and send it by clicking on the paper plane icon.
You can also make a new account as a solution to remove restrictions. But to make a new account you'll need to use a second phone number.
If you've sent unwanted messages, exceeded the maximum number of messages, or have sent news or clips of sensitive content without a trigger warning, it can get your account restricted. However, it can also be a mistake.
If blocked you can try a few methods to unlock the Telegram group. You can try the following methods to fix if the limit is exceeded.
Step 1: First of all, open the 'Telegram Restrictions Remover' tool.
Step 2: Then, enter the Telegram ID of the user you want to remove restrictions for.
Step 3: After that, click on the 'Remove Restrictions' button.
Step 4: Now, the tool will remove the restrictions for the specified user. You will be able to find what you want to do on Telegram without any limitations.
How To Remove Telegram Restrictions:
You have these methods to try:
1. Replying to Spam Bots
Try the following steps:
Step 1: Open Telegram & Spam Info Bot channel
If your Telegram account has been placed with restrictions you will need to remove the restrictions by replying to spam bots' Telegram channel. During the restricted period, your account will be limited and you won't be able to perform all kinds of activities.
However, by following these few steps of removing restrictions, you can try to remove the limitations that are imposed on your Telegram account. You need to open the Telegram account and then go to the Spam Info Bot channel.
Step 2: Click on the icon next to the message box
Once you enter the channel of Spam Info Bot on Telegram, you'll be able to see the messages box. Next to it, you'll find an icon that looks like a box. You need to click on it and it will open a drop-down menu with a list of messages to choose from.
These are the automatic or auto-composed messages that are offered to you so that you don't need to type any messages on your own to send.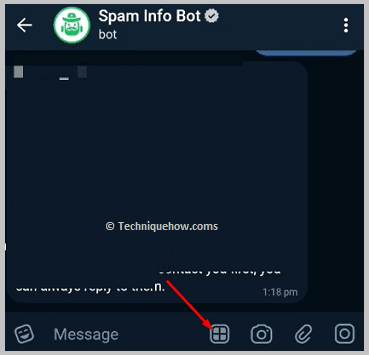 Step 3: Click on This is a mistake
Once you're given the box of messages to choose from, you'll need to choose and click on the option This is a mistake. It will be sent to the bot channel and you'll immediately get a response as an answer to your message. You need to read the messages that you've got for an answer.
It will ask you whether you want to file a complaint. You need to click on the Yes option.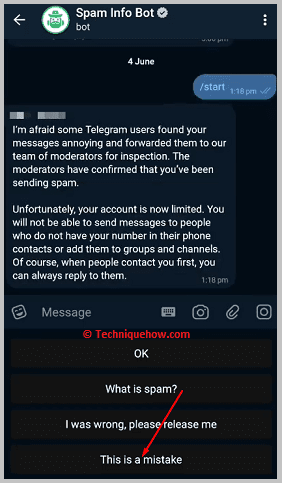 Step 4: Choose: No! Never did that!
After you agree to file a complaint, it will ask you to tell whether you have ever used your account for sending unwanted spamming messages to your Telegram contact, advertising messages, or shocking news or materials that can trigger others or affect them mentally or physically.
You'll need to choose option No! Never did that! so that you can state to them that you've not used your account for harassing others.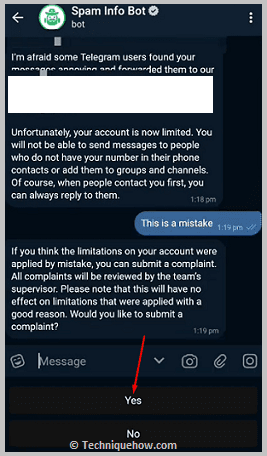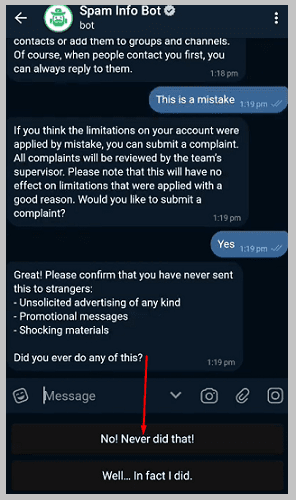 Step 5: Describe your issue
You'll receive a message which will ask you to describe your issue in a text message which would be read by the supervisor so that your case can be resolved and the limitations from your Telegram account can be lifted.
You need to compose a message in the text box stating all the minor to major details. Lastly, request Telegram to lift the limitations and then send it by clicking on the blue paper plane icon.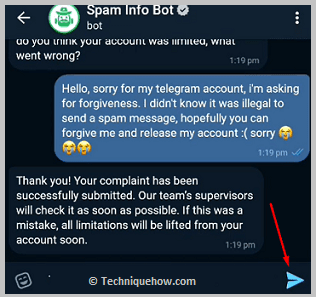 2. Making a New Account
When your account is restricted in Telegram because you've done something illegal or harassed somebody by sending spamming messages, you can't get it lifted because clearly, you're guilty of violating the terms and conditions. Instead, you can make a new account and keep it safe from getting restricted.
On Telegram, one phone number can help you create one account only. If you need to create a new account, you have to use a different phone number to sign up for a new account. But be sure that you don't get reported for violating any terms or guidelines from the new account or else it will be limited too.
🔴 Steps to create a Telegram profile:
Step 1: You need to open the Telegram app on a second device in which you didn't have an account previously.
Step 2: Next, click on Start Messaging.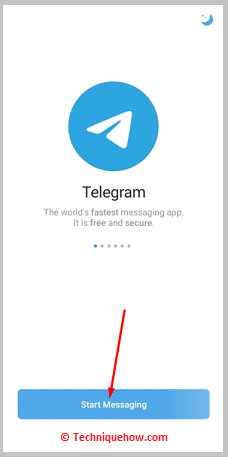 Step 3: Click on OK.
Step 4: Then provide permission to the app.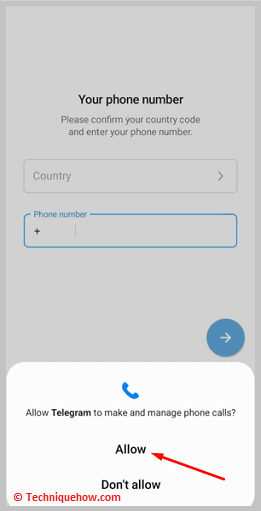 Step 5: Enter your mobile number and click on the arrow.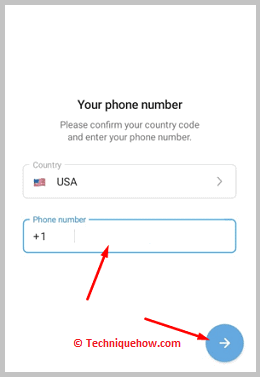 Step 6: Verify the phone number.
Step 7: Then you need to set the profile picture by clicking on the picture icon.
Step 8: Enter the first name and last name. Click on the arrow icon. You'll be taken to the Telegram inbox.
Why Am I Restricted From Sending Messages On Telegram:
When your Telegram account is limited, it might make you wonder why your Telegram account is limited. Below you'll find four different reasons or explanations that can help you understand why Telegram has restricted your account even though you think it's a mistake or there's no reason.
1. Sent unwanted messages to groups
When you've got reported by multiple Telegram users for sending messages that are of no need to the users in a group, it means that you have sent unwanted messages to a group.
It may appear to you that you've done no wrong by sending those messages as it's a group, but to the members, those messages are of no use which is why the moderators reported your account and it's limited.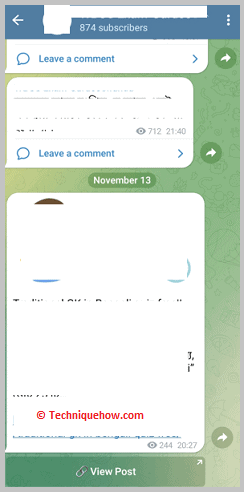 2. Exceeded the maximum number of messages
When you send too many spamming messages or promotional texts to other users on Telegram, the user doesn't need to report your account to get it limited because on Telegram you have a limited number of messages that you're allowed to send to users each day.
If Telegram notices that you're exceeding the maximum number of messages that you can send from your account, your account will get limited immediately and you won't be able to send messages till limitations are lifted.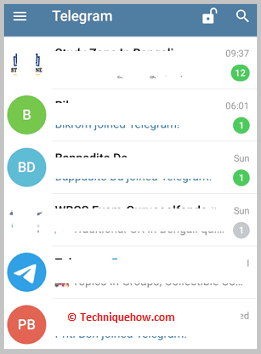 3. Sending clips or media without a trigger warning
If you're circulating a news or video which is true but has a sensitive picture attached to it, you should apply or attach a trigger message before sending the actual news so that it doesn't harm the receivers or appear to them as a shock. Some media or pictures that are sensitive should be circulated after blurring them so that the viewers or receiver don't get triggered after viewing them. This kind of insensitive activity can also get your account limited.
4. It can be a mistake
When you find your Telegram account has been suddenly locked or limited, it's also possible that the Telegram team has made a mistake and limited your account for no proper reason.
You need to contact the support team or the Spam Info Bot channel of Telegram to report the issue and get the matter resolved as soon as possible so that your account can get recovered. 
Frequently Asked Questions:
1. How to Delete a Banned Telegram account?
To delete an account on Telegram that has already been banned, you need to visit the deactivation page of Telegram and then enter the phone number that's associated with the banned account.
You need to enter it in the correct international format. Verify the code that's sent to your number. Provide any reason for deletion and then click on Done.
2. How to Disable Filtering that Telegram is not showing?
You need to use the Telegram site from desktops or laptops to disable the filtering that Telegram is not showing. Once you're logged into the Telegram account, click on the three lines icon and then click on Settings.
You need to click on Privacy and Settings. Under the Sensitive Content in the blue header, you need to checkmark the box next to Disable filtering.
Also Read: