Gifting someone is good. But making a perfect decision is the fact.
That is why sending an Amazon gift card is always appreciated by your friends and families. Whatever occasion it is, Amazon gift card has a lot of advantages that no one can neglect.
One can buy anything with this Amazon gift card, not only on Amazon.com but also on other third-party websites.
So, do you want to send someone Amazon gift card and looking for multiple cool ways!!
Here in this article, we will share with you different techniques that offer you to send a gift card in multiple ways to someone instantly.
I will discuss all of these techniques that normally offered by Amazon and we will also add some other unique techniques that you can use to share the gift card with someone else. It's Free.
Benefits of Amazon gift card:
If you are planning to send an Amazon gift card then there are multiple benefits of such gift cards.
i) You can send an Amazon gift card on any occasion you want. Just change the design and look of a card where the code remains the same.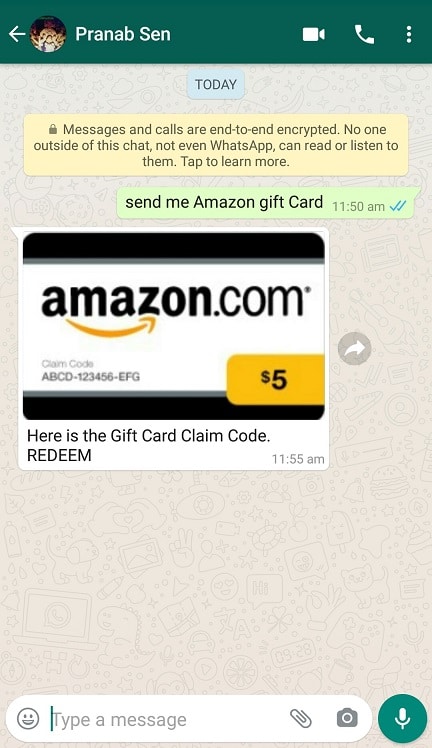 ii) Now further if you want to ship it to someone else then the methods we use online it's completely free and not just to send this card over the physical post as you have many online smart ways that will cover in this article to send an Amazon gift card to your friends.
Amazon Gift card can now be sent Via:
Amazon.com normally provides you think ways to send an Amazon gift card through online methods, now let's check the ways:
1. Sending an eGift Card Online
If you're planning to send an eGift card to someone else directly to their email inbox or through text messages then Amazon definitely has this offer that you can choose from the cart.
Just go to the Amazon.com gift card page>
Now, you just have to just add the amount, the method of delivery and the email address to send this e-card.
That's all it needs to send an eGift card to someone else through Amazon.com.
Through online, you can send the gift card by two methods either by email or a text message. You can add any messages to the gift card you want to send and complete the checkout.
When'll the gift card be delivered?
The gift card will be delivered to the target what's the checkout is completed and you can check the status of the gift card by yourself on Amazon.com.
The amount you can send.
You can send any amount minimum of $25 through eGift card.
2. Print the Gift card (Print-at-Home)
If you are looking for the physical delivery of Amazon gift card then Amazon also has this offer to send a gift card to someone else by making it from your home.
All you have to do is just purchase an eGift card from Amazon.com and print it after you check out.
Just follow the three simple steps to get the physical gift card in your hand:
Step 1:
Just open your 'Print at home gift card' page.
Step 2:
Choose the amount, design and any message you want to add in this card then select the quantity.
Step 3:
After you have completed the selection, just proceed to checkout.
Once the checkout is completed, you are ready to print that gift card from your home printer.
3. Sending an eGift card via Mail
Sometimes it is better to mail an Amazon.com gift card physically than sending it via online emails.
This method is useful if you are sending a very small amount of gift cards like $10.
The best part.
You can select multiple types of gift card envelope to post or mail that gift card in physical form to someone else.
Just select the amount and add your close one's delivery address and complete the checkout to start the delivery process of the gift card.
4. Sending Amazon gift card Code through WhatsApp
If you want to send the gift card via WhatsApp then you have the choice to send the e-card in image form through WhatsApp chat.
In case of the lower amount, you can also scan the home-printed gift card and directly send it to the person through WhatsApp chat.
This is an easy and useful technique, you can see through this technique if a person already checked the message.
That ensures the person has received it.
Multiple Amazon.com gift card Style and Design
If you are planning to send Amazon gift card then style and design matter a lot. You can select from the wide range of gift card styles of an Amazon and it is completely free when you checkout.
You have to select the design on the checkout page.
In case you need more design then you can select the eGift card option.
However, if you are trying to mail an eGift card then you have the multiple types of envelopes available at the checkout page.
Occasions to send an Amazon.com gift card
There are few occasions in which case sending an eGift card through Amazon.com is the perfect decision for its quick and easy service.
Birthday gift card: Over 50 types of eGift card templates.
Thank you gift card: Over 27 types of eGift card templates.
Easter gift card: Over 11 types of eGift card templates.
Wedding gift card: Over 16 types of eGift card templates.
Congrats gift card: Over 23 types of eGift card templates.
Newborn gift card: Over 20 types of eGift card templates.
And much more: Over 150 types of other eGift card templates including Valentine's day gift card, Christmas gift card, New Year gift card, Father's day gift card, Halloween gift card, etc.
Note that, if you want to send gift cards via Mail or Print-at-Home gift cards then those templates are also available at Amazon.com in different categories.
You can choose any type of gift card template by occasion.
Remember that the gift card design is premade on Amazon.com and available to buy in any form like animated, standard and in the photo when you purchase the eGift gift card.
These types of designs are only available to send via emails or text messages.
The only disadvantage of such multiple templates is that you can buy when you select the eGift card option on checkout.
For other delivery methods, you can choose other gift card templates from the Mail or Print-at-Home category.
Can I send an Amazon gift card to other countries to use on Amazon payments?
If you want to send it in Amazon gift card to other countries then you have to select the eGift card feature that you can use to send over email or text messages, post-delivery may not be possible.
Remember that an Amazon.com gift card only redeemable on the same Amazon.com platform.
So, if someone is trying to purchase anything through Amazon gift card you have to confirm that the parcel would arrive at their address.
Precautions:
Note that if you are sending the Amazon gift card to someone then you have to be cautious that the gift card does not go to the wrong hand. As once it is redeemed by other people it cannot be restored back.
So always re-verify the email address you send the gift card or the other target methods.
While you are planning to send the Amazon gift card to someone, you have three main options. We have discussed above. Choose from the options whichever suits you.
Also Read: