Your Quick Answer:
To get the Subscribe button on your Snapchat profile, first, go to your Snapchat profile and tap on the 'Add to Snap Map' button and then tap on the 'Create Public Profile' option to create a new one.
Once you tap on the 'Edit Profile' option and add your information, you just created a new profile that gets Subscribe button on the profile.
Snapchat does not have the cap to get this button on your profile you will need at least 5000+ followers on your Snapchat profile to get the Subscribe button option to appear for the setup.
Actually, this does require more than 25000 reaches per post on Snapchat.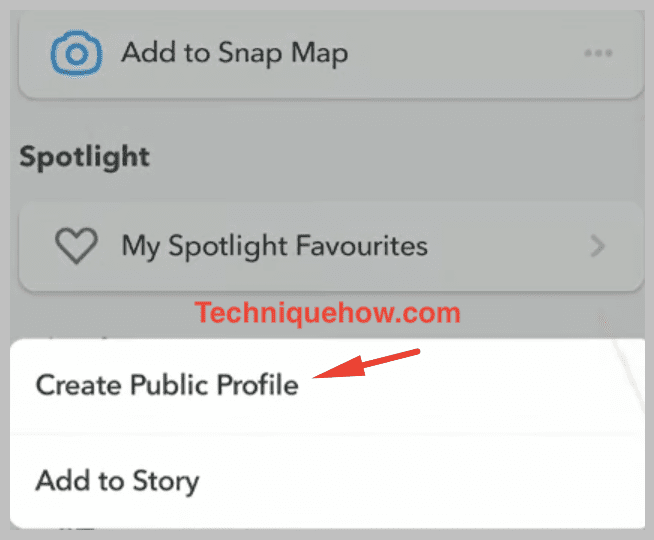 If you're seeing Subscribe button on a Snapchat profile instead of seeing 'Add Friends' then that could mean several things, for example, he has removed you, or the profile is set to as a public profile.
But, not every Snapchat user would be eligible to create a public profile that displays the subscription on the profile, you would require a few things to get approved.
When you try to open a profile on Snapchat, it would show as the 'Add Friends' button on the profile but that be replaced by 'Subscribe' for a few users who have a lot more followers on Snapchat.
In this article, find the methods in detail to get the subscribe button on the profile, and also will describe the other requirements and issues that you can easily understand from this article.
Why does Snapchat say Subscribe instead of Add Friends?
Snapchat has recently added the subscription button to allow its users to connect to a wider group audience where you can share your photos, videos, and stories through your profile.
Sometimes you see 'Subscribe' rather than 'Add Friends' on Snapchat when you want to add someone to your list of friends or followers.
You can display the <5K Subscribers on your Snapchat profile, you have to follow a few ways to get those subscribers on Snapchat.
The possible reasons to show Subscribe instead of Add Friends are mainly:

Someone who was your friend on Snapchat decides to unfriend you for some other reason.
The other possible reason is people accept your friend request but later after a few days or weeks, they unadded you from their list of friends. This is the reason you will see the 'Subscribe' option on their profile. It is just a cheap strategic way of increasing their followers.
The most genuine of all the reasons is that if your account is open as a public account. If you choose to keep your account public, Snapchat will show the 'Subscribe' option instead of 'Add friend'. By making your account public, people who want to follow you have to opt for a subscription.
What do you need to use the Subscription on Snapchat?
The new feature of Snapchat ' Public Profile' is the latest update. This feature enables the users to connect to a wider group audience.
It also allows you to collaborate with other content creators and marketers. The higher the number of your followers more will be your popularity among the users.
To use the subscription feature on Snapchat, the following are the criteria that are needed to be fulfilled.
You might set all privacy settings including the 'Contact me', Notifications to 'Everyone' in order to set up the public profile.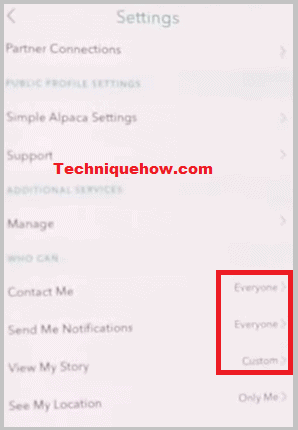 For having the Subscribe button on your Snapchat, you need some requirements like:
Before going into this make sure your region is supporting that feature, otherwise, Try a VPN then clear data for Snapchat then re-login with ID while VPN is turned on.
You have a minimum of 400-1000 followers on Snapchat.
Your Snapchat profile is a minimum of 2 months or older.
Minimum one bidirectional friend that is at least one of your friends has accepted your friend request and you to have accepted their request.
Once you have these numbers of followers you can proceed with setting up the Subscription on your account.
How to Get Subscribe button on Snapchat?
To get the 'Subscribe' button on Snapchat, you have to make a few changes to your account and create a public Snapchat profile.
First, make sure you have a Snapchat app with your account created on it on your device.
In order to create a public profile to get the Subscribe button,
🔴 Steps To Follow:
Step 1: Open the app, and tap on your profile icon on the top left corner of your screen. Your profile is right there, open onto your screen.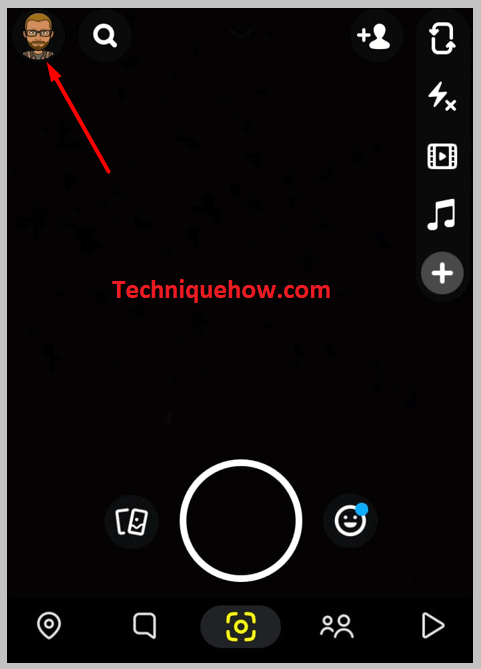 Step 2: The next thing you gotta do is tap on the 'Settings' icon on the top right corner of your screen.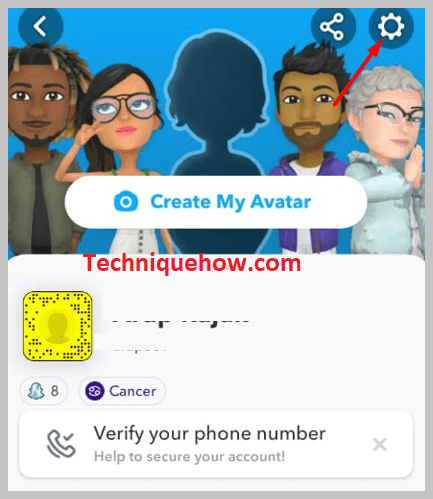 Step 3: Scroll down and reach the privacy settings.
Step 4: Under privacy settings, change and allow all the settings for 'Everyone to view'. This will make your account go 'Public'.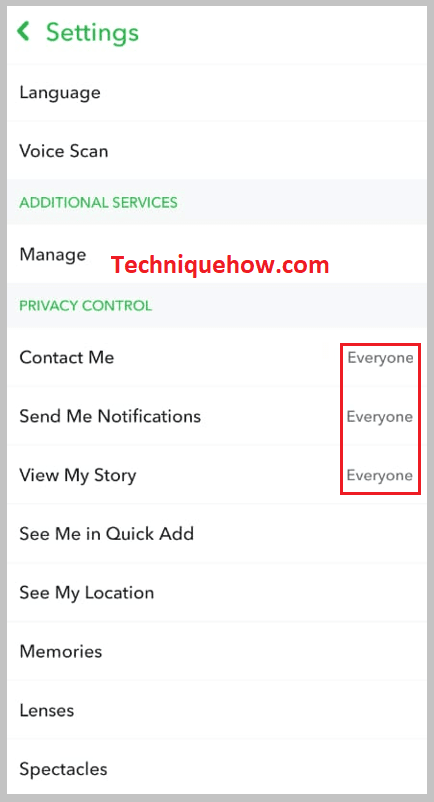 Step 5: After that go back to your profile panel and scroll down to 'Add to Snap Map'.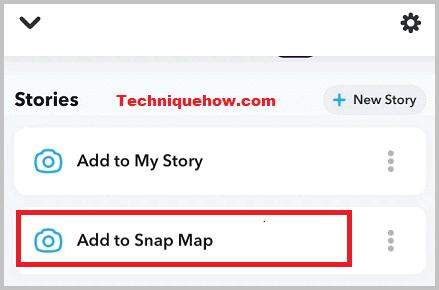 Step 6: There you will see the option of 'Create Public profile'. Click onto it.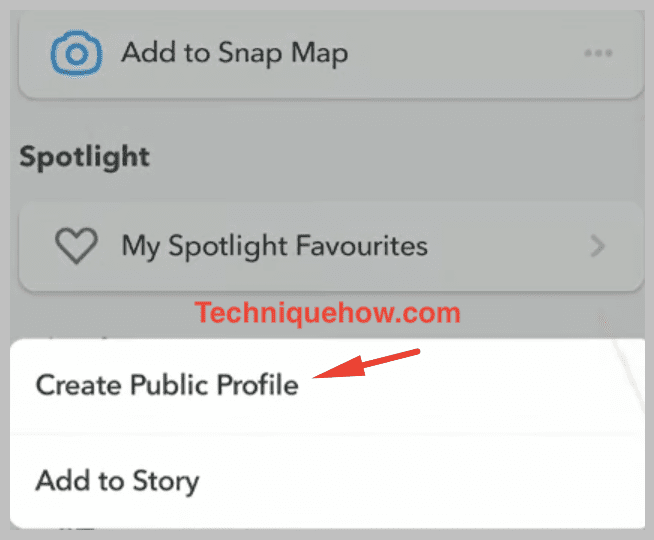 Step 7: Edit your profile according to your need and the options provided. Click on the 'Preview' profile option before finally creating your 'Public Profile'.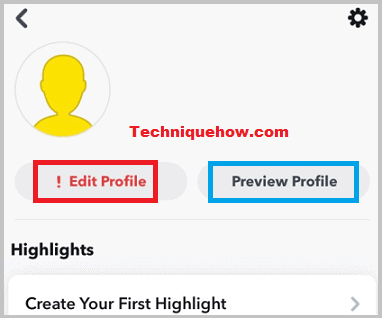 These are the simple steps to follow to create a public profile but for that option, you might be eligible to get the subscribe button. Your account has the 'Subscribe' button now that will be displayed to other users, not in your Snapchat friend's list.
Can you Message Someone You Subscribed to on Snapchat?
Well, the answer to this question is 'Yes' as well as 'No'.
For 'Yes' the condition: you can send messages to those who have not subscribed. Your message will be delivered but it will be shown as a 'pending' message to the receiver. For your message to be delivered as it is, you need to subscribe to the account you wish to send a message to via Snapchat.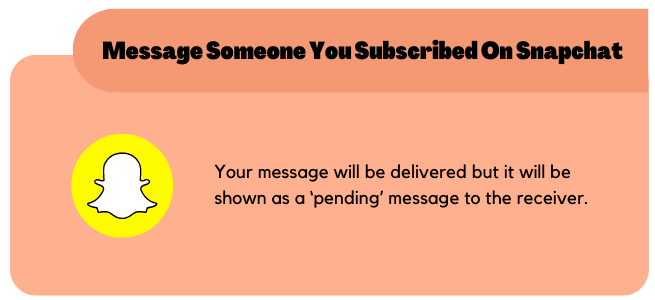 The above statement justifies the reason for 'No' as well. Until you don't subscribe to their account, though your message will be delivered it will be shown as 'Pending' in their account.
The Don'ts for the subscription to Snapchat:
Underage- Unless you have crossed 18 years of age you cannot get a subscription tag on Snapchat.
Bidirectional friend- For a subscription to Snapchat, you need to have at least 1 bidirectional friend.
If you have created your Snapchat account just 24 hours ago, you cannot get a Snapchat subscription.
The Bottom Lines:
As you have seen the only way to get the subscribe button on the Snapchat profile, is first to achieve the followers for a good reach and then you can change the setup by going to the public profile option in order to create a new public profile that shows the Subscribe button to users instead of Add friends.
Also Read: