If you want to restore the messages that you have deleted from Telegram then you have to follow certain steps and this can be done using a few tools. There are many tools or apps available to recover the deleted Telegram messages, but you can even restore them by downloading the data.
If you have deleted a message or a few from the chat then in order to recover those you have to take steps instantly as delay may lead to permanent deletion.
You can recover the messages from Telegram data from your mobile and to recover, you have to use a tool like the EaseUS tool where you can recover messenger chats and deleted messages.
To recover the deleted chats from Telegram, first of all, you have to install the EaseUS tool on your PC and then you have to connect the mobile to PC & start the restoring process. Also, you can install the WaSeen recovery app on your android that also will help you view & recover the deleted messages from Telegram.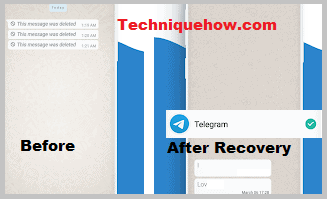 This article will mention a few apps or tools with their features and steps to execute and you can follow the steps accordingly to do this.
Recover Telegram Messages from Cache Folder:
If you want to recover the deleted Telegram messages then the cache folder can be a good choice to start. You can see deleted data on your cache folder of the Telegram if that was a recent change, but if you're late then might be disappointed with this method.
Normally, if you want to recover the deleted Telegram messages then you can recover from the cache folder, just go to 'Android'>>'data' folder>>'org.telegram'>>'cache' and there you will see all deleted messages.

The cache folder will store all the data inside and the images or videos that are most frequently opened might be there for a certain period of time. Just find the images from the above folder and hope you will get what you're looking for.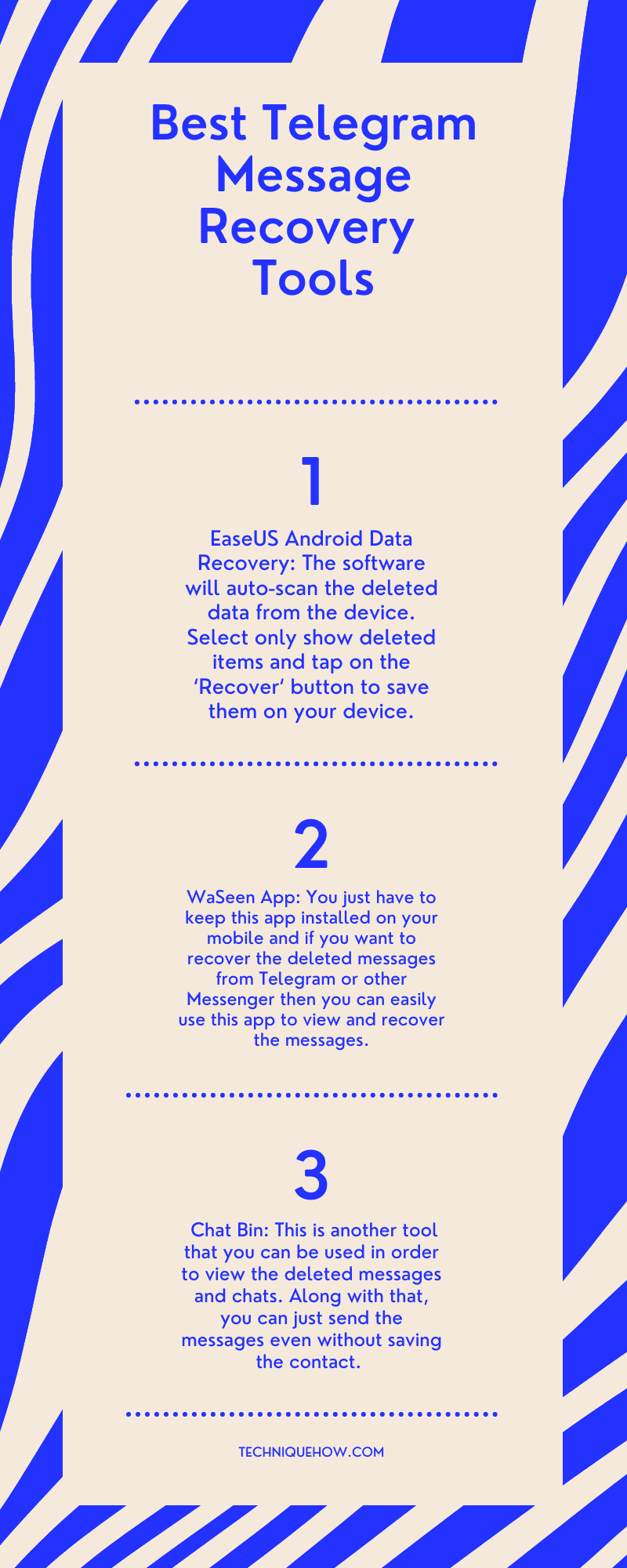 1. EaseUS Data Recovery
One of the best tools is the EaseUS android data recovery tool that you can install on your PC in order to recover the deleted Telegram messages.
You just have to first install the Android recovery tool by EaseUS and then connect your phone with your PC.
Now, the software will auto-scan the deleted data from the device.
Select only show deleted items and tap on the 'Recover' button to save them on your device.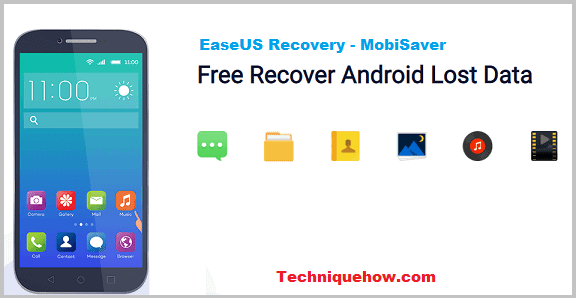 Features:
EaseUS MobiSaver data recovery tool can recover your deleted data from your mobile including photos and videos.
EaseUS tool can restore all Messenger messages that are deleted from your android device.
This EaseUS Android recovery works on the Telegram app in order to recover all deleted messages including chats and videos or photos there.
You just need a premium plan for the EaseUS recovery tool and you can recover any old data from the Telegram app.
How To Use:
To recover deleted Telegram messages,
Firstly, you have to connect your android with PC & run the EaseUS MobiSaver tool.
Now open the recovery tool and select the Telegram app for data recovery.
Next, proceed to recovery of the Telegram data and it will be done in a few seconds.
Now, if your destination is saved as mobile then the restored data will be saved automatically back to your mobile device from where you had deleted the file.
2. WaSeen – Recover Deleted Messages
This is the best app that you have to pre-install on your Android phone to see the deleted messages if those were deleted from your Telegram account. You just have to keep this app installed on your mobile and once if you want to recover the deleted messages from Telegram or other Messengers then you can easily use this app to view and recover the messages.

Features:
The WaSeen app can show you all deleted messages from Messengers like FB, WhatsApp, and Telegram.
The app can recover or restore all the deleted messages in one tap to view from the app.
You need to have this app previously installed and enable to use it for all messenger apps.
How To Use:
To recover the deleted Telegram messages,
Firstly, install the WaSeen – Recover Deleted Messages app on your mobile.
Then open the chat on that app that you want to recover.
Then you just have to tap on the Recover button to see or restore the messages.
That's all.
3. Chat Bin (Recover deleted chat)
The app Chat Bin is another tool that you can use in order to view deleted messages and chats. Along with that, you can just send the messages even without saving the contact. You can check the deleted media, messages, chats, deleted status, etc from your Telegram app using this tool.
The Bottom Lines:
This article explained the best tools that you can use in order to recover the deleted Telegram messages and you can use the tools on PC as well as the apps on your Android device.
Also Read: