Snapchat has its own spam detection filters that work to find spam account and lock those. Now, manual blocking also happens if your account receive reports on your act of sharing the snaps. That is why it's mandatory to recheck the snaps before sharing this on stories or snapping too many people if that violates the rules in Snapchat, you must ignore doing that.
People in Snapchat get their account locked due to sending too many snaps to many people at a time, in that case, Snapchat just detects the account as spam and locks that up temporarily for verification.
To unlock a temporarily locked Snapchat account, you just login into the Snapchat web from the link provided in your email (by Snapchat), and after that, you will see an option to unlock the account, just tap on the button to verify your mobile with code and your Snapchat will be unlocked.
However, in case Snapchat has locked your account permanently, then the best way to unlock the account just by contacting the Snapchat support team and if that is restorable then you will be notified within a few hours or days.
In this article, I will explain all of the methods that actually work in order to unlock your Snapchat account if that is done unintentionally or mistakenly.
Why does your Snapchat get Locked?
Snapchat is one of the best apps that you can download to your device. It is a great way to express yourself and have fun. It is also a way for people worldwide who want to stay in touch with their friends without having to wonder if they are up-to-date on what they are doing. However, sometimes when something goes wrong, the account will become locked, and new passwords cannot be used.
For this not to happen, there are some things that you should know about how you can keep your Snapchat account safe and secure from things like being locked out or hacked.
The most important thing is not to give away your password or other sensitive information such as usernames or email addresses that can be used to gain access to your account.
There are too many reasons that lock up a Snapchat account:
If you have one account with multiple usernames.
Someone is trying to change your username or phone number to another account.
Someone else using your account when you are not online and not giving access to the password for some reason.
You have taken too many snaps and to all your friends at once then Snapchat will detect this as spam and will lock your account.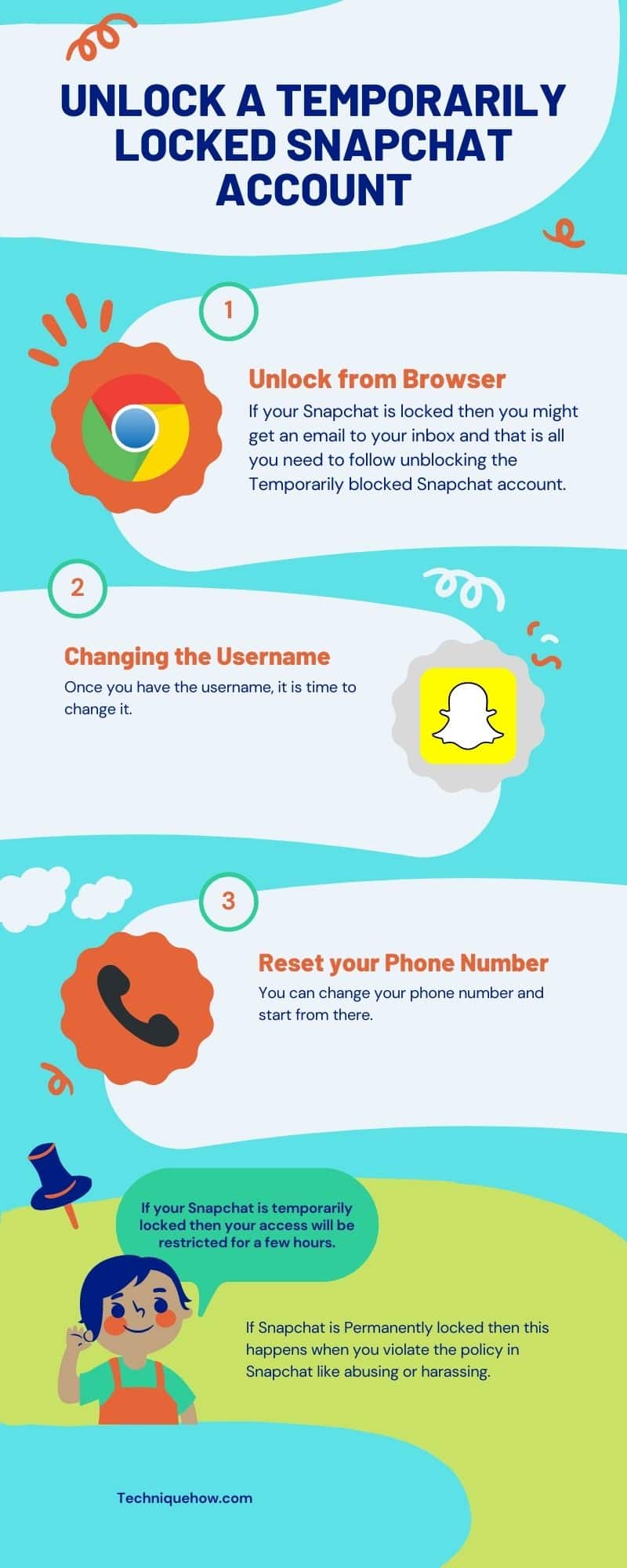 What happens when your Snapchat gets Temporarily Locked?
If you engage in any of the following activities while using Snapchat, your account will get temporarily locked:
Using a username that somebody else is already using to send photos or videos.
Sending inappropriate content or harassing users.
Sending inappropriate photos or videos that violate Snapchat's guidelines.
Now if your Snapchat account is locked: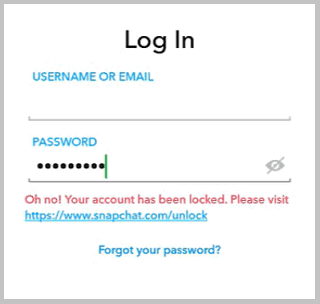 You would not be able to access your account to send snaps.
Your profile will no longer receive incoming snaps.
Your friends would not be able to find you in search if your Snapchat is locked.
Although, once your account is restored or unblocked, everything will get back to normal as before.
Types Of Snapchat Locked Account:
You will face two types of locked accounts either it is temporary or permanently locked accounts.
Snapchat Temporarily locked: If your Snapchat is temporarily locked then your access will be restricted for a few hours and if that happens due to sending too many snaps that are spam then you may lose a few of those from chat.
Snapchat Permanently locked: If Snapchat is Permanently locked then this happens when you violate the policy in Snapchat like abusing or harassments and these things might lead your account locked permanently.
How can I unlock a Temporarily Locked Snapchat Account?
There are several ways to unlock a temporarily locked account. Let's follow these steps:
1. Unlock from Browser:
If your Snapchat is locked then you might get an email to your inbox and that is all you need to follow unblocking the Temporarily blocked Snapchat account.
In order to unlock a Temporarily locked Snapchat account:
First of all, look for the email in your email inbox and click on the link provided to verify the account to unlock Snapchat.
Next, this will ask you to log in with your Snapchat credentials and just login in and verify the account with the code sent to your mobile.
Once you enter the code it will display the 'UNLOCK' button.
On successful unlock the same will be visible on screen.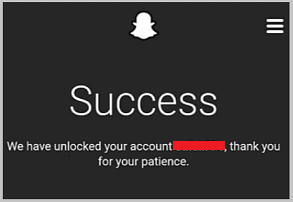 That's all you've to follow.
2. Changing the Username:
Once you have the username, it is time to change it.
To change your username, go into your Settings on Snapchat. Then click on "Change Username".
3. Change your password:
If you did not know, you could change the password for an account, which does not belong to anyone else. You can do that through the account security section of Snapchat.
4. Reset your Phone Number:
If nothing worked so far, then all you can do is change your phone number and start from there.
Yes, you can just go to the settings and from there just add a new number to replace your old one from Snapchat.
How to Unlock a Permanently locked Snapchat Account?
Even if you are sure that your Snapchat account is secure and safe from being hacked, it can happen. If you are in that situation, it would be better to contact the Snapchat customer support team so the procedure will not be complicated or time-consuming.
In order to unlock a permanently locked Snapchat account:
Step 1: Create a Snapchat account with a new phone number
The first thing you need to do is create a new account. That will help you get into Snapchat quickly again. Then, change the username to the one that's locked.
Step 2: Contact the Snapchat customer support team
Once you have changed your username and set a new password, contact the Snapchat customer support team if nothing works for you.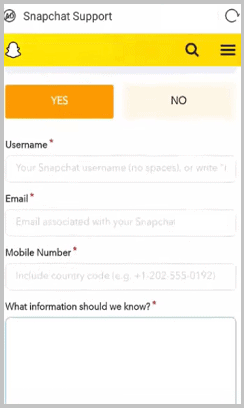 Try to provide as many details about your account as possible, including usernames, phone numbers, and email addresses, and explain that your account was in control of others that you want it to be restored now.
Step 3: Provide proof to verify your identity
The last thing you need is some proof of your identity because Snapchat uses your email address to verify your account.
So try to take a screenshot of the email you used when creating your account and send it to [email protected].
It will take a few days before Snapchat can unlock your account. So don't worry and try to relax until it happens, this will help you not be anxious at all.
How To Unblock Snapchat Story?
If you regret something that you have uploaded on Snapchat Story, here is the trick to unblock Snapchat Story.
Log in to your Snapchat account.
Open your Story that you want to unblock.
Tap the three dots button on the right side of the screen.
Then, press the triangle icon and then tap Blocked at the top of the screen.
The Bottom Lines:
You must know why your account has been locked if you are unsure what the cause of the problem could be. With that being said, keep your Snapchat account well secured with these tips (listed above) to make sure it is not hacked or stolen. If you have any questions at all, please feel free to contact us. And if you like or find this article interesting, please share it with your friends and let them know about these fantastic tips.
Also Read: