Your Quick Answer:
To view private Instagram profiles, you can look for the account and tap on the Follow option to send a follow request. Once the person accepts your request, you can view their profile and posts.
If you want to check their account while remaining anonymous, you can make a fake account on Instagram, look them up using the account, and then send a follow request and wait for them to accept. You will be able to see the account without compromising your identity.
You can ask a mutual friend to lend their phone or account to you for a while so that you can check the private account without having to follow them.
You can type their username on Google image search, but this method will only work if they have recently made their account private.
You can search for their name on other social media apps and look at their profile if it's not private.
You can use a private profile viewer website to type in the username of the private account and wait for the results.
How to View Private Instagram Profiles:
Follow the below methods that you can follow to view private Instagram profiles:
1. Sending Follow Request
The most straightforward way to view the Instagram profile of a user whose account is private is to follow their account.
Step 1: Search for the User
You can do this by opening your Instagram app, going to the search icon, and typing in your username.
Step 2: Send the following request
Once the search results come, please tap on the related profile to open it. Here you will see that all their posts and followers lists are hidden. Tap on the blue "Follow" option. This will send the Follow request to them.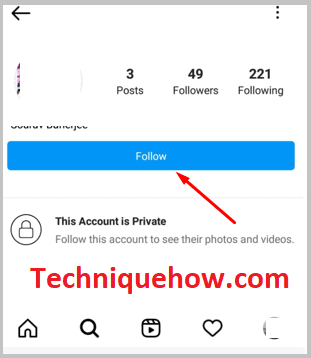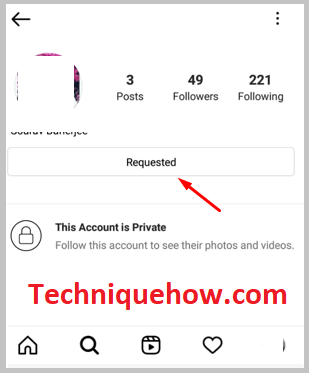 Step 3: Visit the profile again to view their posts
Wait for them to accept your Follow request. This might take a while, depending on how active the user you are trying to follow is. Once they accept your request, you have to visit the profile again. Now you will see that you can view all their posts and follower lists.
2. Spy with a Fake Account
If you don't want the person to know who you are or if your anonymity is of utmost importance to you, you can use a fake account to view their profile. Use this method only if you cannot use any other method mentioned here.
Step 1: Create a fake account
You can create a fake account by opening the Instagram app or webpage and tapping on sign up. Type in your phone number or email ID and tap on "Next". You will be sent a confirmation code that you have to type in the text box. Then create a username and password and type in all the information you want to make it look real.
Step 2: Follow them
Follow the private account using this fake account by searching their username and tapping on the blue "Follow" option. Wait for them to accept your follow request, and then you will be able to view their posts without their knowing your identity.
3. Borrow Mutual Follower's Mobile
Another simple way to view the private account is by finding who among your friends in real life follows this private account you are interested in. Once you have found out who they are, all you have to do is ask them if you can borrow their phone for a while to use their Instagram app.
Now that you have the phone, you will be using their account to open the profile you want to see. You can go to the following list and scroll through it until you find them or use the search option. Open the account, and you will be able to see all their posts without following them or creating a fake account. 
Note: Please seek permission before using someone's phone so as not to invade or breach anyone's privacy.
4. Try Google Cache
You can use the Google cache method to check your private Instagram profile. However, this method will only work if their account was public at one point or if it just was made a private account.
For this, you have to go to Instagram and see their username or copy it. Then open the web browser that you use and go to Google. Here you have to type the person's Instagram username and press enter.
Then tap on the three dots icon beside the search result you want to open. A floating notification will open with the heading "About this result" with information about the search result. At the bottom right corner of this floating notification will be the option "Cached". Tap on this option.
This will show all the cached pages with that username. You will be informed that this is the older version of the website, and if you tap on any of the options, you will be led to the live page, which doesn't exist. So it will cause an error.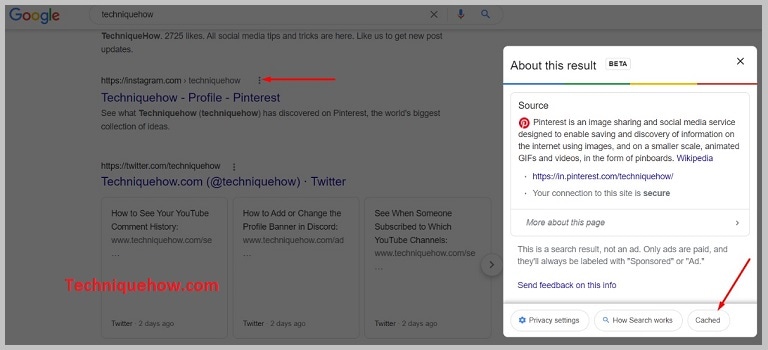 5. Find his Other social media
When you open the private account of the person, you are interested in, even though the posts will be unavailable for you to see, you will be able to view the user's name. Copy this name.
And open other social media sites where you think this person might have an account, like Facebook, Twitter, or Quora. Go to these social media apps and paste the name you copied in the search option.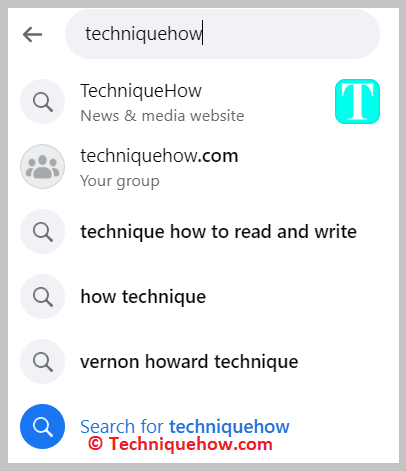 Scroll through the search results and open the most relevant one. You will be able to view their posts and information if the account is public. This method will only work if their account is not private. Also, considering that their Instagram account is private, there is a good chance that they value their privacy and these accounts are private.
🔯 Private Instagram Profile Viewer:
You can also use one of the many available websites on Google to view private profiles on Instagram.
First, you have to go to Instagram and copy their username. Then you have to go to your search engine and type "Private Profile Viewer for Instagram," choose one website you want to access and tap on it.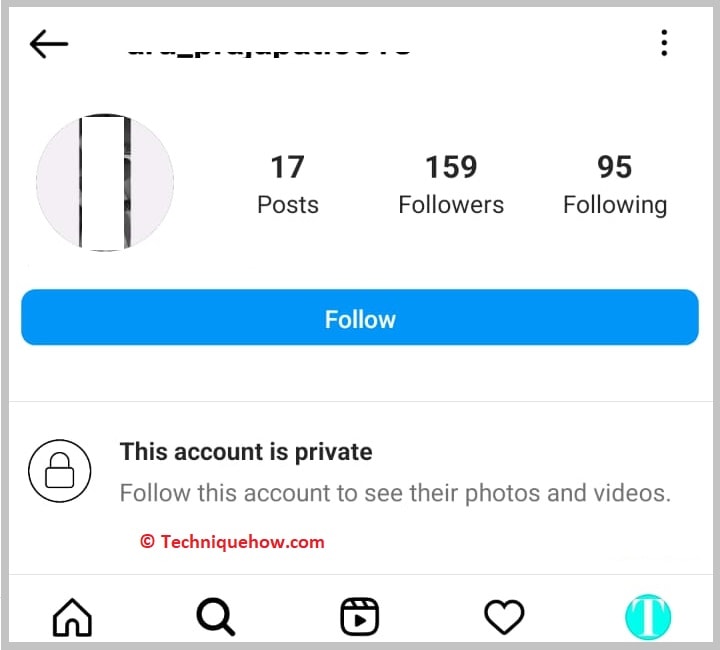 Here you will see a text box. Paste the username you copied. Within seconds you will be able to view the private account and all its posts. But before that, you will be asked to do a task to prove you are not a bot. Once you have passed the test, you will get to view all the posts of the private account.
Also Read: