Do you want to hide your private stories and profile from someone on Snapchat? Well, this leads to the decision to block the person completely.
As if you only remove the person from your Snapchat friend list, the private stories will be invisible but your profile is still accessible by that person.
So, if you totally block someone on Snapchat it's the perfect decision to hide your profile from the search results on Snapchat.
But, if you're blocked by someone else on Snapchat, to be sure you can use this technique by searching the name on Snapchat.
However, just removing the friend from your Snapchat list does not restrict him/her to snap back to you. For this, you have to block the person from the Snapchat settings.
If you are willing to know what happens after you block someone on Snapchat then this content is for you.
First of all, let's understand how blocking a Snapchat friend works:
How to Block Someone on Snapchat?
If you want to permanently hide your profile from the search results at that point blocking the person is the right decision. Note that, after blocking you would not get the snaps back from the person and all of the past messages will be expelled from your chat list.
So, here you go:
Step1: First of all, open the search bar on Snapchat and type the name of the person you want to block. You can find him/her from the friend list also.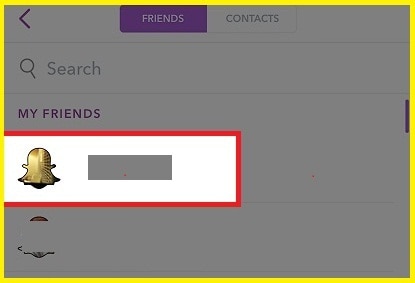 Step 2: Now, select the name and open the profile details for that person.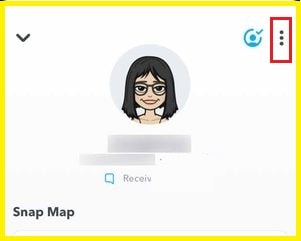 Step 3: Then, tap on the three-dots icon which appears on the top right corner of the profile name. Once you tap, you will get the options listed.
Step 4: Now, tap on the 'Block' option and confirm on the 'Block' button from the next window.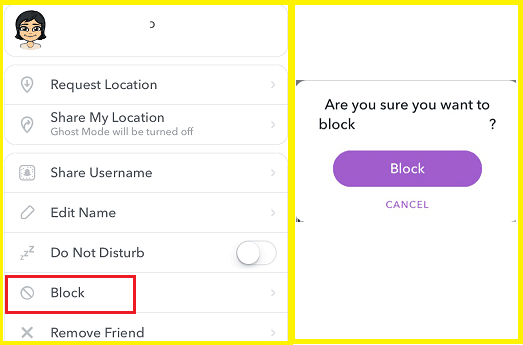 Once you complete these steps, the person is blocked and now listed in your Snapchat blocked contacts list.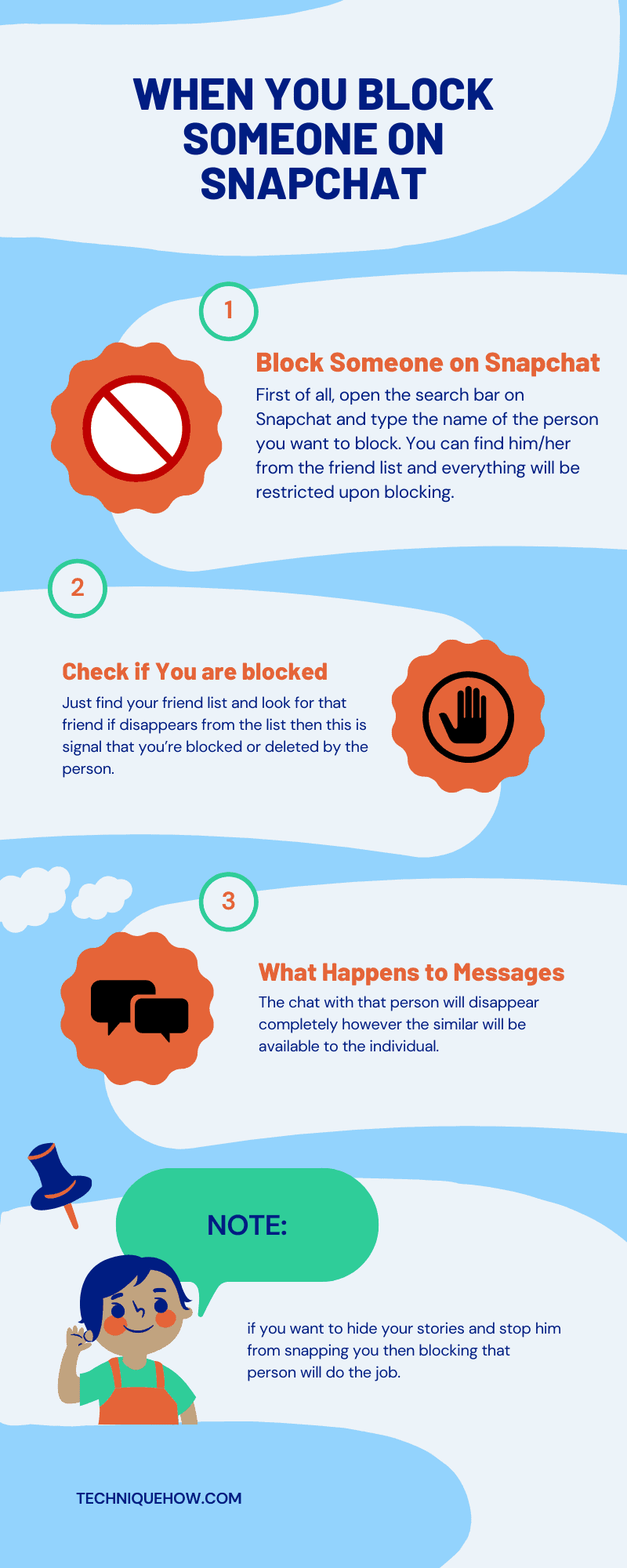 Are you Blocked or just Removed from the Snapchat Friend List?
Upon blocking by someone on Snapchat you cannot send messages, view stories, and even see the profile in search results. If you've been blocked on Snapchat then you are restricted to a few things that you cannot get for that person.
Here are some of the situations you might experience listed below:
To check if you are blocked on Snapchat, just find your friend list and look for that friend. If that friend disappears from the list then this is a signal that you're blocked or deleted by the person.
To find out if he/she just unfriended you or blocked you, search the username on Snapchat. If you are unable to find the name from the search result then be sure that the person has blocked you. However, in case he removed you, you can see his name in search result with a white icon.
Even if you message or snap, the person will not receive those messages. So, if you see there's no reply from his/her then it is also the signal that he/she has blocked you.
Here are the few things that you might face when someone just removes you from the friend list:
You will no longer see the person on the list but can be found on the search results.
You can still send the messages and the person will receive it if he has just removed you.
These are some differences between removing and blocking a friend from the Snapchat friend list.
What Happens When You Block Someone on Snapchat?
If you block someone or remove a person from the friend list then what you will experience are listed below:
You won't have the option to see her on the friend list yet the name is on your blocked contacts list on Snapchat.
What Happens to Messages: The chat with that person will disappear completely however the similar will be available to the individual.
Once you block someone on Snapchat, you automatically unfriend him/her. So, if you unblock that person, the person will no longer be your friend. You have to re-add that person to become friends with him/her.
The person cannot message or snap you back or even cannot see your stories. Actually, if you want to hide your stories and stop him from snapping at you then blocking that person will do the job.
Note that, if you re-add the person as your friend, you can't reestablish the past chat and messages. That is the wreckage.
FAQ:
1. When You Block Someone would they be able to see Your Messages?
Your messages will be visible to the person if you block him/her on Snapchat. But, your chat will disappear from the list. If the person sends you messages, you cannot receive the messages. There is no way to delete the chat from the person whom you have blocked unless he blocks you also from his account.
2. Will Someone Know whether You Block him on Snapchat? 
Actually, if you block someone on Snapchat, he/she would not receive any notification. When your stories are not visible anymore, most probably the person can get an idea. Now, if the person searches your name on Snapchat and cannot find you but his friend can, then he might understand that he is blocked by you.
3. What happens when you unfriend somebody on Snapchat?
Once you remove a friend from your Snapchat list, that friend would not be able to view your private stories. But, the person will still be able to see your profile if it's searched and can also snap you back. If you unfriend then you will lose all of the chat with that person but the person will have the chat saved on his phone.
The Bottom Lines:
If you want to prevent from seeing your private stories & finding your name on the search results on Snapchat just block him. However, removing someone does not prevent him from finding you on Snapchat.
Also Read: