Your Quick Answer:
You can't see your friend's story, which means you are not adding him as your friend on Facebook. If his story has crossed the 24-hour time limit, then you can't see his story.
To see your friend's story on Facebook, open his profile and add him as your friend; after that, you can see his story because by default Facebook sets the story settings as 'Friends'. Users can easily see the stories shared as 'Public' on Facebook.
If you're anyone's friend and you see his story, he can see your name on the viewer's list; otherwise, he won't know.
There are some steps you can take to view Facebook story anonymously.
Facebook Story Checker:
🔴 How To Use:
Step 1: First of all, open the Facebook Story Checker tool.
Step 2: Then, enter the username or ID of the Facebook account you want to check.
Step 3: After that, click on the 'Check' button.
Step 4: Now, the tool will analyze the account and provide information on why you can't see their story.
Why Can't I See My Friends Story On Facebook:
On Facebook, when you are going to post something on Facebook, you can change the privacy of your story. You can make it 'Public', where all users on Facebook can see your stories.
If you choose 'Friends', then only your Facebook friends can see your stories, and if you choose 'Custom', only the person you select can see your stories.
1. You're Not Friends with Person
If you can't see your Facebook friend's story on Facebook, then first you should look at whether you are his friend or not on Facebook. Because if your friend shares the story publicly, then if you are not his friend, also you can see it.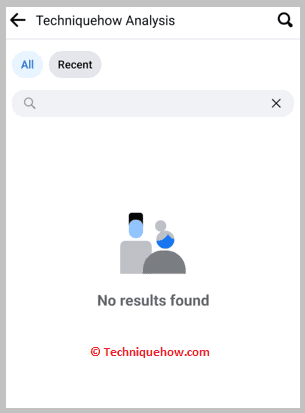 As you can't see it, that means your friend does not share it publicly, so open your friend's profile and check if you are his friend or not.
If you are not his friend, then send him a friend request, and if you can see that you are his friend but still you can't see his story, then your friend has changed his story privacy settings.
2. The Stories are Private
As we have mentioned earlier, even after being friends, you are excluded from privacy settings if you can't see your friend's story.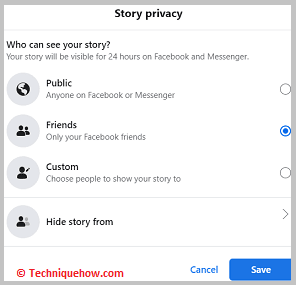 If you post something on your story, you can see after selecting a photo or a video that there is an option 'Privacy' at the bottom left.
After clicking on it, you can see some possibilities there. If your friend chose 'Custom' and did not select you, then even being his friend, you can't see his post; if your friend select 'Friends', then tap 'Hide story from' and select your profile, then you can't see his post because he hides you. So, if your friend has chosen any of these options, you won't see his post.
3. Stories are Expired
The most common reason you can not see someone's story is because the story is expired. If the story is expired, you can see the message 'Story no longer available. The story is expired means the story may not be available because it has crossed 24 hours.
Because Facebook stories will disappear within 24 hours of posting, you won't see them anymore if you cannot see someone's Facebook story in 24 hours.
Some users on Facebook sometimes share the same things in stories as well as in posts. So, if the story is expired, you can see the same thing on your friend's post. But if he has not shared it as a Facebook post, only shared it as a story, then after 24 hours, you will not be able to see it.
Why My Friend Can't See My story on Facebook:
You may have these issues on your account:
1. You Excluded Him From Settings
If any of your Facebook friends aren't able to view the stories that you're uploading on your Facebook profile, it might be because you've unintentionally excluded them from the custom list.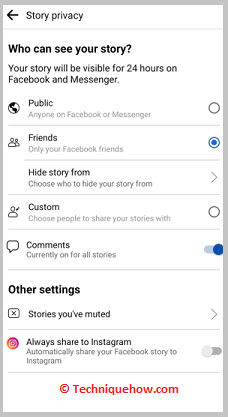 If you've posted a custom story selecting specific friends only, the story will be visible to those few allowed friends only.
If you've forgotten to mark any friend, then the person will get excluded and won't be able to see your story. You'll need to delete the story, change the custom list and then post the story again to make it visible to all the selected friends.
2. No longer Friends with the Person
When a friend of yours is unable to view your Facebook stories, it's possible that the user is not your friend on Facebook anymore. If you've posted the story which is allowed to be viewed by your friends only, then only the users who are on your Facebook friend list can view it.
If you've unintentionally removed the person or the user has unfriended you on Facebook, then the user won't be able to view your stories unless you post them publicly. You can either re-add the user to your friend list to let him view your stories or you can change the story privacy to the public to make it visible to all.
How to See Someone's Story on Facebook:
Follow the below methods:
1. Add Him as Friend
As we have mentioned, most Facebook users (excluding celebrities) usually share their stories with the privacy settings 'Friends'. So, to see someone's story on Facebook, you should be their friend. To add the person as your friend and to see their story:
🔴 Steps To Follow:
Step 1: Open your Facebook account, and log in to your account; then, you will enter the Facebook Homepage, where you have to tap on the 'Search bar' at the top of the screen.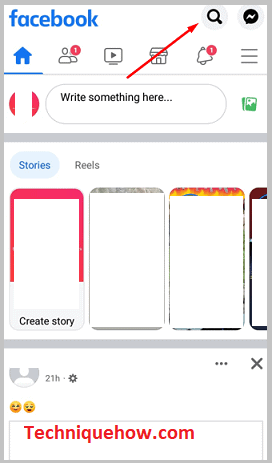 Step 2: Write the person's name you want to search for, click on his name, and enter the person's profile.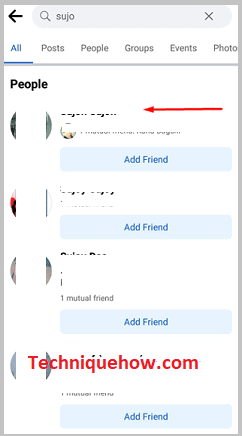 Step 3: Click on the 'Add Friend' option below the username to add him as your Facebook friend.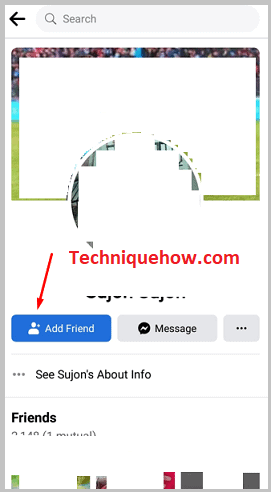 Step 4: Now, wait until the person accepts your friend request.
Step 5: After he receives your friend request, both of you can see your story (if both of you set the story setting as 'Friends'). On the Facebook homepage, you can see your friend's stories on the upper side.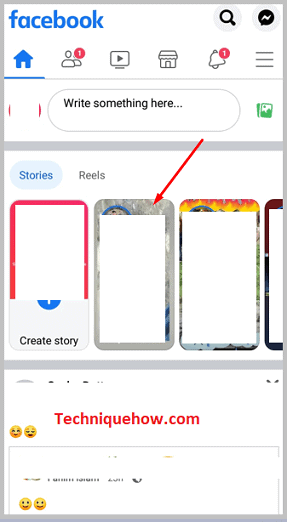 Step 6: You can also open the person's profile and tap on their profile picture; if he has shared any story, a pop-up will generate at the bottom; tap 'View Story', and you can see his story.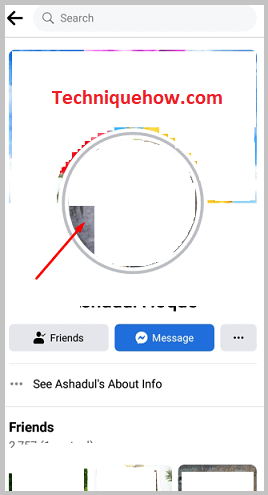 2. Only Public stories You can see (without adding)
There is only one option by which you can see anyone's story without adding them as your friend, and that is if they share their stories by using the 'Public' feature.
In most cases, celebrities who share stories to entertain the audience or any businessman who shares stories to promote something eventually are trying to make more followers, so they use this feature. Other than these people, many users share stories publicly. You can see their stories easily.
3. Use this Story saver for Facebook
If you're not able to view someone's Facebook story directly on the Facebook app, you can use the Story saver for Facebook app to save the story directly on your device so that you can view it offline. This will also help you view the story anonymously.
🔗 Link: https://play.google.com/store/apps/details?id=com.lunarday.fbstorydownloader
🔴 Steps To Use:
Step 1: Download the app and install it.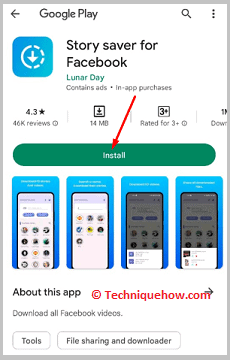 Step 2: Open it and enter the username of the friend whose story you want to see.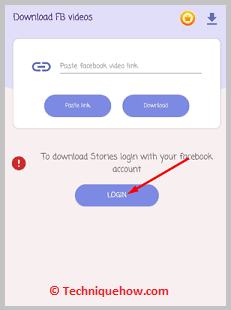 Step 3: Click on Download.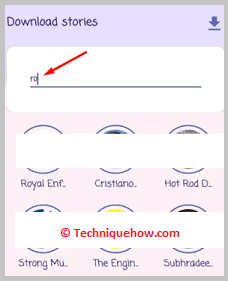 Step 4: The story will be downloaded and saved on your device's gallery.
Frequently Asked Questions:
1. How to see a Facebook story without being friends?
You can see the Facebook story of a user without being friends with him on Facebook only if the user has a public Facebook account. The stories of a public Facebook account are posted publicly which can be viewed by all on the Facebook platforms. If the user has a private account, then you need to see the stories from a mutual friend's account.
2. How to view friends' old stories on Facebook?
You can only view someone's old Facebook stories if the user has saved them on the Collections of his Facebook profile so that they can be viewed by the user's friends. However, if the person has shared his old stories on his Facebook wall or has reposted it again on his Facebook profile, then you can view them too. Other than that, there's no way you can view someone's old stories after they have expired.
Also Read: