Facebook shows you multiple people suggestion to add to your friends-list. That time I just made my new account on Facebook and wondering how could I get my list increased and I found the suggestion list offered by Facebook. I added many people from the list but most of them did not accept the request.
I could see the list of people was becoming a very huge day by day and then I decided to revoke the sent friend requests. But the problem was if I do this one by one it could take up to 7 days from my free hours.
Finally, I got the solution to cancel all of the sent requests on Facebook. To cancel the friend requests in one click, if you're on a PC just open developer mode & put the HTML code into the console and hit Enter. You can perform this on Windows PC and macOS both.
The code has to be perfect and that is what I will share in this content. In my case, it took me just 1 minute to cancel the sent requests.
I personally experienced that taking steps to cancel all friend request on mobile is a time-consuming practice rather I used the PC with the developer mode on, just putting the HTML onto the elements all of the sent friend requests on Facebook just had gone vanished.
Now, in this context, I will share with you the step-by-step guide with which you can perform the cancellation quickly and without wondering for any other stuff.
How to view sent friend requests on Facebook:
First, try opening the full list in a full window on your PC.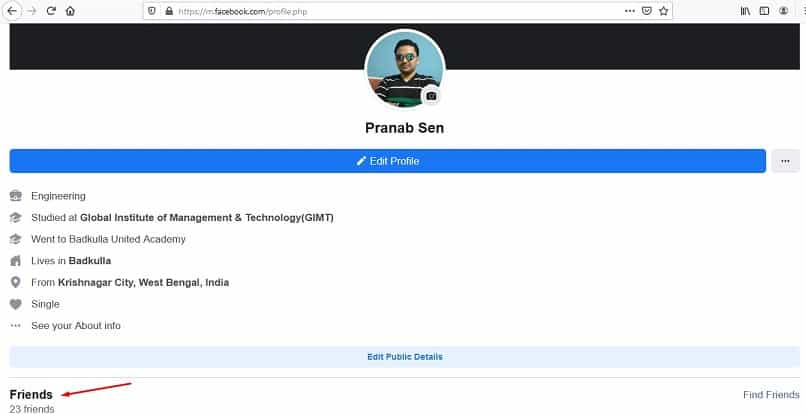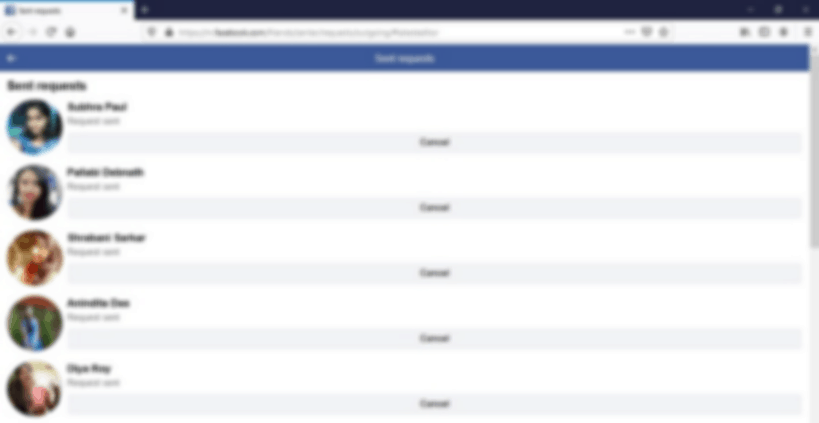 Why Can't I see Sent Friend Requests on Facebook?
If you have sent a lot of friend requests from your Facebook profile, you can see the list of your pending requests. Even either on mobile apps or facebook.com on PC, you have an option under the friend requests section to see who did not accept your friend request or if someone sends you a friend request and you don't accept, he can
your name
on the sent list.
When you can't see the sent friend requests then there might be three reasons:
First, those persons already accepted your friend requests. Second, the friend request is deleted by that person you send to. And third, the Facebook profile is no longer accessible for any reason that made the people disappeared from the sent friend requests list.
On PC:
Follow the simple steps if you're on PC:
1. First of all, go to Facebook.com and log in.
2. Now click on the Friends icon and then click on 'View sent requests'.
3. You will see there all of the pending requests are lying.
On Mobile:
Just follow these steps from your Facebook app:
1. Open the Facebook app while logged in with your account.
2. Now, tap on the 'friends icon' and once you tap onto the arrow on the Friend requests section, you'll see 'View sent requests'.
3. Just tap on the 'View sent requests' and you'll be able to see all of the pending requests.
How to Cancel All Sent Requests on Facebook?
If you're on the desktop you can now cancel all requests at once in one click. This is done through the mobile version used on PC. It can a Macbook or Windows PC to perform the mass cancellation of sent friend requests.
Just follow the simple steps to cancel all requests on PC in one-tap:
2. You have to open the developer mode on the browser. For Windows PC press Ctrl + Shift + I from the keyboard and for macOS press ⌘ + ⌥ + J at the same time from the keyboard. The system will open the HTML version, also you can right click and hit on 'Inspect'.
3. Now, on the console section copy & paste the following code:
javascript: var inputs = document.getElementsByClassName('_54k8 _56bs _56bt');
for (var i = 0; i < inputs.length; i++) {

inputs[i].click();

}
Finally, hit 'Enter' button from the keyboard.
Now your all requests will be cancelled in a few seconds.
Advantages:
I don't want you to lose even a single second more than 1 minute and this method works when there is a lot of sent requests you want to cancel in just one click.
How to Cancel Sent Friend Requests on Mobile?
If you're on mobile you have the manual ways to open the app and cancelling the sent requests from the settings. It's easier if you have very few people in your sent request.
To cancel the sent requests just follow the steps: [iPhone & iPad]
1. Tap on the 'friends icon' on the top bar.
2. Then find the 'Friend requests' tab on the top.
3. Now, tap on the 'View sent requests' and you will see the people names.
4. Once you tap on the 'Cancel' button and the request will be revoked.
Limitations:
You have to perform this action for each people one by one. On your mobile, you can't edit the console using the developer mode.
When to Perform:
If you have very fewer sent requests on your Facebook and can take this effort, this would not take much time in case of fewer requests are sent.
What Happens if you Cancel Sent Friend Requests on Facebook?
If you cancel your sent friend request on your Facebook, all of the things are not affected even the users cannot get notices in some cases. I will discuss here all of the facts that you want to know.
➊
About Getting Notification:
If you are looking for the answer for the cancellation of the sent friend requests or your friend list,
you need to know
that the person would not get a notification if you cancel the send request or delete him from the friend list.
I made several experiments on this and found
whenever I deleted a person
, the person would not get any notification in another hand my updates will not visible on his/her timeline and in case you remove the sent request or cancel the person is never going to get any notifications.
➋
Following the person:
If you don't know what happens when you send a friend request, you are already following that person automatically. This is the default setup of Facebook that enables one to follow the profile you add as a friend even after the person did not accept your request you are still following the person and all of his stuff will be visible on Facebook timeline.
I have seen personally in some cases that whenever I added a few people, their updates like posts and other stuff are coming into my timeline and I noticed that I am following that person because of I have sent the person a friend request. Now as soon as I clicked unfollow for the person, the statuses were no longer visible onto my timeline further.
➌
Messages Location:
When you are on the waiting list of someone's friend request your sent messages will be on their message requests as well. That means if you send a message to that person who is not on your friend list will appear on request section under the messages section instead of appearing on the chat.
I frequently check my message box and sometimes the message requests to see the unknown person's message. As I know that many people don't even know without adding an unknown person as a friend their messages will be under the message request section. Many people avoid this section due to insufficient knowledge.
So it is better if you add the person at first and then contact the person through the messages then your messages will appear on the chat section.
Can I See the Accepted Friend Request?
Yes, if you're looking for the friends that just accepted your friend requests on Facebook, you can see them from the notification tab. All you've to do is just click on the Notification tab and see who else has just accepted your requests. Once you click on the exact notification this will take you to the profile who just accepted your friend request. That's hopefully great.
I have noticed personally that whenever I have sent too many friend requests and once the person accepts every time I get a different notification for each person that takes me to their profile upon click.
I want to share that if you want to cancel a few requests on your mobile follow the manual method described in this content. However, in case you're on PC just use the HTML code to ease out the cancellation process with a few seconds.
Also Read: