Now Facebook video creators could earn from ads, but WhatsApp does not provide users such as direct income opportunity for sharing any creative work or status with people. Nevertheless, you can implement some simple procedures if you want to make money from WhatsApp.
You must know that there are some ways that WhatsApp makes money.
People are interested in earning money without any investment and social platforms are the ways to achieve that goal.
If you have multiple WhatsApp groups WhatsApp and good status viewers, you can make a lot of money by using the popularity of these WhatsApp groups & statuses.
Sending a short URL of the useful article, providing paid jobs to skilled people is the easiest way to earn cash from WhatsApp indirectly.
To earn $1000 a month on WhatsApp using its messages and statues all you have to do a few things including,
Selling Goods: You can sell goods by uploading product images and the price tag mentioned on those products.
Sending Promotional codes: That attracts customers in order to increase the sale of products. If you won any shops and have a base of people on your list you can send messages or upload statues to or for your customer availing special discount codes that might generate more sales over $1000 in a few weeks.
Affiliate marketing: You can affiliate other's products by providing links or coupon codes. There is a system where companies avail particular coupon code if that used by customers to avail discount, you get paid without any extra charges to the buyers.
Here you have more ways to make money if you have got a huge audience. Let's read the detailed guide below:
Make Money Selling Goods on WhatsApp
If you want to make money from WhatsApp then rather you get paid by WhatsApp you can do some businesses either for you or someone else and get paid a huge.
I have seen people are doing many things like offering services through WhatsApp group or selling Household items. Let's get into more details:
i) Sell for Companies & make money:
This is called an affiliate. There are many companies offering their products and earn a commission. The earning may be in millions and that totally depended on product frequency and numbers of members it reaches to. Just as per your locality do your own research finding the best product to start the affiliate and make a good amount of money at the very beginning.
ii) Finding Best Household Products to sell through WhatsApp:
Although you can make your own products or share service details that people need in a quick purpose. Like plumbers and electricians are the services are those that need quick service and if you're connected with people on WhatsApp more likely you will get a call. To talk about the household items to sell that again depends on your locality demand, people need and existing competitors.
More details, let's read.
➊
 Suppose your friends are interested in reading articles online or browsing the best statuses website. What you can do is: just find such websites and short the links using a URL shortener. I have also described the
step-by-step guide
about the same in this article.
➋
Another is quite different but long-lasting. Over the internet, there are many paid online jobs available. Some of those are typing at home, pdf to MS word writing, etc. Many companies provide surveys to get paid. The thing to do is: you have to take the works for you from those websites and post the works in a WhatsApp group. If someone is skilled, he/she will do that for you and you pay them directly from the amount you get paid from the companies for that work. Normally, the rate you receive is between $2-$10 per page.
You decide how much you would keep and how much you would give to the people who worked for it.
But, that's not the end.
More simple steps are described here in this article to reach the goal to make $20-$100 per day.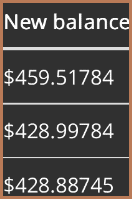 About Income:
It depends on your effort. As much as time you spend on WhatsApp in working with these steps, you will earn accordingly.
WhatsApp is a very popular social app nowadays and if you can take advantage of it for your commercial goals then you can easily make huge earnings sitting at home.
In this article, I am going to share 100% proven strategies that will surely help you to make a decent amount of income using WhatsApp.
Make money by sending WhatsApp Messages
In a sentence, you just need an account in WhatsApp. Then, you can start a few methods to get your job done. Here I am now going to tell the master technique of affiliate marketing that was never revealed before. With this, you will also know other alternative ways to make money with Whatsapp.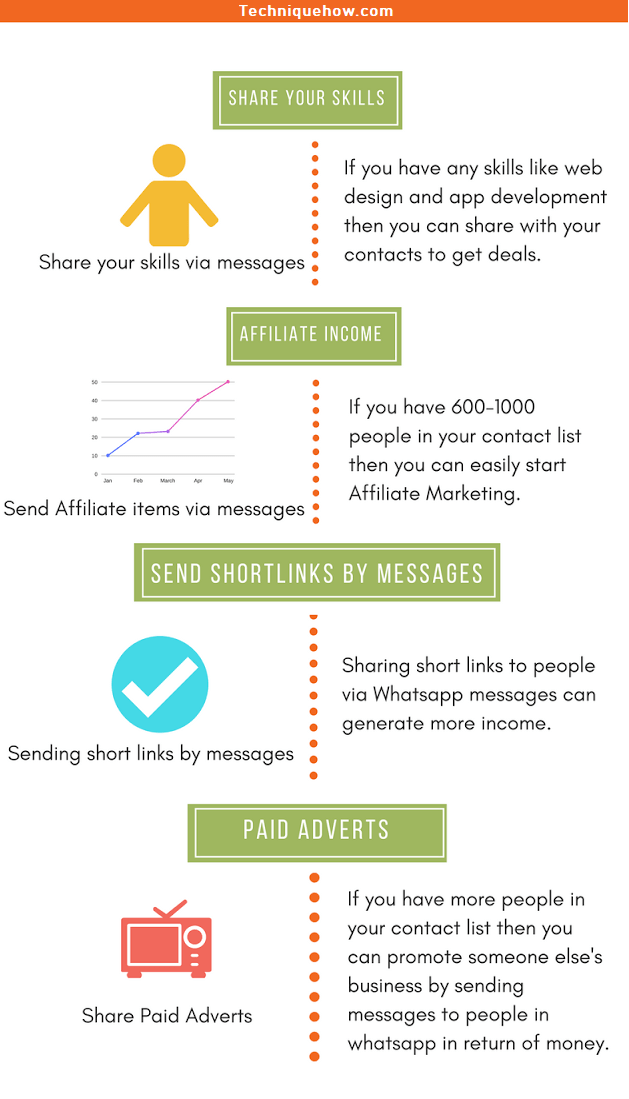 So, if you are searching for the ways to make money with WhatsApp just read the methods below step-by-step:
1. Earn Money Sharing Your Skills on WhatsApp
If you have skills like web design and app development then it is a great chance to earn money from WhatsApp. You can make a good amount of bucks by sharing your skills via WhatsApp messages in a picture.

These skills are examples but not limited to, there are many types of skills that are very demanding in the market or local area.
*Follow This: Just make a business card for your services and send that image to all of your contacts in Whatsapp via messages. So, when people need those services they can contact you easily. This works great when residents know that you are the best for that job.
There is a higher chance if they need any, you are going to get that contract. So, if you have such skills you should take advantage of WhatsApp. Just do the job for them and get paid.
2. Send Affiliate Links to WhatsApp Users
Do you think that you must need a lot of relatives and friends in your contact list to do Affiliate Marketing in Whatsapp? Even it is the most recommended method to make money with WhatsApp.
Yes. It's correct. But not always…
If you have 600-1000 people in your contacts then you can do this Affiliate Marketing easily.
But, if you don't have them then I have a great solution for you…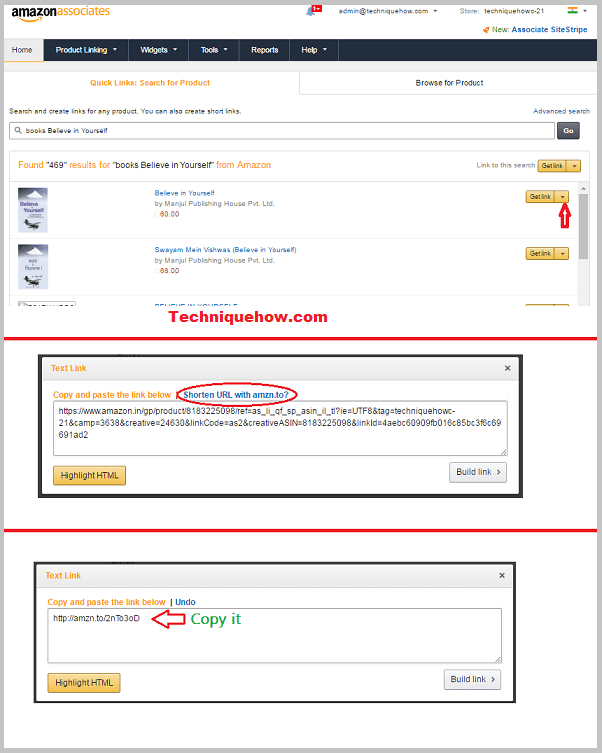 In this way, you can make 4 sales per day just working 2 hours daily. Also, you can work more to make more sales. Every sale takes about 30 minutes.
It is a very useful method that you can use for a long time and this technique provides a better result over time making you an expert in this system if you stay with it. Just you need some courage.
So, before starting, let's discuss the requirements:
This time you will need the help of your Facebook a/c. Just make some friends there, ask their contact numbers & add them to WhatsApp.
Now, just don't start sending links to them instantly. Have patience and talk with them and try to know them a little bit about their interest.
How to Send Affiliate Links? (Best Method)
After you talk about the product and they reply three times about that chance you got your target.
Now you have to send links explaining some features of the required product. Now you have to share the affiliate links with your friends which you have generated from Amazon or any other company.
But, please make short those long affiliate links using any URL shortener. You can use goo.gl or any other paid server. Because long URLs in messages look so ugly. So try to send politely not like a robot.
Just repeat this process every day four times with four different people in Whatsapp and you can make some good sales per day. It is suggested to do it with multiple people so that the chances of your sales get increased.
3. Earn by writing status on Website
There are many third-party websites available that pay off for writing WhatsApp status on websites. So, if you want to make money by writing WhatsApp status then you can add one to the websites and once this is approved you will be paid for that.
The best advice to write status is that be unique while writing a status and make it a perfect looking design that is attractive and people like—to gain popularity.
Just go to any status writing websites that have 'Earn with us' option and make a WhatsApp status on there and once it is approved by the admin you will be paid for it.
4. Make money uploading WhatsApp status
If you want to make money with WhatsApp status then another way is available that is by uploading advertise of the third-party sellers through your WhatsApp status. There is an app where you will be eligible to register for a marketer account, there you have to just select an ad and upload that image through your WhatsApp status.
Just take a screenshot of the views that your WhatsApp status generates and upload the same on the application, the credit will be added on your account.
This is a third-party tool that actually provides advertisements but if you have a large amount of WhatsApp users who check your status regularly then you can go for direct advertisement by contacting your local vendors and this really works great.
5. Redirecting Group members to Page
This method is recommended when you want to further use the WhatsApp members to your Facebook or Instagram page.
In this method, you just have to manage users to take them onto your Facebook or Instagram and add thereby liking or following the spaces where they can get the regular updates on those social media accounts.
If you can gain a large number of followers through this method and your pages get a good amount of followers then you will be able to advertise to your pages from your direct advertisers and this thing works very well on Instagram and there is a trend of it that pays a good amount of money in return.
6. Engaging People through WhatsApp status
This business model is especially for US and Canadian people while the other users can also try this idea for themselves. If you can engage the users through your WhatsApp status and your advertisers get a good amount of hits with the advertisement.
You can submit a report showing the conversion rate and change a high amount of CPC for the advertisements to your WhatsApp status.
You can run a test through this WhatsApp status on unique business and get a report ready for it that shows how many click and self its Jets and show the same report on your panel where the direct advertisers will be interested to pay a good amount of CPC for showing their ads to your WhatsApp status. this method is for the direct advertisement.
7. Send Link on messages
If you have very large targeted members on your WhatsApp group then you can directly send messages to those users and provide a click of business sales in that message format.
Now the link can be used for different purposes either you can send affiliate links or the direct advertiser links. Here the chance of pay is high if you can generate good sales through a link and get a good amount of CPC in return.
Make sure while you are sending messages make a list of people by targeting the right audience. As if you target the wrong audience, the chance is this, you will be marked as spam by the users and this method needs a good amount of engagement otherwise your hard work will not be so much affected if readers of the messages ignore your messages & they don't trust you.
8. Getting people from the WhatsApp group to Facebook
Try with sending WhatsApp group people to Facebook by adding interesting videos and adding your Facebook page link in the end. You can send jokes, videos and add just the link on the same, the people will be added by their own interest.
If you have 100+ groups in WhatsApp and get at least 30% of users onto your Facebook page it is more than 6000+ targeted followers for free.
This number of audience is enough for showing targetted advertisements.
9. Engaging people from WhatsApp & Facebook to Instagram
Don't always try to take the people from all social media platform rather just move your WhatsApp members from the groups to the Facebook page and from there catch their attention through videos or graphics, you can also further redirect them to the Instagram page to like there and once it is done, the game is now is completed on the first phase.
Now once you have a good amount of followers on Instagram then you can place the ads thereof the advertisers or your own products. This actually works on Instagram more than a Facebook page.
However, the Facebook page is beneficial to get people to other social media platforms like Instagram, Twitter, YouTube, etc. If you are living in the US or Canada then this method can make you money in a short time.
10. Getting Advertise from Local vendors
If you have a decent amount of followers on your Facebook page or on your WhatsApp group then you can ask the local vendor to advertise with you and charge a fixed amount for every user click. This lead generation can gain you're a good amount of money through this advertising where you don't have to rely on sales rather you just get paid for every click generated from your status or messages on the link.
11. Promoting your own product or course
If you want to promote any business for yourself then this is a great place where you have a large number of people connected with your WhatsApp account. If you have just set up your Facebook page for the business you can share the link on the WhatsApp group and if you teach someone how to earn money online—most of the people are interested in this time.
I am watching for a few months that there are many people who are selling their courses of digital marketing and make a good amount of money out of it and if you have a large number of people & if you can sell your digital products using your WhatsApp group for the Facebook page then you can earn a good amount of direct income through this.
12. Send another group's joining Link & get paid by Admins
Another idea that can make you a good amount of money just by advertising other Groups for getting money from other group admins by joining your members to other groups also.
Just remember don't try to scam or mislead anyone in this case, be loyal to your members, and offer a is a whole product or any group that might be helpful in their lifestyle so that you can gather the trust through it even you are making money out of it.
13. WhatsApp Business for Auto-Reply-Message
WhatsApp business application is advanced WhatsApp Messenger where you can send automatic messages to your members while they message you.
You can automatically send a welcome message, even a pricelist with product images delivered to their inbox where they get all of the information within a few seconds.
Now if a person tries to get the items in his cart just add your mobile number onto the product so that they can contact you and can buy the product.  This system is out your horses for Business and goes to the target-audience through WhatsApp if you're trying to sell your personal products.
14. Make Money by Sending short-links on WhatsApp
Did you ever hear of earning money from short links? Most of us know about this. But, if you don't know let's get some quick information about this. If you have a long URL, you can shorten it and send it to anyone.
When they click on those links, they will first be redirected to a page where some ads will be shown to them. When they skip that page then it will go to the original link and you will get paid for showing those ads. As much as you send links to people more traffic you can generate to show ads.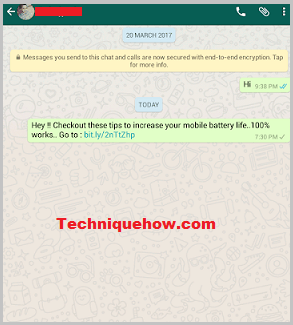 Now, let's understand a few right ways to send links via WhatsApp messages to get clicks.
Few Tips for Sending Links:
Tip #1: When you send affiliate links you can send those as short links. You can use any URL Shortener website that pays money per click.
Tip #2: People normally get interested in health tips, diet tips, some remedy tips for diseases. At first, you should find some interesting articles on the internet then collect the URLs of those articles and make some short URLs of those and send those links to friends via WhatsApp messages. Just give a little description then paste the URL. (Ex. "Check out how this woman got rid of cancer" — your link here).
Tip #3: This is the opportunity where you can earn from all countries. So, if you can add people from other nations also if you have made friends there. Sharing short links to USA and UK people via messages can generate more income because of high CPC (cost per click) costs.
Tip #4: It is not for all but if you have a blog then there is a dual chance to earn. You can also send your website links shorting them via messages. If they click on those links you not only get paid from the URL shortener website but also by showing them ads on your website when they land on your website.
People are more likely to be interested in those topics and When they see it might click on those links.
Check out below the list of some URL Shortener Websites:
1. Adf.ly
2. Shorte.st
3. Linkshrink.Net
4. ouo.io
5. Short.am
6. Linkbucks.comYou can use any of these websites to make it shorten the long URL and then send them to your friends by messages.When they click on your link some ads will appear on a page and after skipping that page they will see the original page.Just use it for a limited time and don't do it all the time. Just send by reason otherwise people would not click for the second time.
15. Get Paid for Advertising Business on WhatsApp via Messages
If you have made at least 500-600 people in the WhatsApp contact list you can start a paid adverts business from WhatsApp. This means you can promote or advertise someone else's business by sending messages to people in WhatsApp. It works great in the local area.
Just at first, advertise your campaign on various websites describing 'what will you do' and 'how many people you have in the list' and 'how much you will charge to promote their business'.
Example: Suppose someone in your locality started a new business and he wants to expand his business fast. So if you have 1000 local people on your WhatsApp list, you can charge him some money to share his business and the services he provides, via messages to all people you have in WhatsApp contacts.
It will be handy for any new local business, and most likely they will be interested in giving you the deal of advertising his business. This is a very straightforward and easy method to make real money with Whatsapp.
Just use these methods daily to earn cash online with WhatsApp. If you have downloaded WhatsApp, you should take advantage of it, and if you have some skills then it may be a full-time source of income when you have lots of contacts in your phonebook list.
Also Read: