Instagram often limits its users from liking, commenting, posting stories, and much other stuff that you regularly do on Instagram.
This may feel annoying while you face such situations where Instagram restricts your actions from happening. You would see an error message while you try to do that from your account saying 'We limit how often you can do certain things on Instagram to protect our community. Tell us if you think we made a mistake.'
You can fix these things and it's possible if you know why did this happen and for this you have to know the limit for following, unfollowing, posting, liking, and commenting. Now if you just crossed the limit then you will face such issues on your account.
I have looked into many details on Instagram and found only a few things that actually prevent your action on Instagram and in one line that is overdoing anything on Instagram.
That means if you just limit the uses of your Instagram, you can avoid such things from happening.
If you face the situation on your Instagram account then you can just contact Instagram letting them know about the situation and you can just switch to other alternative accounts. Although, there are some alternative ways like changing passwords that can fix the error on your Instagram account.
You can find the limits on your Instagram account in this article for following, liking, commenting, and others.
How Long does Instagram Limit Last?
Normally, the restrictions are removed automatically and this may take up to from 2 hours to 48 hours depending on the trust score of your account. But, in most cases, the account is restored within 24 to 48 hours, and if that does not happen just contact Instagram help.
Why does Instagram Limit your account?
The error is totally different from the Instagram action blocked error and in order to fix the limit error you need to know the reasons behind this issue.
This error has been preventing the users to scroll down to their feeds and use Instagram for socializing and networking through their accounts.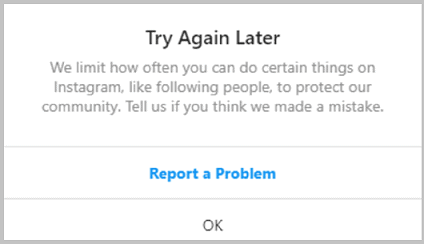 The error appears as a pop-up reading, 'We limit how often you can do certain things on Instagram to protect our community. Tell us if you think we made a mistake.' This may be due to mass following or unfollowing or violating the restriction and their terms and services or the privacy policy.
Instagram wants to prevent spam
If you are doing things in mass like commenting, liking posts, following, or following people at bulk then Instagram might catch you pretending your account as a bot, and in order to prevent that they limit the uses per user.
Your account has a low trust score
The algorithm of Instagram is designed in such a way that performing any action heavily leads to an action block of the account. Action block reduces your engagement on the app which is considered spam. Here are a few methods that you can take to fix this error.
How to Fix 'We limit how often Instagram' Error?
If your are continuously liking posts of others or following unlimited people Instagram automatically blocks you after a certain limit. Now in order to fix that you have only one way that is by contacting Instagram.
Report to Instagram to Fix this Error
Even after following the above two methods, the errors persist, the last and final thing remaining to do is 'Report a problem' to Instagram.
You can do so by heading towards the 'Settings' of your profile and then tap on 'Help'.
Then tap on the 'Report a Problem' option there.
Here explain in brief about the error you are facing and then support it with a screenshot of the same.
Once you are done submit.
Your issue will surely be resolved by the Instagram support team.
How Many Instagram Posts you can Add or Delete in a Day?
Ideally, there is no limit to the number of Instagram posts that you have to delete per day. There is no such rule for the number of posts that can be deleted either per day or the total number of posts that can be deleted.
However, the restriction you may face while deleting Instagram posts is that you have to delete them one by one and not altogether at once.
The Instagram app has an exception in that it could not mass delete their posts. It only allows the users to delete them one by one individually. Here are the steps to delete a post
Step 1: Open your Instagram account and tap on your profile picture down in the right corner.
Step 2: Tap on the post you want to delete.
Step 3: Tap on the three vertical dots and then tap on 'Delete'.
Following these steps, you can delete any post on Instagram. Instagram restricts its users to delete their posts only by using a mobile phone. If you wish to delete a post using a web browser, you cannot perform this action. The system automatically shows no such option when using a web browser.
Instagram Comments and Captions Limit Per Day
The comment limits of Instagram:
Instagram allows its users to post not more than 180 to 200 comments per day. However, this number may vary depending on how old your Instagram account is.
For a newly created Instagram account or new user, the limit could be less than 180 to 200.
You need to take precautions not to exceed this limit. If exceeded it may result in blocking your Instagram account. We suggest always keep your count lower to the allowed limit to be on the safer side.
You should also avoid posting or commenting on the same comments again and again, which will reflect your account as a spam account thereby leading to unavoidable account blockage.
You should also take precautions to not use only emojis in your comment. Always support them with some words to avoid depicting your account as a spam account.
The caption limits of Instagram:
Instagram has put a limit on the number of characters to be used for the caption. The Instagram caption should contain characters not more than 2,200.
Make sure that your caption is limited to 2,200 only. However, short captions grab more attention than longer ones.
Exceeding the limit may put your account in a problem which may be in the form of blocking your account.
Try making your caption short and catchy. Avoid making your caption just containing emojis and no words.
Doing so may unnecessarily convey to the system about your account as a spam account.
Make use of your creativity and try making a short and concise caption that is enough to grab the eyeballs of the people who follow you.
Instagram Posts of Story Limits Per Day
Instagram users can post as many posts as they want. There is no such limit or restriction of posting only limited posts in the form of pictures, videos, reels, etc.
Not only this, there is no limit to the total all-time post number. In short, you can post as many posts you wish to share through your Instagram posts.
Apart from this, there is no such limit to the number of posts saved from other accounts that you follow or from the public accounts.
But yes, you can share only 10 images/ videos through 1 single post.
Although, the Instagram Story limit is up to 100, means 100 posts a day you can upload to your story.
Instagram Follow or Unfollow Limit Per Day
Instagram allows its users to follow/ unfollow a maximum of 200 people per day. While per hour you can follow 20-30 accounts.
Make sure that this 200 includes both follow and unfollow ratio.
It means within 24 hours you can follow 200 Instagram accounts and 0 unfollow or 150 follow and 50 unfollow or any ratio according to you.
But the total of the following and unfollowing Instagram accounts should be 200.
But if you do the following and unfollowing Instagram accounts more often or frequently, you may be temporarily blocked by Instagram. This is called action blockage.
The Bottom Lines:
This blockage may last for an hour or up to 48 hours or less, worst permanently blocked. The system considers mass following and unfollowing, liking many posts all at once, all these actions are considered as a spam action. To keep Instagram and its users safe. And hence resulting in your account getting blocked.
Also Read: