If you are ignored on Facebook messenger then you cannot contact that person from your end. But, in case, if you block someone on Facebook, they would not be able to message you on Messenger.
However, in September 2020, Facebook has made some changes to its system where now you wouldn't get any pop-up if your messages are just blocked, rather it will show as a 'sent' mark. But to find out either you're blocked on Messenger you have to put some effort and verify if the messages are really delivered.
Let's read the guide till the end to find out if you're are really blocked by Someone on Facebook or messenger. if you are looking for a completed Facebook block, you also will know if the person may be deactivated his/her Facebook profile.
The causes of this fact do not end here. You have a lot to know about what happens if you have been blocked on messenger. Because, if the person deactivates his Facebook profile, you will also see error messages like profile or person does not exist on Facebook.
Ways that a person Blocks you on Facebook:
When a person deactivates his or her profile, the name still appears on your Facebook friend list but with a blank profile picture.
A person on Facebook can block you in two ways, either your Messages could be blocked or a full profile block could be executed.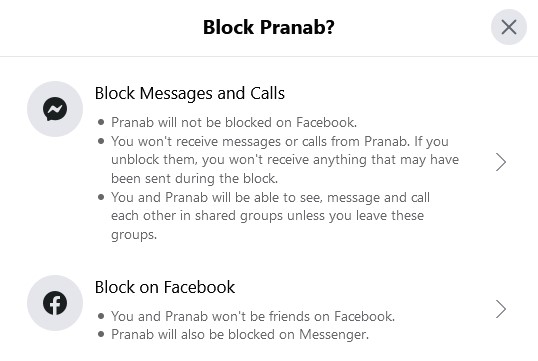 So, why you are unable to send messages to the person? Because he is in your friend list and having recently updated DP on his Facebook profile that
you are able to see
.
2. What happens if you get blocked on Facebook or Messenger?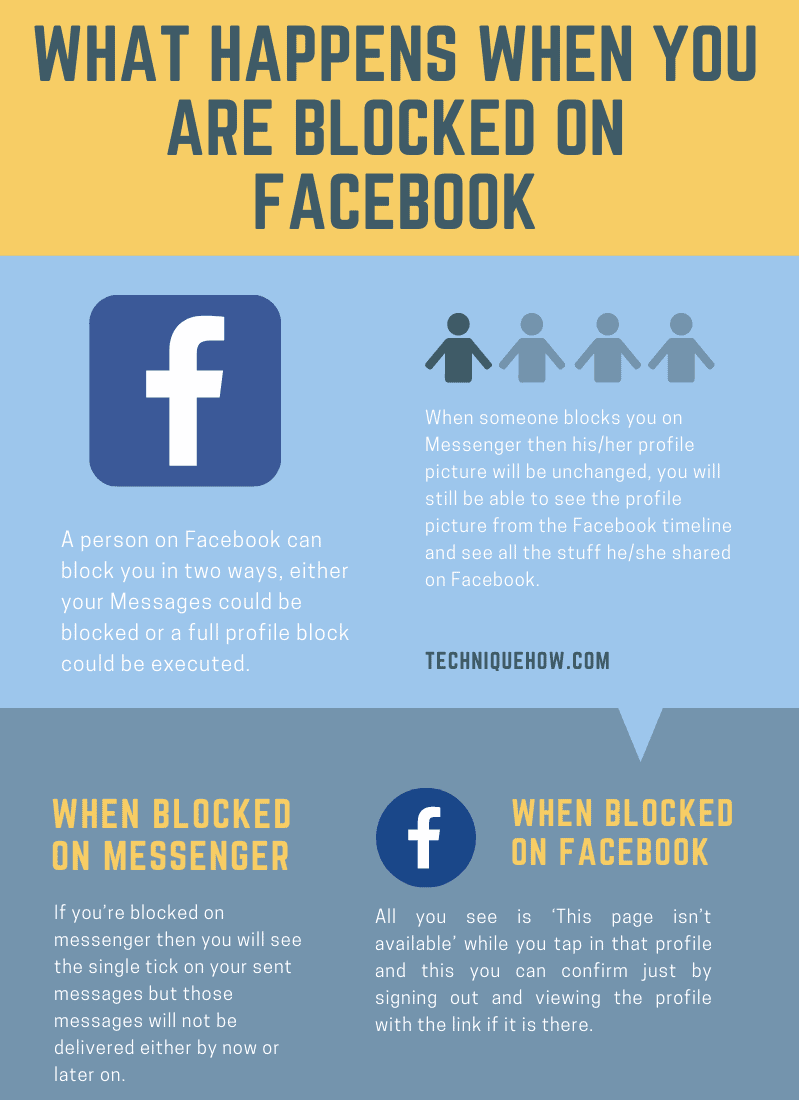 If you get blocked on Facebook or Messenger, there are many things that you might face. As I said someone can block you in two ways, this is why you can identify the situation that happening in both cases:
What Happens to Profile Picture? – Blank – EXPLAINED
The profile picture does affect separately and totally depends on how someone has blocked you on Facebook:
When Blocked on Messenger: When someone blocks you on Messenger then his/her profile picture will be unchanged, you will still be able to see the profile picture from the Facebook timeline and see all the stuff he/she shared on Facebook.
When Blocked on Facebook: While someone blocked you on Facebook, a total block you will experience from that person on Facebook. You will see the blank profile picture on the profile as well as on your inbox of the messenger.
ii. What Happens to Inbox Messages?
If you are wondering what actually happens to the messages and inbox then this also has some clues to find out either you're blocked on Facebook or just your messages are blocked:
The common thing between these two is, your sent messages will not be delivered to that person in both circumstances.
When Blocked on Messenger: If you're blocked on messenger then you will see the single tick on your sent messages but those messages will not be delivered either by now or later on. All of your comments and likes to posts of that person will still be visible to that person and this could be a way to communicate with that person.
When Blocked on Facebook: In case the person has blocked you on Facebook, along with the messages you visibility to posts and his profile will be restricted. All you see is 'This page isn't available' while you tap in that profile and this you can confirm just by signing out and viewing the profile with the link if it is there.
That's all you will see and find out either you get blocked on not. Normally, if someone blocks you only on Messenger that supposed to be a temporary block but unless he removes it you cannot send messages.
3. How to know if someone blocked you on Facebook Messenger
Everyone should realize that when we chat with someone, that conversation also opens in a URL on Facebook.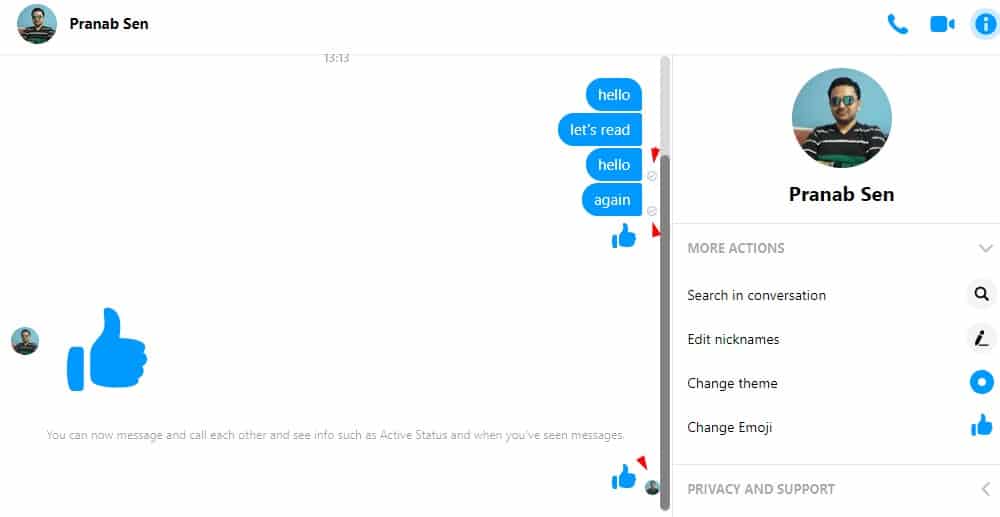 Messages will not be delivered to the person when blocked. However, if he unblocks you the sent messages during that blocking period will not be delivered later once unblocked.
There you will see 'Report Spam and Abuse..' option from the list. Just click on "Report Spam and Abuse". Simply look at what is popping out after clicking that button. If you are blocked then this option would not let you do further. It will show 'Operation Prohibited'.
What is the 'Spam and Abuse' section on Facebook Chat/Messenger?
It is one of the
new
Facebook privacy settings
dedicated to users on Facebook to avert unseemly and inappropriate messages significantly. So, what to do next if you are blocked by the person!… Is there any other way to check this?
Yes, absolutely.
4. Know if someone blocked you on Messenger without Messaging Them
Additionally, the Facebook messenger is an incredible way to communicate.
With Messenger
, we can chat boundlessly and now the live call is available on the latest version of Facebook Messenger. But when it says unable to send messages and shows an error then it becomes truly disturbing.
As you know messenger got popular to chat and to make calls for free. There is no timeline to have to face. The reason it is popular for its user-friendliness. But, if you got blocked on Facebook messenger by someone, you can confirm this with two things.
When some chats are going on and a continuous chat (one of those) get stopped then this influence our mindset to off.
Here we will talk about a few matters which will reveal what occurred with that. Either this individual blocked you while chat was going on or he just has deactivated his profile. Along these lines, as a matter of first importance, refresh the messenger app and check what is appearing in the name of that individual.
i) If you see any connection error with your app, it would not load and will show the same error. In that case, you cannot be sure that he blocked you.
ii) But, if you see 'Facebook User' on that name then it might be the reason that he blocked you. To make it confirm we need to do another test, after that we can state what is an actual case here!…
For confirmation, go to desktop or mobile browser window in incognito mode (while logged out) and open the person's profile URL. If you are able to find that one then you are blocked, but if not able to find, it means he deactivated his Facebook profile. It is simple.
5. How to Find out if You're Blocked only on Facebook Chat?
This is very simple to say. Facebook has an option also for Chat settings where you can see 'block messages' clicking on the gear icon. Once someone blocks your messages using that option then you will not be able to send any messages to that person.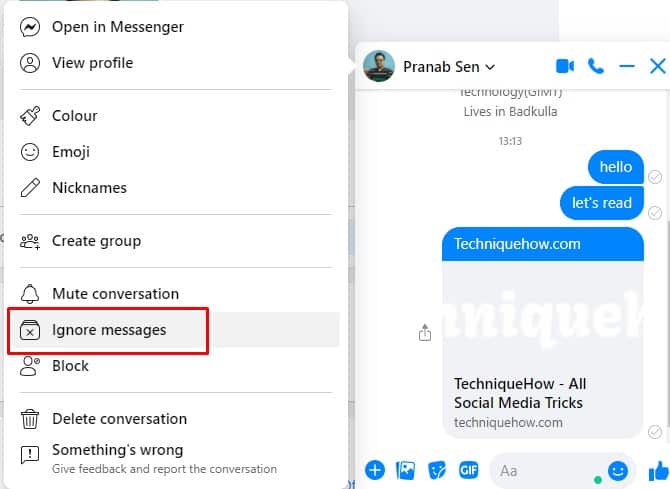 But, the other all will be visible to you. You can comment and reply to him in the comments. The settings here only blocks you from sending messages to him.
If you unable to send messages to a person but on the other hand you can do other all stuff then it means he blocked you in Chat or Messenger but not Facebook. You are still a friend with that person and he can unblock you anytime he wants.
FAQ:
1. Does Facebook notify you if someone has blocked you?
No, never. It is some inward arrangement of Facebook that does not let to inform that individual that who are blocked.
2. Is it Possible to see future posts of the person who blocked you?
Absolutely not. If someone blocks you, you would not have the capacity to find that individual anymore. If the comments and likes on any posts you would not see that. It is fully hidden like the person is not accessible on Facebook by you.
When you are not blocked but rather additionally unable to see him If you are unable to see the person either with the new ID or with logging out then this may be the cause that the person deactivated this profile or set his privacy only for friends of friends. This is really tricky now to find the person.
But, I have likewise a simple and incredible answer to this. As you were friends with that person, that is why you might have remembered any of the mutual friends of the person. So, if you remembered such a person then all set. Just, send a friend request with your new ID to that mutual friend at this moment.
(
Note:
It is conceivable that if the individual has blocked you in old profile then you are not going to see him with that profile. Along these lines, we are utilizing new ID)
If someone blocks you on Facebook, the better approach to contact that individual with another profile. So, if you get blocked to send messages and want to check the person, look into your friend list. Find, if any friend missing from there. But, if you see a friend named 'Facebook User' on your friend list then that means the person deactivated his or her account.
Also Read: