Your Quick Answer:
If you're wondering to send a streak or snap to everyone on your Snapchat contact list then you have multiple ways to do that.
The option is visible whenever you click a snap and sending to people, you can create a new shortcut and add all people into that shortcut first.
Then directly you can send the snap next time to all people using that new shortcut.
To send streaks to everyone at once either you just create a shortcut and send snaps through it or you can just create a group and add people into it and send that snap.
There is an alternative way to send snaps using the SnapAll tool that does its job really well and with that tool, you can send up to 200 snaps to moreover 16 people at once.
There are several things you will notice on your Snapchat when you'll start sending snaps, and a few outcomes that you should know.
How To Send Snap To Everyone At Once:
You can share the same snap using two features on Snapchat,
1. Using Snapchat Shortcuts [without Group]
Step 1: You will see the shortcuts option while you're sending a snap, just follow the steps:
Step 2: Just tap on Shortcuts and then 'New Shortcut'.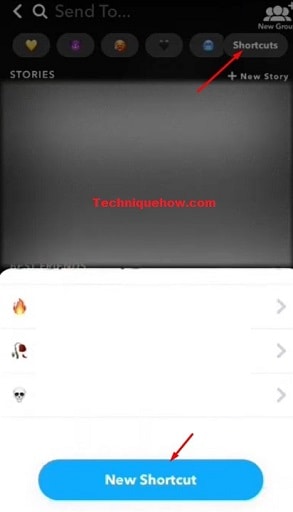 Step 3: Now just add an emoji to create a new shortcut, just tap on all people's names to select all, and then tap on 'Create Shortcut'.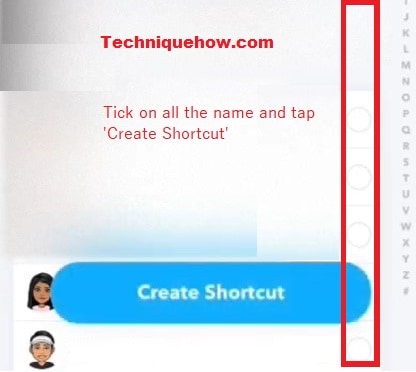 Step 4: That will create a new shortcut in your list now, just back to the snap and tap on that shortcut, and click on the send icon to send that snap to all people at once.
Note: You can add new people just by editing that shortcut and adding those new people into that.
2. Create a Snapchat Group to send
In case you wanna do it easily just create a group and send the snap. For sending the snap follow the steps below:
Step 1: Swipe right on the "Take a Snap" screen to enter the "Friends Tab". Tap on the top-right corner of the chat icon to create a new chat.
Step 2: Tap on the names of people, you want to add to the group. You can add up to 31 friends at once.
Step 3: Like one-to-one chat, you can communicate in multiple ways apart from the text. On the leftmost portion, you have pictures that you can send from your phone. On the right-most portion, you have emojis and Bitmojis. Tap on one to send it on Snapchat.
How To Select Multiple Friends on Snapchat (for sending a snap):
Sending snaps one by one becomes troublesome when you need to Select friends one after another, checking each contact individually. Since Snapchat is yet to include the select-all option, users can select multiple friends using Snapall, an Xposed Framework module.
You need an android phone with the Xposed framework installed on it.
To select all people on your Snapchat:
Step 1: First, Install SnapAll on your mobile using the Xposed framework app.


Step 2: Now, activate the module through the framework and then soft reboot to start working it on the Snapchat app.
Step 3: Now this will add an extra box option on your Snapchat to select all people at once.
How to send a Snap to more than 200 people at once:
Sending content to all friends in your contact list takes a considerable amount of time, as you need to go one by one, checking every contact individually. But, there is one way by which you can send snaps to more than 200 friends at once. To do so, you should use Snapall, let's know the procedure:
Step 1: Your phone must have the Xposed framework installed. Now under the download section search for 'Snapall' and download it.
Step 2: Go back and Activate Snapall from the modules just by ticking on it.
Step 3: Now from the Framework tap on 'soft reboot'.

This will show an extra option to select all contacts at once on your Snapchat app. This Mod allows you to exceed the number of recipients 200 to select at once.
🔯 Does it start the streak while sending snaps?
If you are a regular Snapchat user, you will likely have one or more users with whom you converse regularly. If you and your friend are on a Snapstreak, it means that you snapped at each other within a day for more than three consecutive days.
The number next to the Snapstreak denotes how long you've been on a Snapstreak. If you have 7′ next to the Snapstreak symbol, it implies you are with this friend for '8' consecutive days.
How can you keep the SnapStreaks working?
To keep the SnapStreaks active, both Snapchatters should send a Snap to one another within 24 hours.
Automate Snaps to Send to Everyone on Snapchat:
SnapManager– SnapHub is an application that allows you to create groups, manage followers, automatically send snaps, and so on.
✪ These are the features of the SnapManager – SnapHub app:
Automatically accept friend requests.
Upload the schedule, and publish your Snapchat story directly from the tool.
Multiple account management and dashboards.
✎ Steps to use the SnapManager – SnapHub app:
Install the SnapManager – SnapHub app. Use the SnapManager configuration Wizard to Relocate the database to the storage system.
Configuration Wizard ensures that the storage system gets placed accordingly.
Then you can use the SnapManager to create backups of the storage.
You can use the Snapmanager restore to Restore your data in case you need to do so.
The Bottom Lines:
If you're trying to send snaps to multiple friends at once then you can just use the 'Shortcuts' on Snapchat and set up that feature in a way. Also, the SnapAll module that you can install using Xposed Framework can provide the option to select all the people at once and these two combined methods make it easy to send streaks to your all friends in a single click.
Frequently Asked Questions:
1. How Many People Can You Send a Snap to at Once?
You can distribute a snap to about 200 people at once. You can go one by one and send them the snap individually. You can also send a snap to more than 200 people with a single tap. For this download Xposed framework, here you can see under the download section search for "SnapAll" and download it. Next, go back to Activate Snapall from the modules just by ticking on it. Then tap the "Soft Reboot" button, this mode allows you to select more than 200 recipients at once.
2. What is the Max Snaps Limit You can Send at Once?
If you want to go for the photos, then as a snap, you can send one snap at once. But you can send multiple photos through Snapchat, but at that time it was not called a snap, it was just a normal photo. You can send multiple videos at once, but it will not be a snap. When you send a video as a snap, then the video will be divided into parts and then the snap will be sent.
3. How to See a Snap you sent but Didn't Save?
Android phone SD card has the feature of maintaining app cache memory. Also in this case, if you do not save a snap, it will be saved in your app cache. Go to your file manager and click on internal storage. Click on Android there and then click on Data. Here you can see the "com.Snapchat.android" folder. Open it and go to the cache folder. All your unsaved Snapchat photographs and videos can now be restored to the "Received Image Snap" folder.
Also Read: