Your Quick Answer:
Facebook restrictions are the result of any inappropriate activity from using your Facebook account that may target the standards of any community.
These Facebook restrictions prevent users from posting any kind of inappropriate content on the Facebook platform.
The restriction may prevent you from viewing certain posts, sharing, sending messages, or even liking any post.
Facebook restrictions are not permanent, these restrictions when imposed on any Facebook account are usually temporary but if a repeated violation of Facebook privacy and security happens, the restriction of the ban could be lifelong.
If your Facebook account is suspended for reasons,
🔯 You have multiple restrictions on your account: The meaning and what is limited
Only if you've posted something offensive that violates the community guidelines, you'll face restrictions and strikes on your account. Posting pictures and video repeatedly that violates the community guidelines can block your account temporarily or restrict your account activities.
Inappropriate content which is associated with adultery, nudity, hateful behavior toward certain communities, or fake news if posted on Facebook violates the community standards and you'll be penalized for that, especially for multiple offenses of the same kind.
Often multiple strikes can ban your account as restrictions are imposed in a way to warn you from posting such stuff again. Restriction strikes limit your activities which prevent you from seeing some posts, reacting to new Facebook posts, sending messages, sharing others' posts, and sending friend requests.
How To Remove Account Restriction On Facebook:
If your Facebook account has been disabled you can recover it back. In order to recover your Facebook account, you can request Facebook to review it by appealing their decision.
All you have to do is submit an appeal or request using the same email address as that of your Facebook account which has been restricted.
✅ From Facebook Appeal Form
To make it easy for you here are the steps that you can go through and recover back you are restricted Facebook account with these quick and simple steps:
🔴 Steps To Follow:
Step 1: Open the Facebook application on your device or visit m.facebook.com using your browser.
Step 2: Once you are on the official Facebook homepage go to the request review page.
Step 3: Now log in to your Facebook account using your email address or contact number.
Step 4: Provide all the details asked including your name exactly of your Facebook account, when you are done with this upload your ID.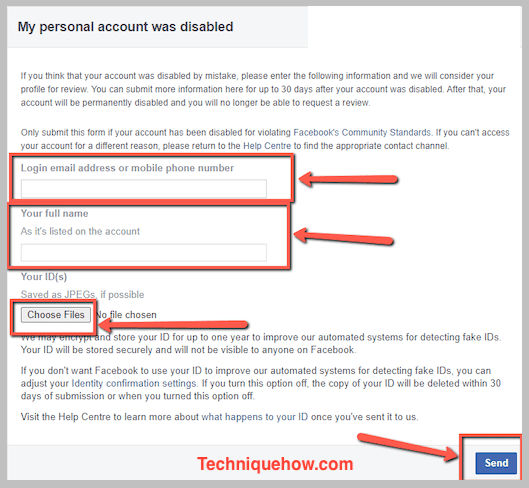 Step 5: Click on the submit button to submit all your details and information.
Facebook will go through your appeal, And if they find your Facebook account is a fair one, they may restore back your account.
How To Remove Restriction On Facebook Ad Account:
You have the following ways:
1. Uploading ID and appeal Form
You can appeal to Facebook to remove your account restrictions if it's not lifted after the restricted period is over. Follow the steps mentioned below to lift Facebook account restrictions:
🔴 Steps To Follow:
Step 1: Open web Facebook from www.facebook.com. Next, log in to your account.
Step 2: Then, you need to click on the Learn More button on the restriction message.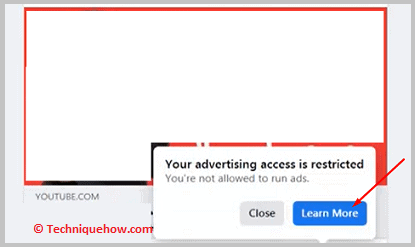 Step 3: Next, you need to click on the Request Review button on the right side of the screen.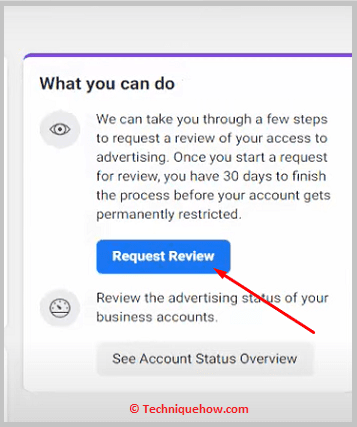 Step 4: You'll be taken to the next page, where you need to click on Continue. Then, perform the human verification. Click on Continue.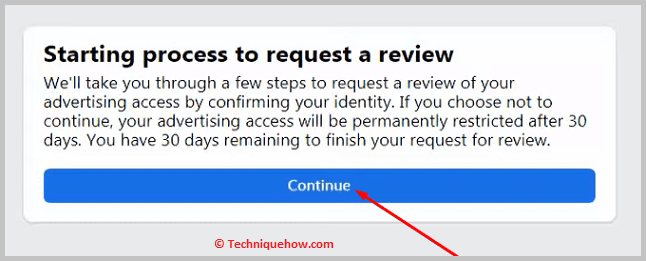 Step 5: Click on the Choose Photo tag to upload your ID. You need to choose the ID from your computer's folder.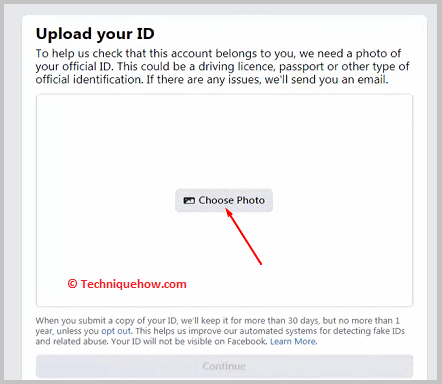 Then click on it. Let the image be uploaded and then click on Continue.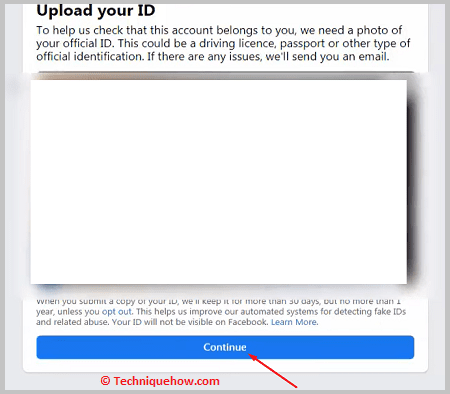 You'll get the Review requested message box which indicates that your request has been submitted.

2. Wait it out for a few days to post Ads
If you don't want to appeal to Facebook, you can just wait for the restrictions to get lifted as restrictions are always temporary.
However, restrictions can last for a longer time when the severity is grave. Only when you're banned, you'll not be able to login into your account anymore. After your account's restrictions are lifted, you'll be able to post ads again.
How Long do Facebook Restrictions Last?
Facebook restrictions last based on the type of violation and the severity of the offense. If you've violated a guideline for the first time, the restrictions will be posed for two days.
But if it's for a grave violation, Facebook may temporarily restrict your account for thirty days during which your account activities will be limited. When your account activities are restricted, Facebook will notify you about the same via notifications.
On the notification, you'll be able to know the period of the restriction. If you find a notification about restriction, be more cautious about the stuff that you post because the period of restrictions increases with each offensive post.
When it's for a repeated violation, restrictions can last up to ninety days as a warning. If you find that your account activities are not switching back to normal after the restricted period is over, appeal to Facebook to lift your restrictions.
Why Does Facebook Restrict Your Account:
🏷 For No Reason: Sometimes this happens accidentally. You need to appeal this.
🏷 Use your Facebook account to post something which has abusive content. Posting any abusive content on Facebook can put your account under temporary or permanent restriction.
🏷 Using your Facebook account to post something which does not comply the Facebook's community standards or even violations of its terms of privacy and security.
🏷 Constantly sending spam friend requests to other Facebook users who do not even know. The algorithm of the Facebook application is designed in such a way that automatically detects an account as spam when constant activity is noticed and this results in the restriction of that particular Facebook account.
🏷 Sharing something suspicious to Facebook security. Be cautious when you share something on Facebook. Sharing suspicious content may unnecessarily put your Facebook account in trouble.
🏷 You may also be restricted from Facebook if some other Facebook user has marked your friend request or your sent messages as spam or unwelcome.
🏷 Sometimes our Facebook account is restricted for no particular reason. This usually happens by mistake. If something like this happens which your Facebook account you can simply appeal to lift your ban against the Facebook account restriction. Facebook will investigate your complaint and if you have done nothing wrong it will reinstate your Facebook account.
You are logged in to your Facebook account through multiple devices.
🔯 Facebook Restricted your Account for 30 Days:
The restriction or ban imposed on a Facebook account is a complete and automated process.
The Facebook algorithm is specially designed in such a way that it automatically detects posts or messages shared via Facebook that contain hate suspicious bullying or slander content, it will automatically put a ban of 3, 7, 30 days, or a lifetime ban.
The AI of Facebook detects the account as spam or inappropriate account. However, sometimes this is a mistake as well. Whatever may be the reason if you want the band to be lifted quickly you can request for review to speed up. This made not work in all cases. And you are left with no choice but to wait for 30 days to lift the restriction imposed on your Facebook account.
It is therefore advisable to be cautious when posting or sharing something on Facebook. The content should be such that it should never violate the community standards of Facebook.
🔯 What happens when a Facebook Account is locked for 24 hours?
Facebook sometimes locks the accounts of its users for 24 hours. There is nothing to worry about this.
When your Facebook account is locked for 24 hours, it is done just for security purposes.
The lock is automatically lifted after the completion of 24 hours. During these 24 hours, your Facebook account will be visible to your friends. It is just that you won't be able to access your Facebook account. However this doesn't mean that your account is disabled, it is just that your account has been locked for 24 hours.
This lock is imposed on a Facebook account as an extra security measure that will protect your account from piracy and getting hacked.
It is visible from your friends' profiles or without a login profile link will also work in such a situation.
But surely you can avoid your Facebook account being locked by sticking to its terms and conditions.