If you want to trace a fake Twitter account then you have to look at different things to understand the activity of that profile and then you can tell if it is a fake account. Even you can trace the IP address of the Twitter profile user and location through any IP tracker tool.
You can also look for the email ID of the Twitter profile and then you can get an idea about the profile either being a fake profile or not. Although, if it is private, you have a few ways to view the private Twitter profiles.
Firstly, you have to identify who is behind the Twitter account seeing at the indications on that profile which I have mentioned in this article. Then you can just take the steps in order to trace the Twitter profile and get its IP address & location details.
To trace a fake Twitter account, first of all, go to the Grabify IP Logger tool and then put an article link to short it. Now, send the URL to the person on Twitter through direct message. Once the person clicks on the, his details (IP Address & location) will be logged and you can see those from the Grabify IP Logger page.
Note that you have to make sure so that the person clicks on that link and you have to make the arrangements for that reason as well, In this article, I will show you the steps that you have to take in order to track his Twitter account.
How to Tell if it is a Fake Twitter Profile?
There are several ways by which you can spot a fake Twitter profile. It is extremely crucial to know if the people you are following or who follow you, are real or fake. However, there are many simple and obvious signs to know it.
Some of the ways to know the reality of the people in your Twitter followers list are mentioned below:
Look at the Duplicate Tweets:
This way is not accurate about the profile however, if you happen to notice a lot of duplicate posts or if the tweets are with the same text as @replies, then that Twitter account might be fake.
Look at Interaction with Other Twitter Profiles:
If there is an account that has almost no interaction with others on Twitter then that account is often fake. This is a common sign of a bot profile.
Making Non-topic Tweets:
Most of the fake profiles usually post tweets that make absolutely no sense at all. Therefore, there is a high possibility that if some accounts have just posted gibberish or just random unclear thoughts, then that account might be fake.
Bad URL Combination:
This is one of the simplest ways to check if any Twitter profile is fake or real. The URL of a profile can tell a lot about that particular profile, whether it is fake or real. The first and last name in the URL should have some direct relation to the profile name. Therefore, if the URL of that person is combined with some random words, then there are chances that the profile is either a bot and not a real human.
Track the IP Address of a Twitter Account
The IP address on Twitter is used internally, however, there are certain ways in which you can track the IP address of any Twitter account with less hassle and efficiency. In fact, along with the IP address, you can also get some device as well as browser information.
For tracking the IP address of a Twitter account, you can use an already made IP logger. The most effective IP grabber recently is the Grabify URL Shortener and IP logger.
To Trace a Twitter account,
Step 1: Firstly, go to the Grabify IP Logger tool to shorten the URL for tracking.
Step 2: After that, go to the Grabify website and copy-paste the URL of your content in the input field and click on "Create URL". By doing this, you will get a shortened URL and a tracking code to check the logs for the URL that you have generated.
Step 3: Then go to Twitter and tell the user to click and visit the page you have created by sending him that shortened URL from Grabify. Once that person clicks on that URL, Grabify will get his IP address along with his device and browsing information.
Step 4: Go to Grabify again and type the tracking code and click the option that says "Tracking code".
Step 5: You will finally get the details of that user, such as browser, OS, geolocation, and device information.
How to Report a Fake Account on Twitter?
You can report any profile that is using your info to confuse or fake people on Twitter.
If you find a fake account on Twitter and it's bothering you then you can easily report that account on Twitter itself by just following a few simple steps. 
The steps for reporting a fake Twitter account are mentioned here:
Step 1: First, you will need to open the Twitter Report Page.
Step 2: Then click on 'An account is impersonating me or somebody else'.
Step 3: After that click on 'An account is pretending to be or represent my company, brand, or organization', and then you will be given some option regarding the reason behind reporting that account.
Step 4: Fill out all other information that is asked and then you have to submit the form.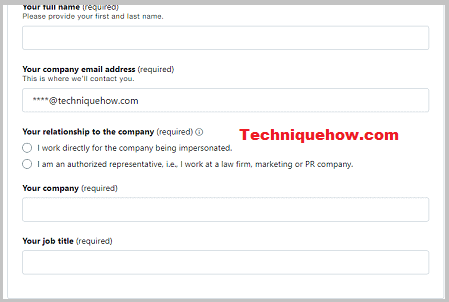 You can also get updates about your reporting on your linked email address. For this, you will need to uncheck the box present next to "Updates about this report can show these tweets"
After reporting, you will also be provided suggestions for additional actions you can take after reporting an account, if necessary.
Not just an account, you can also report against a particular tweet or any message from any Twitter profile.
Twitter provides you all the necessary features to improve your experience while using this social media platform.
Can Police Trace a Fake Twitter Account?
Yes, it is indeed possible for police to trace a fake Twitter account if any abusive or illegal activity is noticed from that account. This policy of Twitter is intended with the law enforcement authorities.
According to this, any Government agency is responsible for the enforcement of laws. However, the process of tracing that fake Twitter account is different from the method mentioned above as it will be more accurate and legitimate.
The Bottom Lines:
The article explained the steps in order to get the IP address or location of the person through Grabify IP Logger and to know if the person is having an original account or a fake one by looking at the indications that I have mentioned above.
Also Read: